5 Awesome Las Vegas expansion team names, 7 that would disappoint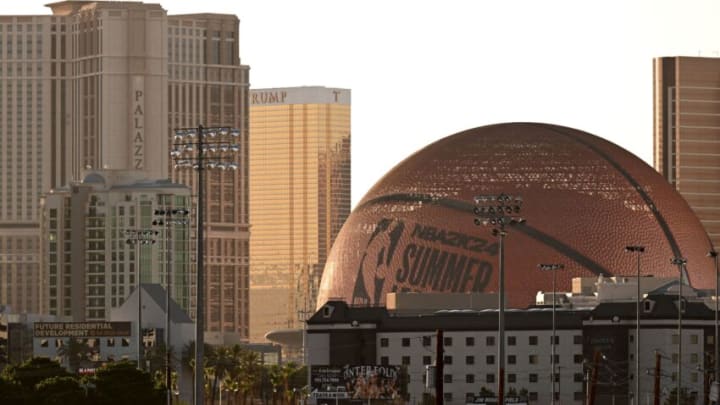 The MSG Sphere lit up as a basketball to celebrate the 2023 NBA Summer League in Las Vegas, Nevada, on July 9, 2023. (Photo by Patrick T. Fallon / AFP) (Photo by PATRICK T. FALLON/AFP via Getty Images) /
It is becoming clearer and clearer that an NBA franchise could be coming to Las Vegas soon. The Vegas Golden Knights joined the NHL in 2017 and were incredibly successful immediately, playing in the Stanley Cup Finals in their inaugural season. Just five seasons later, they secured their first Stanley Cup in 2022-2023, achieving something that 11 NHL franchises still have not done.
After the Raiders followed suit and moved to Vegas in 2020, the proof is in the pudding that teams can be huge money-makers in the Las Vegas market. According to NBA Commissioner, Adam Silver, There is a strong possibility that the NBA will expand to cities like Seattle and Las Vegas in the near future. With Nevada almost certain to secure an NBA franchise, what are the best (and worst) possible Las Vegas team names that have been rumored about?
Vegas sports names that are already taken/were used in the past:
Vegas Golden Knights (NHL Hockey)
Las Vegas Aces (WNBA Basketball)
Las Vegas Lights FC (USL Soccer)
UNLV Rebels (NCAA Sports)
Las Vegas Ramblers (NVA Volleyball)
Las Vegas Thunder (IHL Hockey)
Las Vegas Aviators (MiLB Baseball)
Vegas Vipers (XFL Football)
Vegas Knight Hawks (IFL Football)
Las Vegas Thunderbirds (USPHL Hockey)
Las Vegas Sin (Former LFL Football)
Vegas Iternal (Overwatch League)
Some fans have referenced some of the team names above as potential Vegas team names for the incoming NBA franchise. With that being said, for branding purposes and simplicity, it is very likely that they will avoid any team names that have already been established by other teams and organizations in the Las Vegas area. Additionally, NBA fans have brainstormed a variety of new team names (some much better than others) that allow a fresh start.