Los Angeles Lakers: Is Anthony Davis' mid-range shooting sustainable?
Anthony Davis has excelled in his first playoff appearance with the Los Angeles Lakers, but will his elite mid-range shooting be sustainable moving forward?
Anthony Davis came to play in the Los Angeles Lakers' 117-109 victory over the Houston Rockets, scoring a game-high 34 points on 15-24 shooting.
Davis is averaging 29.7 points on an impressive 58.9 percent shooting in the playoffs, and a lot of his efficiency has been driven by superb mid-range shooting. Among 23 players that have attempted at least 20 mid-range shots this postseason, Davis is first in field goal percentage at 61.0 percent (25-41).
Anthony Davis: 25-41 (61.0 percent)
Chris Paul: 21-37 (56.8 percent)
Kemba Walker: 19-34 (55.9 percent)
Monte Morris: 11-20 (55.0 percent)
Danilo Gallinari: 13-25 (52.0 percent)
Davis made an absurd 17-25 (68.0 percent) of his mid-range jumpers in the 1st round against the Portland Trail Blazers and has made 8-16 against the Rockets through two games. He's clearly been very comfortable taking these shots, and only three postseason players have averaged more than his 5.9 mid-range attempts per game.
Carmelo Anthony: 2.6-7.0 (37.1 percent)
Khris Middleton: 3.0-6.6 (45.8 percent)
Nikola Vucevic: 2.8-6.0 (46.7 percent)
Anthony Davis: 3.6-5.9 (61.0 percent)
Davis can get decent mid-range looks pretty much whenever he wants, and when he's knocking these shots down, it's difficult for anyone to question his shot selection. But is his recent mid-range shooting sustainable? Mid-range jumpers are generally not particularly efficient, and if Davis becomes merely average from this range, these shots will start to look less and less advisable.
Anthony Davis in the regular season
It's worth examining how successful Davis was as a mid-range shooter during the regular season. Not only did he attempt fewer mid-range jumpers (4.1 per game), but his field goal percentage was significantly worse at only 34.9 percent.
Among 31 players that averaged at 3.0 mid-range shots per game, only two players were less efficient: Tobias Harris (1.1-3.1, 34.7 percent) and Davis' teammate LeBron James (1.0-3.0, 34.3 percent).
It's not as if Davis significantly improved from the mid-range as the regular season progressed either. His pre-All-Star break efficiency (36.5 percent) fell to 30.0 percent post-All-Star break. And in seven seeding games following the restart, Davis only made 3-25 (12.0 percent) mid-range shots. Only 3 of 25! His transition in Orlando from a horrid to elite mid-range shooter once postseason play began has been impressive, to say the least.
Moving forward
Again, as long as he keeps hitting these shots, there's no reason to ask him to change his approach. Perhaps Davis has truly flipped a switch, and this level of shot-making will generally continue the remainder of the playoffs. But if the regular season numbers are to believed, Davis is simply nowhere near as good as he's looked from the mid-range. It's quite possible that his efficiency on these shots will take a notable, if not large dip, and sooner rather than later.
Despite Anthony Davis' recent mid-range success, the Rockets' defense is likely more than willing to let him take these shots. Given the team's deployment of "small ball" lineups, the priority is to prevent the 6'10" Davis from dominating in the paint. In this sense, every Davis shot outside the paint is a "win" for Houston's defense. Throw in the fact that mid-range shots aren't analytics-friendly, and the Rockets are even less likely to be too concerned.
When Davis' mid-range shots aren't falling, will he be able to bully his way to the basket enough to score 25-30 points? He's been able to do this on occasion again Houston, but the Rockets haven't made it easy for him (sending extra defenders his way, strong post defense from P.J. Tucker, etc.). This is part of why Davis has settled for as many mid-range jumpers as he has.
The Los Angeles Lakers may have to find ways to create easier scoring opportunities for Davis (rather than just letting him isolate). Pick-and-rolls, a logical solution in a vacuum, are more difficult to execute against the Rockets' switching defense. The offense can set more off-ball screens for Davis, however, getting him the ball on the move. Plays as simple as the below (Danny Green setting a cross screen for Davis) haven't been utilized nearly enough against Houston. A switching defense might neutralize some of these actions, but they're still worth a try.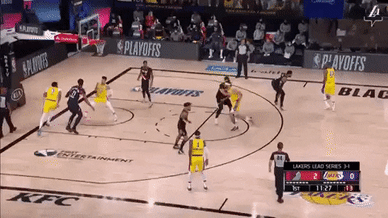 Hopefully, Frank Vogel has some solutions if and when Anthony Davis goes cold from the mid-range. They might be needed as soon as Game 3.