Portland Trail Blazers: What could've been from the Aldridge-Lillard era
Damian Lillard believes the Portland Trail Blazers would've won a championship with LaMarcus Aldridge. Here's how it could've happened.
The Portland Trail Blazers may never have a trophy case with as much gold as the Boston Celtics or the cultural mystique of the Los Angeles Lakers, but there's one category in which they've reigned supreme:
What-ifs.
Whiffing on generational perimeter talents in the Draft not once but twice — Michael Jordan and Kevin Durant — will all-but-ensure that the Blazers are among the top shelf organizations as it relates to failing its future.
Last season's unlikely trek to the Western Conference Finals was huge for the healing process, but old wounds reopened during Damian Lillard's visit on The Knucklehead's Podcast featuring Darius Miles and Quentin Richardson earlier this week, where juicy sound bites were offered by the boatload.
"He was the best player I had ever played with, like, that I've been up close to like that. I was like, 'He don't miss no fadeaways. Every pick-and-roll I come off, when I pass him the ball, he make it every time…'

"I was just like excited to be the point guard that got to play with him, and I was like, 'If me and him gone play together, I'm gone keep getting better, so I can match him. And we gone win it. That's what I thought."
Lillard later doubled down on those statements, citing his continued development as one of the reasons the Blazers were right there, as well as the roster Portland had created at the time.
If me and him would've stayed teammates, and I can get to the level that I'm at now, I'm like 'We could've for sure got one.' And then maybe we don't lose (Nicolas Batum). And we don't lose (Wesley Matthews). And we got (C.J. McCollum), Will Barton, Allen Crabbe, we had the team to do it, we just needed to stay together. And in San Antonio, he's been to the Western Conference Finals, and I've been to the Western Conference Finals. But we both came up short. That just shows you that you need other guys."
2014-15 is special because it represents the last season in which the Blazers — from the preseason on — were viewed by the national media as legitimate championship contenders. The vista that was the Blazers' championship hopes ended for many on Mar. 6, 2015, when, true to tune, the Blazers were prescribed their yearly season-altering injury.
This time, it was Wesley Matthews, who suffered a ruptured Achilles, a pop that essentially robbed a team of its heart-and-soul, and, months later, nearly every vestige of that Blazers' regime.
In some ways, the Blazers haven't fully recovered. Lillard and CJ McCollum buoyed the Blazers into their deepest postseason run since the Jail Blazers era. April-by-April, however, the Blazers have struggled to find either that No. 3 option behind McCollum, or a capable No. 1 or No. 2 on those rare nights when both offensive dynamos are out of rhythm.
For all the pizzazz and brilliance, it has left the Blazers — before Jusuf Nurkic — without a trusted safety valve. They've had to "dribble the air out of the basketball," ranking no lower than fifth — and No. 1 twice — in average dribbles per second over the last four years.
Under the assumption that Aldridge remains in Rip City — which reinforces Nicolas Batum's reason to return — and McCollum continues his graduation as one of the NBA's up-and-coming stars, there's reason to believe Portland could've found some way to win a championship at some point.
Before we can even entertain the thought of the Blazers contending for championships under Lillard and Aldridge, it's of benefit to look back and think about how the team fared against great teams of their time, even before they hit their prime as a duo.
The two-year stretch — 2013-14 and 2014-15 — will serve as the focus for much of this. Over that run, the Blazers were 46 games above .500, finishing with a 105-59 record. Only four teams across the Association finished with a superior record during that stretch.
One of the true litmus tests for teams hoping to contend is found in how they produce against elite teams. In 98 games against postseason teams, the Blazers were 47-43. Shortening that to just the four teams ahead of Portland record-wise, they were 16-16.
Frown at that if you will, but it shows that the Blazers would've had at least a puncher's chance against anyone in the league with two All-Stars and blossoming contributors along the way.
We didn't know it at the time, but like Lillard, Portland was soon to be equipped with some of the league's most fearless fourth-quarter scorers. In his first three seasons of sharing the front seat of Portland's clutch "engine," McCollum has joined Lillard among the top-30 in the NBA in clutch scoring.
And even in the years where he didn't score enough in the regular season to qualify, he's made up for it in a major way. Why is that important? Of the 16 losses those Blazers suffered, half were by six points or less.
As possessions slowed, Portland would've benefitted oh-so-heavily from having a trusted inside-out presence that would have made life easier for any of the Blazers scorers to get easier looks. Two staples of the Blazers' offense under Stotts, especially during this time — the "pistol" action (or 21 series) and pick-and-roll splits — would have looked something like this.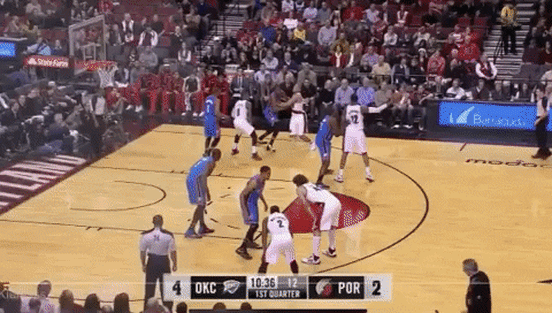 In that first clip, the pick-and-roll split, you notice Aldridge bringing Kendrick Perkins completely out of the paint, which allows for the Blazers shooters to run schemes. What happens is self-explanatory. That added space allows Batum free reign for an easy bucket.
The second one is something that feels like a go-to for Portland if they went with lineups with Aldridge, Lillard, McCollum, Batum, and Lopez.
Notice how overwhelmed Mo Williams' assignment becomes in having to worry about Aldridge, at the time one of the league's most feared pick-and-rollers, as well as Matthews swiping across the arc. Both players get sucked into the vacuum.
If Williams and Matthew struck this much fear and got an open shot with just 18 on the clock, you can imagine the steroids we're talking with Lillard and McCollum here, right?
Unfortunately, we only got very little of this during the 1,449 minutes McCollum played over the two seasons. The numbers we were able to inspect tell the story of a team that could put games away before you got off the plane. They were either net neutral or bombs away, and little in between. Here are a few examples, including one example of a potential small-ball, per PBP Stats' with-or-without-you combinations.
Aldridge + Lillard (2013-14 to 2014-15)
4,106 minutes together
+7.1 net rating
McCollum + Lillard (2015-16 — 2019-20)
10,116 minutes together
+3.37 net rating
Aldridge + Lopez + Lillard + Matthews + Batum (2013-14 – 2014-15)
2,003 minutes
+9.1 net rating
Aldridge + McCollum (2014-15)
198 minutes together
+19.0 net rating
Aldridge + McCollum + Lillard (2014-15)
326 minutes together
-0.47 net rating
Lillard + McCollum + Aldridge + Batum (2013-14 – 2014-15)
280 minutes together
+2.3 net rating
Portland was 50-12 in 62 games where LA starred alongside Brandon Roy and Greg Oden, transporting night-to-night between Batman and Robin. At the very least, Portland has a feasible case for more success than it had to this point given his comfort in different roles.
At the heart of the 2015 postseason, Charles Barkley, among a legion of old-school players, made now-disproven points on how 3-point shooting teams could use long-range accuracy to get to the postseason, but couldn't necessarily fuel that into a championship.
Five years later, the 3-point shot has become the most powerful shot in basketball, in large part due to the Golden State Warriors. But while the Warriors and Houston Rockets were using the long-range shot to drive the NBA into its newest wave and creating mimetic patterns for the rest of the league to follow, it's easy to forget just how close the Blazers were in that race.
Before the Splash Brothers could produce torrential downpours, Portland could boast its claim as the league's premier shooting team. Consider this leaderboard in 2013-14: Stephen Curry and Klay Thompson were No. 1 and No. 2 respectively on the NBA's 3-point make list, but two Blazers — Damian Lillard and Wesley Matthews — hung at their backs at No. 3 and No. 5. The Blazers were also the only team with three players within the top-25, with Batum rounding out the list.
Given what we know now about how much more efficient the 3-point shot is, it's feasible to imagine Portland ratcheting that focus up a notch. Over the two-season stretch, Matthews shot 39.5 percent on 936 3-point attempts.
Whether or not he knew it, Blazers president Neil Olshey was building (at least close to) the requisite squad to compete for the future. Understanding the career arcs drives that point home. Lillard had more room to loosen the scope on his 3-point shooting locations, becoming the NBA's premier deeeeeeep shooter.
McCollum would later become one of the game's most feared shooters, notching five seasons of 20 or more points per game and 150 or more 3-pointers, more than any player not named Paul George, Stephen Curry, Damian Lillard, or James Harden. And even LaMarcus Aldridge, who was flirting with a 50-40-90 on three 3-point attempts per game earlier this season, unofficially joined the "one step back for one more point movement."
Down the line, we see a similar dynamic. Will Barton would later develop into a respectable shooter and arguably a top-3 player on a top-three team in the Western Conference. Meyers Leonard would later develop into a pluggable stretch-5. Then there's Allen Crabbe, who enjoyed a three-year run as one of the elite shooters in basketball.
It's a shame we never truly got a chance to see this Portland team at its apex because the early returns were inspiring. Combining the two "sneak peek" seasons in 2013-14 and 2014-15, the Blazers ranked No. 4 in 3-pointers made (1,577), No. 7 in percentage (36.7 percent), and were the only team in the NBA to shoot over 80 percent from the charity stripe.
As Lillard alluded to, the idea of even the best of defenses finding a way to stop all of this at the same time feels largely unrealistic. From our first postseason memory of this regime — Aldridge scoring 46 points and 18 rebounds, and Lillard adding 31 points, 9 rebounds and 5 assists in Game 1 against Houston in 2014 — the potential was there.
And given what we know about what the future held individually, there's at least a sliver of hope and confidence that it would've worked out collectively as well. Given the chance, I'd presume that we would get a chance to see a championship parade roll through Willamette River, just like it did in 1977.
And if not, we can turn off the video game simulation, or wake up from our dream, and try, try again.