Explaining Brooklyn Nets' improved defense
The Brooklyn Nets have played some of their best basketball of the season lately. It's been the defensive end where the team has seen the most improvement.
The Brooklyn Nets are 10-5 In the 15 games Kyrie Irving has been out with an injury (14-12 overall). The team's performance on the defensive end of the floor has driven a lot of the improvement.
In the season's first 11 games, Brooklyn was 20th overall in net rating (minus-2.4), 12th offensively and 25th defensively, per NBA.com. In the last 15, however, the Nets have the 13th-best net rating (plus-2.0), ranking 19th offensively and 10th defensively. The improvement on the defensive end has more than offset the slight dropoff on offense without Irving.
What's driven the better defense? Some of it likely comes down to luck (teams simply missing shots), but there seems to be some legitimate improvement as well. Some recent comments by head coach Kenny Atkinson provide insight into the defensive progression.
"Defensively, if we can get the rebounding figured out and force a few more turnovers, we're a top 10 team, because teams do not shoot well against us.
Rebounding and turnovers
Have the Nets rebounded better and forced more turnovers lately? The team's defensive rebounding has actually gotten worse. The first 11 games saw Brooklyn grab 74.0 percent of available defensive boards (10th-best), while this has declined to 71.1 percent (27th) over the last 15 games.
So it's clear that rebounding has not driven the defensive improvement, but what about turnovers? The Nets were only 30th in forcing turnovers the first 11 games (11.6 percent), but this has shot up to 14th (14.5 percent) over the last 15. The team's ability to turn teams over has been one of the main factors driving better defensive outcomes.
A more aggressive strategy?
Why has Brooklyn been rebounding worse and forcing more turnovers? Atkinson has given some credit to players like Iman Shumpert and Theo Pinson for the turnovers in particular, but it's possible a slight change in strategy can help explain both trends.
Under Atkinson, the Nets have generally employed a very conservative defensive strategy. Among others things. this has contributed to 1) forcing few turnovers and 2) giving up a lot of mid-range shots. The latter has been driven by a conservative pick-and-roll defense that involves the big man hanging back towards the basket.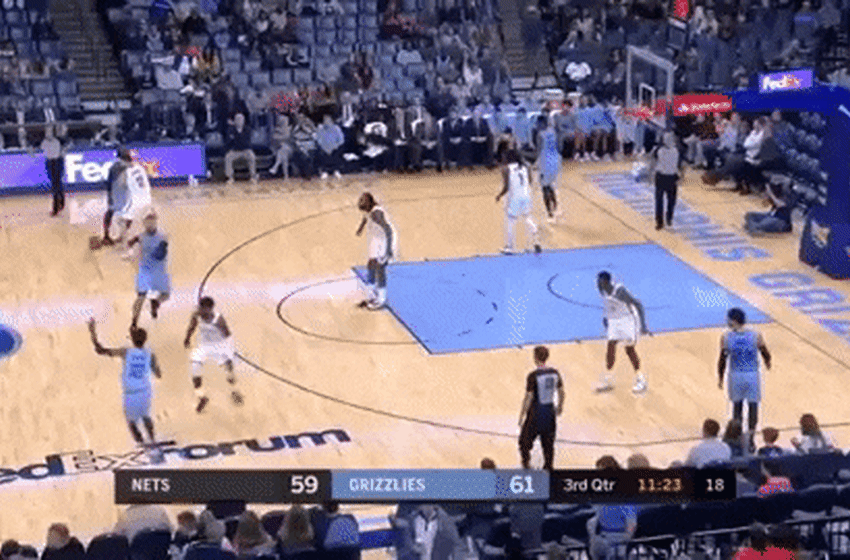 The pros to this pick-and-roll approach: it encourages relatively inefficient mid-range shots rather than 3-point attempts. The cons: ball-handlers are provided a lot of space to take mid-range shots/floaters and can get a running start towards the basket. It's also unlikely to force many turnovers.
It's not clear which approach is truly better for Brooklyn, but with the team's lackluster defense to start the season, Atkinson has appeared willing to make a few minor adjustments.
"Same concepts, same principles," Atkinson said. "I do think we're bringing our bigs up a little more on pick and roll," Atkinson said. "We've always dropped. So we have adjusted that a little bit and I think that's helped."
The Nets have still had their big men (Jarrett Allen/DeAndre Jordan) drop back on pick-and-rolls, but they've been occasionally showing the ball-handlers some resistance.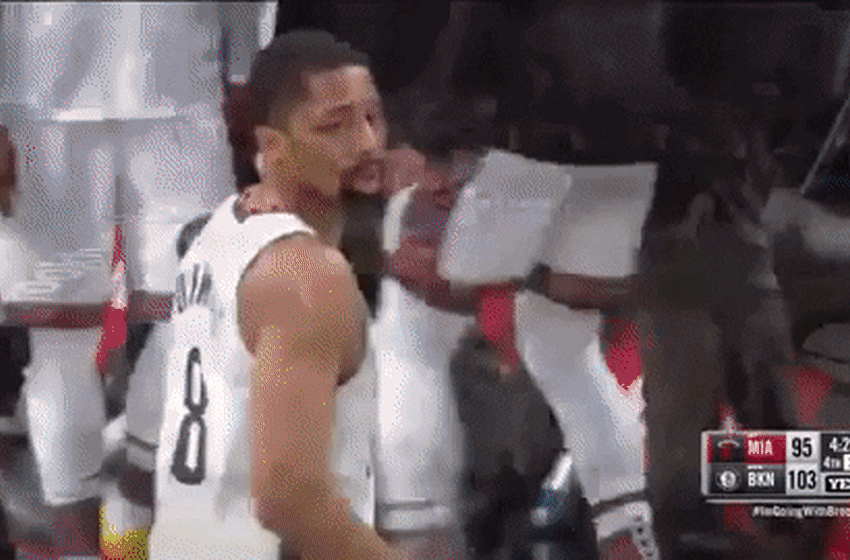 Could this additional pressure be what's driving the increased turnovers? Probably not. But regardless of Atkinson's claim of "same concepts, same principles," the above might be representative of a general increase in aggressiveness (or at least effort) that has been permeating the defense. This could be driving the turnovers.
With Allen and Jordan venturing from the basket on these plays, could this be contributing to the team grabbing fewer defensive rebounds? Again, the effect is probably limited, but it's worth mentioning regardless.
The mid-range effect?
There's a third potential impact to a slightly more aggressive approach against the pick-and-roll. If the conservative approach has resulted in opponents taking a lot of mid-range shots, has the adjustment resulted in fewer of these and potentially more 3-point attempts in their place?
The mid-range can be reasonably defined through two of NBA.com's shot distances ranges: 10-14 feet and 15-19 feet. In the first 11 games, Brooklyn's defense gave up the most shots in the NBA between 10-14 feet (10.1 per game), and teams shot 46.8 percent on them. In the last 15, both the attempts and percentage have declined to 7.0 and 41.0 percent respectively.
From 15-19 feet, the Nets gave up the third-most attempts (8.6) in the first 11 games and teams shot 43.2 percent. Over the last 15, this has fallen to fourth, with attempts and percentage dropping to 8.1 and 41.0 percent respectively.
In both cases, mid-range attempts have gone down and opponents are shooting worse percentages. While this could partially due to the increased pick-and-roll pressure, Brooklyn might also just be getting a bit lucky.
What about 3-point attempts? While more aggressive defensive play could generate more turnovers for example, it could also result in more rotations that could in turn lead to more opponent 3-pointers. Atkinson seems willing to give up a few more long-range shots.
"I think in the past, if you give up a three, we're gonna find you," he said. I think we're willing to give up a few more threes, although I still like, I don't want Miami to shoot 50 threes today, you're playing that analytics game."
What do the numbers say? In the first 11 games, Brooklyn gave up 3-point attempts at the 24th-highest rate (34.3 percent of attempts). Over the last 15, the defense is 17th (37.9 percent), so there has definitely been more of the long ball.
Have teams made Brooklyn pay for allowing more 3s? Teams shot 36.7 percent from downtown in the first 11 games, while this has held steady at 36.7 percent in the last 15.
Conclusion
The Brooklyn Nets have been playing well recently and the improved results defensively seem to be the biggest reason why. Both the numbers and Atkinson's comments point to the team employing a more aggressive defensive strategy; turnovers and 3-point attempts are up, and mid-range attempts are down.
It's unclear to what extent these trends have been driven by actual strategic changes, but regardless, they've produced better results. To what extent the defense deserves credit for mid-range and 3-point percentages going down is even less clear. Again, it's possible they've just been getting a bit lucky.
It will probably take a few more weeks-months to determine whether the defensive trends/improvements are real or not. This all could be complicated by the return of Kyrie Irving, who has been the worst Nets defender this season per defensive rating.