You need to see the Hardwood Classics Gold Mitchell & Ness Collection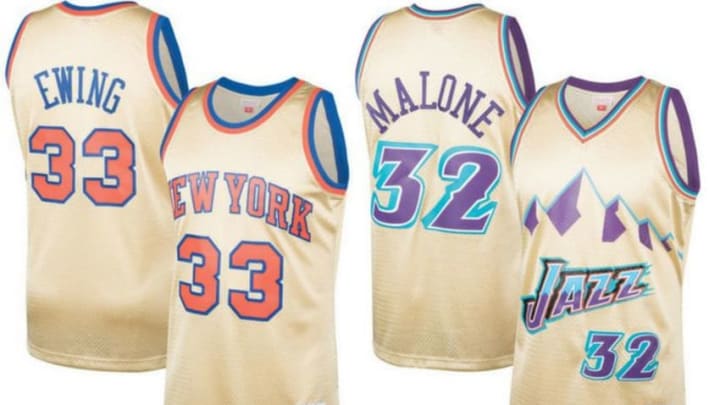 Mitchell & Ness is a staple in NBA fan gear, with their Hardwood Classics line giving fans a chance to turn back the clock.
For NBA fans, there's a plethora of gear to choose from. But you don't want to look like everyone else. You want a unique look. A special look. The kind of look that shows you love your team, but also want to stand out in a crowd of NBA followers.
Lucky for you, Mitchell & Ness dropped their Gold Collection. And it's awesome.
Featuring gold jerseys from Allen Iverson, Scottie Pippen, Grant Hill, Patrick Ewing, Penny Hardaway, Gary Payton, Shaquille O'Neal, Karl Malone and Hakeem Olajuwon, Mitchell & Ness took its game to the next level.
Check out some of the jerseys below.
Shaquille O'Neal 1996-97 Los Angeles Lakers Mitchell & Ness Gold Series Jersey
Fanatics /
Gary Payton 1995-96 Seattle Supersonics Mitchell & Ness Gold Series Jersey
Fanatics /
Allen Iverson 1997-98 Philadelphia 76ers Mitchell & Ness Gold Series Jersey
Fanatics /
That's just a taste of these jerseys, but you can check out the full lineup over at Fanatics right now. They're in stock, ready to ship and at the time of this writing (5/14/18), they're all on sale for just $97.49. Check them out now.
But that's not all for NBA fans. Mitchell & Ness also dropped some gold t-shirts. The line features gold logo tees for the Philadelphia 76ers, Houston Rockets, Seattle Supersonics, Los Angeles Lakers, New York Knicks, Detroit Pistons and Orlando Magic.
They typically retail for $34.99, but today you can get them over at Fanatics for just $26.24. Here's a look at the Orlando Magic version.
Orlando Magic Mitchell & Ness Hardwood Classics Gold Logo T-Shirt
Fanatics /
Head on over to Fanatics today to check out the Gold Series and so much more. There's something for every fan, so you won't be disappointed.