Chicago Bulls: 5 Biggest Storylines From 2016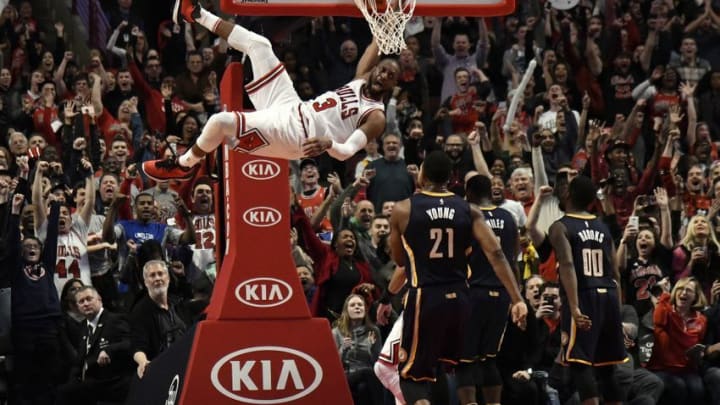 Dec 26, 2016; Chicago, IL, USA; Chicago Bulls guard Dwyane Wade (3) reacts after dunking against the Indiana Pacers in the final seconds of the game during the second half at the United Center. The Bulls won 90-85. Mandatory Credit: David Banks-USA TODAY Sports /
Dec 26, 2016; Chicago, IL, USA; Chicago Bulls guard Dwyane Wade (3) reacts after dunking against the Indiana Pacers in the final seconds of the game during the second half at the United Center. The Bulls won 90-85. Mandatory Credit: David Banks-USA TODAY Sports /
It has been an interesting year for the Chicago Bulls. Here is a look back at some of the team's biggest storylines from 2016.
The Chicago Bulls struggled to find an identity during the first quarter of last season.
Despite the early struggles, the Bulls began 2016 with a season-high six-game winning streak and a postseason berth seemed to be all but a formality.
But thanks to injuries, along with inconsistent play, their 2015-16 campaign did not end the way they would have liked (more on that later).
The identity crisis was pointed out by former big man Joakim Noah.
""I mean, what is the identity of this team?" Noah asked, via ESPN. "It's hard to say. Our identity has always been: You come to Chicago, you're in for a war. It's not like that right now. I don't care what the numbers say. Just watch the games. There are 25,000 people in the building, and it's dead quiet. It has never been like that. It's tough to see the building that way. And it's on us. You bring the fire, and they will love you here. But if you're coasting, playing this low-energy game, I'm not sure we can win like that.""
In light of that fact, the team opted to bring in several new faces during the offseason in hopes of improving the product that fans saw on the court last season. As expected, the results have been a mixed bag at this point.
Related Story: 25 Best Players to Play for the Chicago Bulls
After a somewhat promising 13-10 start, the Bulls have fallen back to earth a bit as they struggle to stay above the .500 mark.
Despite their shortcomings, however, there were plenty of interesting storylines from the past calendar year, and today we will take a look back at some of them.