Is Marcus Smart On The Verge Of A Breakout Season?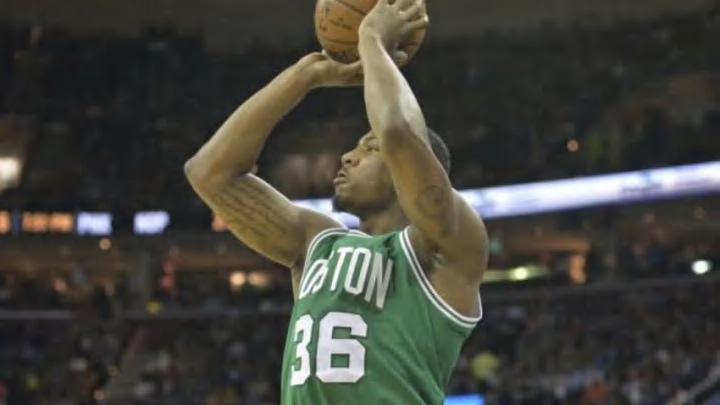 Apr 10, 2015; Cleveland, OH, USA; Boston Celtics guard Marcus Smart (36) shoots in the first quarter against the Cleveland Cavaliers at Quicken Loans Arena. Mandatory Credit: David Richard-USA TODAY Sports /
Coming off a dominant performance in the Utah NBA Summer League, Boston Celtics sophomore Marcus Smart looks more and more confident every game, and the point guard's upcoming season is going to be exciting. He acted as a mentor to some of the younger and unexperienced players at Summer League, and demonstrated some drastic improvement in regards to his playmaking, while also showing his ability as a scorer and lockdown defender.
Smart played five games total — two in Utah and three in Las Vegas — but his time at Summer League ended early when he dislocated two of his fingers against the Portland Trail Blazers on Jul. 16. Nothing was broken, but Smart needed five stitches.
ALSO ON HOOPSHABIT: The NBA's 50 Greatest Players of All-Time
In his Salt Lake City appearances, Marcus Smart led the league in scoring (24 PPG), assists (7.5 APG) and steals (2.5 SPG), while being tied for fourth in blocks with one per game. His numbers in Vegas weren't as amazing, where he played three games, and averaged 10.7 points, 2.0 assists, 2.0 rebounds and 2.3 steals per game.
More from Boston Celtics
His Utah stats stand out and show he was one of the best players in that stretch, which may be a sign of what's to come. While Summer League is not on par with the competition of the NBA, there is a very interesting trend when looking at sophomore players in Summer League players.
Over the years, many talented young players have come into the Summer League after their rookie season, and have dominated Summer League. After this, many of them go on to drastically improve their rookie numbers, sometimes even doubling or tripling their scoring averages.
I looked at Summer League data from 2006 to 2014, and examined how players who averaged 20 points per game or more fared after their second Summer League appearance. After this, I compared the standout numbers to the player's numbers after their first Summer League, how they improved the next season, and where the players ended up later in their career.
DeMar DeRozan: The Toronto Raptors shooting guard was drafted in 2009, and averaged 8.6 points per game in his rookie year. In the 2010 Summer League, DeRozan averaged 21 points per game (third in scoring), then went on to double his rookie average in his sophomore season, averaging 17.2 points per game. DeRozan earned an All-Star nomination in 2014.
Reggie Jackson: Reggie Jackson was drafted 24th overall in the 2011 NBA Draft by the Oklahoma City Thunder. There was no Summer League in 2011 due to the lockout, so Jackson played his second Summer League after his sophomore season, and averaged 19.5 points per game. He had averaged 5.3 points per game in his sophomore season, and improved to 13.1 per game in the next season. Jackson averaged 17.6 points per game for the Detroit Pistons after the trade deadline in 2015.
Kentavious Caldwell-Pope: KCP was drafted by the Detroit Pistons with the eighth overall pick in the 2013 NBA Draft. In his rookie season,he averaged 5.9 points per game. In the summer of 2014, Caldwell-Pope averaged 24 points per game at his second Summer League, and went on to average 12.7 points per game in his sophomore season.
Tobias Harris: Tobias Harris was taken with the 19th overall pick in the 2013 NBA Draft, and was traded on draft night to the Milwaukee Bucks. He averaged 5.0 points per game for the Bucks, and performed well at Summer League. Harris put up 20.8 points per game at his second Summer League appearance. Midway through his sophomore season, he was traded to the Orlando Magic. Harris averaged 17.3 points per game, almost triple his rookie average.
Many players who have average rookie seasons but dominant sophomore Summer League appearances go on to become young stars in the NBA, and Smart might have what it takes. In his rookie season, he averaged 7.8 points per game. If Smart can double or even triple his scoring average like many of these players have, he will become an All-Star caliber player.
To add on to this, Smart joins Dwight Buycks and Wizards star John Wall as one of three players to lead their Summer League in points and assists. Summer League is the best opportunity for young players to improve their talents, and Marcus Smart looks like he is ready to take the next step in his NBA career. If he can accomplish what some of these players did, he can become one of the most talented young point guards in the league.
Next: San Antonio Spurs: Grading The Offseason
More from Hoops Habit