Welcome to the Daily NBA Fix for Wednesday, May 28, the morning after Russell Westbrook apologists across the country gleefully burned effigies shaped like Patrick Beverley, giving alms for their idol's 40 points, 10 assists, five assists, five steals and one soul-shattering block on Patrick Mills in Game 4 of the Western Conference Finals. And yes, in case you couldn't tell, #LetWestbrookBeWestbrook surged to new highs last night as Westbrook wreaked havoc on the San Antonio Spurs left and right.
When it became known that the paranoia of the San Spurs in expecting Serge Ibaka's return was actually well-founded, most of us figured Gregg Popovich and company would have to work a little bit harder for this one. Most of us accepted that a Willis Reed-like return in Game 3 would be just enough to motivate Kevin Durant and company at home. But were we really expecting Ibaka's return to completely flop the series the way that it has? I mean, remember when this epic Rocky IV-inspired GIF from Bleacher Report described the series?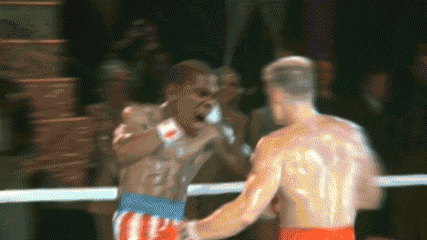 After last night, we're still only tied at two games apiece. But is there any doubt momentum is now assuredly in OKC's young and super athletic hands, which seem hell-bent on swatting as many San Antonio shots into the stands as humanly possible? In Games 1 and 2, the Spurs were unstoppable. Tim Duncan was a monster in the paint without Ibaka. OKC couldn't keep Tony Parker out of the lane. Kawhi Leonard was silently, rapidly stepping up as the future of San Antonio basketball. Even Danny Green was assuming his previous role of Hawkeye on these Avengers Spurs, sniping every basket in sight from three-point range (in a role we haven't seen him play since the first five games of the 2013 NBA Finals).
But just like the 2012 Western Conference Finals, things have changed drastically after watching the Spurs amass a 2-0 series lead. In 2012, the Thunder went on to win four games straight and advance to the NBA Finals. Given the way that Ibaka's return has so dramatically transformed this series, it shouldn't surprise anyone if we head that way once again.
Simply put, the Spurs have no answer for OKC's talent and athleticism. Westbrook played one of his finest playoff games ever last night, putting up that monster stat line while committing only three turnovers in 45 minutes. Kevin Durant finished with 31 points, five rebounds and five assists in 41 minutes and started the game by going 9-for-12 in the first half. And although no other Thunder player reached double digit scoring, the combined contributions of Serge Ibaka, Jeremy Lamb, Kendrick Perkins and Steven Adams were enough to stifle San Antonio's once dazzling offense. And, again, Westbrook outscored the Spurs' starting five by himself.
SOAK IT ALL IN, WESTBROOK APOLOGISTS:
There you go *Hubie Brown voice* RT @recordsANDradio: @MrMichaelLee @jadande alternate Westbrook strut https://t.co/lnkNVXj1rP

— J.A. Adande (@jadande) May 28, 2014
That's not to say everything is hunky-dory for the Thunder, though. Reggie Jackson left the game in the first quarter after severely rolling his ankle and although he returned in the second quarter, he was limited to 13 minutes and this could be a concern for Game 5. Actually, given the way Serge Ibaka's injury status went from "Oh my God his calf is dead and he'll never play again this season!" to "Yeah, he might be back for Game 3," you can expect Reggie Jackson to be active for Game 5. However, there could be a potential fatigue factor in Thursday's game.
Though Game 4 was mostly a blowout, the efforts of Boris Diaw, Cory Joseph and Matt Bonner forced Brooks to keep his starters on the floor, especially after the Spurs went on a 19-7 run to close the third quarter and cut what once was a 27-point lead down to 16. Westbrook and Durant both played over 40 minutes. Diaw and Tony Parker led the Spurs with 14 points apiece, Joseph added 11 and one posterization of Ibaka, Kawhi Leonard had 10 and San Antonio's bench outscored OKC's reserves, 53-20.
Russell Westbrook and Michael Jordan are the only players with 40 points, 10 assists, 5 steals in a playoff game (via @eliassports)

— ESPN Stats & Info (@ESPNStatsInfo) May 28, 2014
But the Spurs only shot 39 percent from the field and OKC's Big Three each shot exactly 50 percent from the floor (a combined 27-for-54). That's not going to get it done against a team this talented. Heading into Game 5, the Spurs are going back to a building where they've won seven games in a row and are 8-1 this postseason.
In fact, the last time the Spurs lost at the AT&T Center was more than a month ago, in Game 2 of their first round playoff series against the Dallas Mavericks. After being smacked down in two consecutive games, the fans will be loud and ready to cheer/coax a masterful performance out of their home team that now finds itself on the ropes, hoping that same lightning/Thunder from 2012 won't strike again. My, how the tables have turned since that Rocky GIF was relevant.