Perhaps the only part of this saga that forces laughter is that people actually pictured, and started to believe, the Eastern Conference Finals would feature a different matchup.
Throughout all the disastrous turns the Indiana Pacers took along the way, they were written off. After just one game (Game 1), John Wall and Bradley Beal posed the best threat to the Miami Heat. Paul George, Roy Hibbert, David West, and the basketball gods wouldn't allow it to happen. They just couldn't. It would've meant the end for this core group, with President Larry Bird realizing they never had enough to dethrone a superstar-driven team from South Beach.
The disdain continued, while Miami kept winning. Not only did they advance to the Conference Finals with only one playoff loss (8-1), but the Heat did so in dominant fashion. 49 points later from LeBron James, and demoralizing defense against Joe Johnson and the Brooklyn Nets, now we're looking at Erik Spoelstra's unit as one that can't be stopped.
While the sun does rise in the West for the Pacers with their veteran power forward, the dust settles with Hibbert. Out of all the jokes, Hibbert has been able to put the criticism aside for a handful of games and protect the rim at the elite level we normally slap next to his name. Yet, even with his embarrassing performances versus Atlanta and Washington, is it comical that Hibbert still serves as the most dangerous knockout punch to Miami's 3-peat hopes?
No, it's not. Because he's given us every reason to believe he can control the middle against the Heat, play with a different edge, with a mentality that screams "You better get some size, Pat Riley."
Hibbert not only deserved recognition as the most formidable big man in the East after last season's Conference Finals (loss to Miami in 7 games), but he forced everyone to look the Heat dead in the face, and convince them to go after a sizable center in free agency. Greg Oden became that guy, until further medical/conditioning issues closed his season, notably after a terrible defensive showing vs. Hibbert on March 26.
In the 2013 East Finals, Hibbert appeared to live up to the ludicrous $15 million contract he was awarded. He challenged Miami with 22.1 points, 10.4 rebounds, and 1 block per game, eventually falling in Game 7 on the Heat's home floor.
Not this time. History can't repeat itself in 2014 ….. at least not in the same manner.
For this round of the heavyweight fight, Indiana owns home-court. Games 1, 2, 5, and 7 would be in Bankers Life Fieldhouse, in front of fans that are sick and tired of disappointment. In the first two rounds of the Playoffs, Indiana has given up Game 1 in front of their home crowd, putting themselves in early deficits. Overall in the postseason, the Pacers are just 4-3 on their home floor, while Miami is undefeated at 4-0.
Playing against tried-and-true NBA champions, a 2-0 series lead isn't necessary; it's imperative. Splitting at home would just feed Miami's hungry stomachs, given that it takes a nearly-flawless game to win at American Airlines Arena.
Think about that for a second.
Miami is still hungry, still desperate for a title. Burnout typically takes control of a team in pursuit of a 3-peat, and it's understandable. Take a look at the 2010-11 Los Angeles Lakers. The grinding is insurmountable.
Having to adjust to roster changes throughout the league while keeping the same, consistent philosophies that got you two straight titles is a task that can make people question your heart. In 2011, Kobe Bryant suffered through constant bone-to-bone knee pain, costing L.A. in the playoffs.
Hello, Dwyane Wade. He seems ready and healthy enough to stay within the flashes of the same Wade we know him to be, but how long will the aggravating pain stay away? Against a matchup that will make him work harder than he has in these playoffs (Lance Stephenson) and employ a ton of energy on both ends, Wade can't let James feel as if he's back in Cleveland.
One player can't carry a team on his back offensively and get them past these Pacers, it's going to take the two-man tandem combined with wing/corner shooters as a result from Miami's perfect floor spacing. However, if there's one team that can manage the defensive collapses and keep Miami's attack at a minimum, it's the top-ranked playoff defense of the Pacers.
When it comes to these two squaring off, Miami doesn't have a ton of concerns as it pertains to stopping Indiana's offense. However, there's a large one, and it's the lack of a defensive weapon to stop Hibbert from having his way in the paint. In pick-and-roll situations, Miami has to figure out what's best for their game plan on defense.
Giving pressure on the ball handler by hedging screens and sending a double team toward the dribbler can fluster the Pacers and force turnovers here and there, but there's a glaring problem:
When Chris Anderson is in the game, he's typically ready to attack pick-and-rolls by hanging on the perimeter player with the ball (above, it's Paul George). George has improved his passing on the roll situations this season, and the most successful two-man game for Indiana has become just that, Hibbert and George working together.
Notice the problem it's been giving Miami when defending Hibbert. Chris Bosh, still very lengthy and athletic, isn't big enough of a body or tall enough to stop Hibbert once he's parallel with the restricted area. Anderson is usually a good rotator in screen rolls, but Hibbert already has good enough position to create in the low-post once he's there.
This spells tragedy for Miami, but you have to believe Erik Spoelstra remembers March 26, when Udonis Haslem used his physical aggression to limit Hibbert in the second half. It's been Miami's Achilles heel since they formed together; there's nobody to challenge Hibbert on the defensive end unless Miami plays collective defense for four quarters. This is the same guy that posted 17 rebounds in Game 3 of last year's Conference Finals, and now we look at Hibbert and say anything over three boards is a stretch. Basketball is all about matchups, and the favorite meter is pointing towards Indiana.
Other times, the Hibbert screen roll near the perimeter is defended well by Miami, but the one-on-one result in the paint favors the 7'2″ big dog:
Anderson, keeping protection on George Hill to prevent a drive, allows Hibbert to roll to the basket and quickly recovers after Chalmers is able to get free. Take note of LeBron and Battier understanding someone needs to commit to Hibbert to prevent an entry pass. It's close to the best recovery you can get for a team defense in this situation, and there's no question Miami does their homework.
Once the ball resets and Hibbert is able to get an entry pass, it's all but over unless Anderson figures out a way to put a stronger cover on the back-to-the-basket move for Hibbert.
You would love to see better spacing for the Pacers in this series than they've shown in the past, as sometimes it's apparent they don't know where to stand, where to move, or when to move. It would make it easier on Hibbert if West's man (Battier or Bosh) wasn't crowding the middle and threatening the big man with double teams. In addition, Hibbert has grown to be better at dishing to teammates on the wing if a post-move isn't there, and the only way this team is advancing to The Finals is if they match Miami's perimeter barrage. You can't trade all the inside two's (and scoring droughts) with Ray Allen corner triples. If so, you'll lose in five.
Like the guy or despise him, LeBron is sick and tired of answering questions about Indiana's prowess inside the paint. People act as if he's never dealt with a strong front court before. Do we recall the 2008 Conference Finals when James threw the hammer down on Kevin Garnett, who wasn't an old, rotten man like he is now?
In the regular season meetings with the Pacers, James didn't stray away from attacking Hibbert and West with a fearless mindset, and he shouldn't fall in love with his jump shot during this series:
Who would have thought Miami's bigs (such as Chris Anderson here) would be giving the Heat advantages on the court? Anderson was always a solid screen setter in Denver with Carmelo Anthony, and it's got to transfer over to this series to open the way for James. Above, we find LeBron able to aggressively attack Hibbert, for one reason. He's not making his move with slow, halfcourt speed. He's been taking off with full explosion, on top of Anderson being able to pull Hibbert out from the paint just far enough.
When it's a foot face to the rim and LeBron catches Hibbert back-peddling, it's over. Hibbert is a top three shot blocker and contester in the game, but someone with the size as James is able to knock him back (or get around him) for the score when it's becomes a one-on-one sprint.
James' mindset has to be to get Hibbert into foul trouble, taking him off the floor. Backup center, Ian Mahinmi, is still a defensive anchor for most benches in the league, but he doesn't make offensive players uncomfortable quite like Hibbert does:
Indiana can't manage to falter on defense when guarding James atop the perimeter. When West is helping hedge screens and take the pressure off Stephenson (or Hill) on the ball handler, they have to be on the same page. Often times, they're not:
LeBron's clear path to the basket is only contested by Hibbert, but notice how it's a full blast to the rim by James. There's little to nothing Hibbert can do when a 260-pound truck is accelerating in the paint, rather than use his "rule of verticality," as he does above. James' power to finish at the rim is slightly higher than Carmelo Anthony's, who loves getting rejected once testing the big man.
Miami, like the Pacers, has figured out more than enough ways to beat their strongest competition. That's why the defensive pressure is still on the Pacers, because it's not supposed to be easy stopping two sure-fire scorers and a stretch power forward that can shoot (Bosh).
For Frank Vogel, winning this series and advancing to your first NBA Finals in three years of being head coach, is important. If Larry Bird wasn't willing to give him a chance after Jim O'Brien's tenure ended, he would've found a coach with a stronger voice, and more demanding mentality. It's okay though, because Vogel can get it done. Well, he can do his part to get it done. That includes making the proper rotation changes with his lineups, stressing that the offense can't turn into stagnant, Paul George isolations just to match LeBron's greatness, and giving Chris Copeland an opportunity once Indiana struggles from the outside.
If you want to stretch the floor for George and, eventually, Mr. West to get inside and work, there has to be shooters on the wings. For the most part, Miami will lay off Indiana's weak side shooters and compact the paint, so you have to give the opposition the trouble they ask for. The only reason it's been a struggle to put Copeland on the floor is his feeble defense, but there comes a time when Vogel realizes Luis Scola gives them the same type of play, without the 3-point range.
In 26 games since the season's start, when the Pacers connect on at least nine 3-pointers, there's no coincidence they're 20-6. We often bash the offensive execution because ….. well, there rarely is any, but their defense is able to bend with them feeling hot from the outside.
This starts and ends with Paul George, who has to look for quality, open opportunities. Being a hero may have gotten him respect from LeBron in last year's Conference Finals, but this Pacers team is a band of brothers, one that seems to have buried the "there's some selfish dudes in this locker room" talk from earlier in the season.
Finding George in the right moments, even when matched against LeBron, is the key to developing easier points:
David West, who isn't always the most decisive guy with the ball unless he's in rhythm for his signature mid-range shot, has the ability to create when he gets to this spot (above). From there, it's up to the Pacers to not camp around and wait. Miami, even with leading the league in average age, is still a top 11 team in terms of defensive rating, as they love the slower, halfcourt type of game in their fourth year together. This isn't the team we saw take on the Dallas Mavericks in 2011, and Miami only scores at a pace of 91.2 points per 100 possessions (27th in the league).
They're going to make you work for everything in the halfcourt, so there can't be any room for error, especially long scoring droughts.
Cutting to the middle of the paint is arguable where George operates the best, and his teammates trust his scoring near 15 feet rather than many of the forced long-range attempts.
The X-factor is a no-brainer, as Lance Stephenson's energy is only matched by one person in this series (LeBron) and perhaps the crowd's excitement after Ray-Ray saves the day year after year.
Stephenson can get under defender's skin, although I believe that goes out the window when you're discussing Wade, who will have to cover Lance for majority of the series. During the regular season, we tried to teach Lance to hinder the psychotic play style. Now, in the East Finals with a chance to end the Heat's reign at the top, you'll live with the "Good Lance, Bad Lance" coin-flip.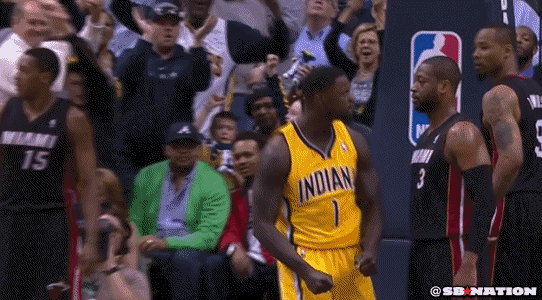 If there's two things Indiana needs to feel confident with this task, one is getting SOMETHING out of Evan Turner when it comes to creating mid-range looks, and not trying to be the best player on the floor when he's given time. You won't be around Indianapolis for the long-haul, so you might as well use this series to make Larry Bird smile for once.
The other?
Turn this into a mean, personal battle for the East title. Unlike the 1991 East Finals, there will be handshakes. During the games, there won't be fist fights …. but the chippiness isn't dying.
At the end of the day, grabbing the No. 1 seed was the most important aspect of the season. The Pacers' recent struggles just seemed to undermine it.
Four games at home, a Game 7 on their home floor, a defensive identity, veteran leader in Game 6's (West), and a matured Paul George will be enough.
The most psychically gifted athlete in NBA history will have to take a backseat, as the Detroit Pistons did in 1991. A new team has knocked on the door for two years.
At some point, the hinges fall off, and the door swings open.
Pacers win series, 4-3
Tags: Erik Spoelstra Frank Vogel Indiana Pacers Lebron James Miami Heat Paul George