//
Name: Markel Brown Age: 22 School: Oklahoma State
Height: 6'3 Weight: 190 Projected Position: SG
2013-14 Stats (Through 2/2/14):
17.2 ppg, 5.3 rpg, 2.9 apg, 1.0 spg, 1.0 bpg, 1.6 tpg (35.3 minutes per game)
47.3 FG%, 76.8 FT%, 37.9 3FG%
59.1 TS%, 54.1 eFG%, 23.1 USG%, 16.9 AST%, 12.9 DREB%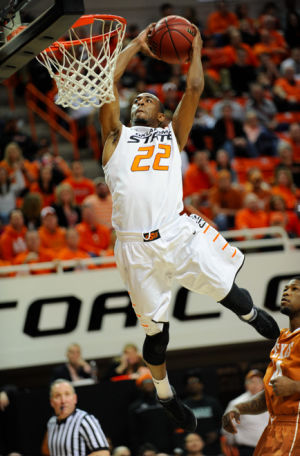 Photo:Christopher Brown
SKILLS & ATHLETIC BREAKDOWN
Offense
Perimeter Shooting
Brown has developed into a good perimeter shooter, including having nice form on his jumper. He has a high, quick release, good follow-through, and range to the college three-point line. He has the ability to hit his jumper off the pass or dribble, and if he has time to get set, he is a very good spot-shooter. Brown gets great lift from his legs on his jumper, allowing him to get good looks over bigger defenders. Brown uses screens well to set up his jumper, usually using one quick dribble to side to get his shot off. He needs to work on using his dribble more to set up his jumper, especially when he has only one defender in the area. Brown has improved how he moves without the ball, using screens and cuts well to create space. He needs to work on not drifting off of the catch and dribble when he goes up for a shot. His body will end up moving in the direction he was coming to the ball from. I would like to see him come off the screens tighter, giving him more separation to shoot. Shot selection has improved each year in college, and poor shot choices are few and far between from the perimeter.
Penetration
Brown can be very effective when he looks to get into the lane and to the basket. He has a strong first step, especially to his right, and he shows good body control to get by defenders. He has no problem looking to draw contact at the basket and he has the ability to finish in a variety of ways around the basket. Brown prefers to go to his right when attacking the basket, though he will look to go left at times, but he still will often try to finish with his right hand. He does a good job keeping his head up and seeing the defense when he gets into the lane, and if the defense helps quickly, Brown finds open teammates well. He has developed a semi-consistent mid-range jumper if he chooses to only take a few steps past his defender, though he needs to work on not drifting when he is shooting. Brown does a good job using screens to create separation from his man and get to the basket, though he can work on coming off them a bit tighter.
Ballhandling/Passing
Brown is an above-average ballhandler, able to use both hands well and having shown a few advanced dribbles he's developed to keep the defense off balance, including a nice change-of-pace dribble. He has good control, keeps the ball low and close to his body, though he does need to watch forcing his dribble through traffic. Brown is much more explosive going to his right, and can also be a bit erratic when making a move to the left. While he uses his left hand for short distances, I would like to see him look to attack the basket more with his left hand. Brown has shown trouble completing his move when going left, or ends up putting up an awkward shot with his right hand. He needs to work on using his dribble more effectively to shoot his jumper. Brown sees the floor very well can be a good passer. He does a good job finding open teammates when he draws help defenders off of penetration and his passes are usually strong and on target.
Free Throw Shooting
Brown is an average free throw shooter, with a fairly consistent routine, good shooting motion and follow-through. Sometimes, he rushes through his motion, causing his shot to come out strong, but when he gets to the line consistently in a game, he is very good. Brown does a good job getting to the free throw line when he is intent on attacking the basket, though he can fall into the trap of settling for jump shots. Still, even with jumpers included, he gets to the free throw line almost once for every two field goal attempts (.48).
Defense
Perimeter Defense (On/Off Ball)
Brown is an above-average to good on-ball defender. He positions himself well between his man and the basket, and moves well laterally, even over longer distances. He does a good job getting low in his stance, and keeping his hands and feet active anticipating his man's movements. He has done a good job guarding multiple positions this year and he uses his arms well to disrupt passing lanes and close on shooters. Brown is strong at getting over the top of screens against shooters, and he knows how to use angles to cut his man off whether he loses them on a screen or in isolation. Off the ball, Brown positions himself well, though he can find himself cheating too much towards help position, and he can find himself losing his man because he pays too much attention to the ball. He is a good help defender though, and can move back and forth between his man and help position rather easily. While on the ball he anticipates well, he doesn't react as well off the ball. He needs to work on navigating through screens off the ball, especially getting caught in the lane area, and work on not letting his man get a lot of room to get set for a shot. He has good defensive awareness, and is a very good shot-blocker for his size. Overall, Brown is a strong perimeter defender.
Rebounding
Brown is a very good rebounder for his size, using his athleticism well to get to missed shots and not being afraid to mix it up with bigger players for rebounds. He looks to put a body on someone and does a good job anticipating where rebounds will go to and getting into position. Brown is quick after long rebounds and is capable of pushing the ball in transition himself once he gets it. Brown doesn't hit the offensive glass often, but when he does, his athleticism allows him to try to make a play for balls ahead of much bigger players.
Transition
Brown is very good in transition, especially running one of the wings. If running on the wing in transition, Brown is very good at spotting up behind the 3-point line, but if the defense comes out, he is able to take the ball to the basket and finish. Brown is also capable of making a run for the basket and finishing above the rim. He can push the ball himself in transition, and he does a good job keeping his head up and making good decisions.
Intangibles/Summary
Brown has shown consistent improvement during his four years at Oklahoma State and he probably has a bit more improvement to do before he reaches his ceiling. He can be a versatile scorer, and his improved jumper makes him a much bigger threat. His ability to see the floor and pass the ball is underrated and he has manned the point guard position fairly well when the team needed him to. At his size, he will likely need to show that he could man the point on a more consistent basis. Brown's athletic ability and speed will attract many teams, and he has turned into a very good perimeter defender. He has a strong basketball IQ and, reportedly, a very strong work ethic. He should have a strong opportunity during workouts this Spring.
Draft Value: Mid-Late 2nd – #44-52
If you look at Brown as an undersized shooting guard, he may not seem that attractive a pro prospect, but if a team sees that there are tools here to eventually have a player with his athletic ability and skills playing some backup point guard, then he is certainly worth a look. Even if he isn't drafted, a smart team will keep close tabs on him for the near future.
Leave your comments below, or email me – [email protected]
Follow me on Twitter – @NBADraftBlog