Name: Noah Vonleh Age: 18 School: Indiana
Height: 6'10 Weight: 240 Projected Position: PF
2013-14 Stats (as of 3/10/14):
11.3 ppg, 9.0 rpg, 0.6 apg, 1.4 bpg, 2.1 tpg (26.5 minutes per game)
52.3 FG%, 71.6 FT%, 60.4 TS%, 56.0 eFG%
21.4 USG%, 10.8 ORB%, 27.3 DREB%, 19.4 TRB%, 5.4 BLK%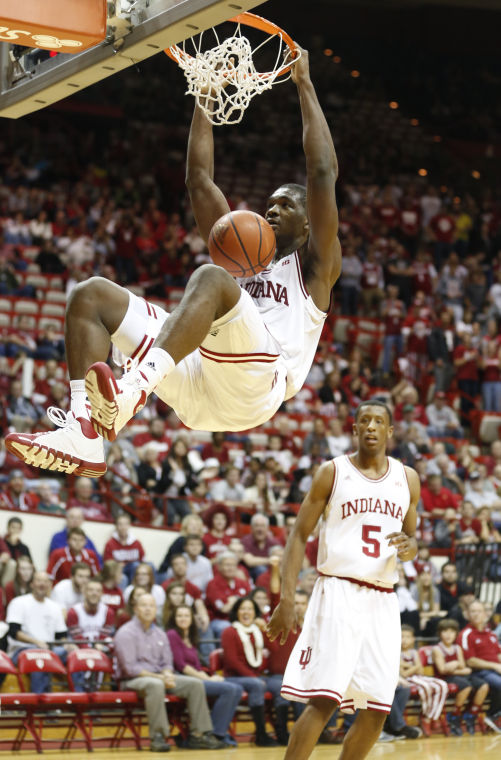 Photo:Jeremy Hogan/Herald Times
SKILLS & ATHLETIC BREAKDOWN
Offense
Post Offense
Vonleh has the tools to be a good back-to-the basket post player, though he needs work in some key areas. First, he needs to do a better job using his body to establish position in the post area, especially using his lower body to create space. He sets a good target for passers and has good hands. Vonleh hasn't shown many post moves, but he has shown very solid footwork in the moves he does have. He is able to make a quick move over either shoulder, and finish with either hand in the basket area. His touch has improved around the basket, though some of his shots are ill-advised. Vonleh needs to work on getting a better sense of where the defense is before he makes a move, often making his move and finding there are already defenders waiting to strip him of the ball. Vonleh is much more comfortable facing up out of the post and using his dribble to get by his man to the basket, though he should continue to hone his jumper out of that situation. Vonleh needs to continue working on being able to sense help defenders and being able to locate and make a quick pass to teammates on the perimeter. Vonleh is not a very strong screener, and needs to work on making sure he catches a defender before leaving the screen. Also, he needs to work on being the roll man in the pick-and-roll. He doesn't open up quickly to the ball, and by the time he does, the chance for the ballhandler to get him the ball is gone. Vonleh understands spacing well and has shown to be very active moving in the post to get in position for the ball. He hasn't shown to be much of a passer out of the post yet, but again, the touches were limited.
Ballhandling/Penetration
Vonleh is a good ballhandler for his size, and is capable of using either hand well over short distances. Vonleh has shown that he can make a move to the basket when he gets the ball within 10-15 feet of the basket, though he makes a much stronger move when going to his right. When going to the basket, Vonleh uses his body well to shield defenders from the ball, and is capable of finishing in a variety of ways, including with either hand, around the basket. Vonleh needs to do a better job keeping his head up when heading to the basket and sensing where the help defenders are coming from. Also, he needs to work on keeping his dribble closer to his body, as he can let the ball get away from him. Vonleh's level of comfort making moves from the perimeter to the basket is what separates him from a lot of big men in college basketball, though his control once he makes a move still needs some work.
Perimeter Shooting
Vonleh has shown that he can be a very good set shooter on the perimeter, especially from behind the arc. He does a good job getting square to the basket, has a high release and good follow-through. Vonleh is very good at getting into his motion off the catch. Though a good three-point shooter, Vonleh hasn't shown the same success in the mid-range area, where defenders around cause him to hesitate a bit much before looking to shoot. Vonleh also needs to work on his ability to be able to shot fake and take a dribble or two to get a better look at the basket. Vonleh is not a strong perimeter screener, and has trouble opening up quickly to the ball after screens. The tools are there for him to be a solid pick-and-pop option, but he needs to work a lot on technique.
Free Throw Shooting
Vonleh is a below-average free throw shooter statistically, though a slight change to his release, which he has shown, just not consistently, will help him immensely. He has a consistent routine and good balance at the line, and while his motion is fluid, he can hesitate at the release. His follow-through is good, but the hesitation in his motion can cause some shots to come off flat. Vonleh does a very good job drawing contact around the basket. He goes to the free throw line about 1.2 times for every 2 field goal attempts, though it should be noted that he only had 216 field goal attempts on the year.
Defense
Perimeter Defense (On/Off Ball)
Vonleh has shown to be a good on-ball perimeter defender in many ways. He positions himself well between his man and the basket, gets low and shows a good defensive stance. His lateral movement is good over short distances, though his reaction time to movements can be quicker, and he can have a tendency to play on his heels when defending away from the basket. Vonleh does a good job closing on perimeter shooters, though he is quick to fall for shot fakes and getting drawn in the air. Off the ball, Vonleh positions himself well though he can find himself turned around if his man is even slightly active moving on the perimeter. His length does allow him to give some room out on the perimeter and still be able to challenge shots well, but his positioning will be important.
Post Defense/Help Defense
Vonleh has shown good potential as a post defender, creating a solid, balanced base with his legs and positioning himself well between his man and the basket. He also has shown good footwork when defending against both back-to-the-basket and face-up post moves. Vonleh uses his length to try and deny post-entry passes, though he often finds himself caught off-balance if he isn't successful. Vonleh needs to work on building up his strength and using his lower body better to force his man away from the basket. Vonleh's defensive awareness needs to improve because he has the tools to be a good help defender around the basket. He is often a step or so slow to react and doesn't get to help position in time to make a play. Vonleh has the potential to be a very good shot-blocker. He has good timing, although he falls to easily for head and shot fakes, and does a good job extending straight up to go after shots; he just needs to work more on getting into help position quicker. In pick-and-roll situations, Vonleh needs to work on hedging out on the ballhandler, especially making sure not to give too much room to the ballhandler to make a move to the basket or get a shot off. Vonleh will also look to recover off the ballhandler a little too quickly. Because he doesn't hedge far out too often, Vonleh has little trouble staying with his man after the screen.
Rebounding
Vonleh does a very good job tracking missed shots and getting into position to grab the rebound. He also is very good at looking to use his body to box out opponents and once he has position, going strong after the ball, extending well. As on the defensive end, Vonleh will need to add some strength for the next level. Vonleh's length also allows him to tip balls that he can't get to on the first chance and keep them alive for himself or a teammate. On the offensive end, Vonleh is aggressive going after missed shots, and he has almost a natural ability to know where he should be positioned to have the best chance at a miss. He has also shown a nice ability to tip balls in around the basket when he has the opportunity, as well as being able to get a good shot off when he gets an offensive rebound. On both ends, one area Vonleh needs to work on is making sure to keep rebounds high after he grabs them. He was very susceptible to getting stripped because of how low he brings the ball down after getting it.
Transition
Vonleh runs the floor well for his size and can be a good option on the break streaking to the basket either as a trailer or getting out in front of the defense. Vonleh does a good job catching passes around the basket and finishing strong, while also showing good body control.
Intangibles/Summary
In many ways it was an up and down season for Vonleh. He started the season strong for the Hoosiers, but often, especially on the offensive end, he was a non-factor. A good deal of blame can go to the Indiana guards who just didn't get him the ball consistently, though Vonleh's inability to hold his position in the post for more than a second or two also made it tough to get him touches. As the season wore on, he started to spend more time on the perimeter, and though he knocked down threes in limited attempts, he needs to become a much more consistent threat around the basket. His value right now comes on the defensive end and rebounding. Vonleh has shown that he has been schooled well in how to defend at his size and his desire and ability to track down rebounds is a major strength. Speaking of strength, Vonleh needs to build his to help him on both ends of the floor at the next level. Overall, he has a strong understanding of the game and is, for the most part, fundamentally sound. Combine that with his size and agility, and only being 18 years old, it is easy to see why people believe in his potential.
Draft Value: Late Lottery-Mid 1st – #8-15
Vonleh will intrigue many with his young age and his ability to defend and rebound. On the offensive end, he is fundamentally strong, but he has yet to show he can be any kind of consistent threat in any one area. The upside may be worth the risk and chances are he goes more towards 8 than 15 in the Draft, though I have a hard time seeing him being a major contributor in his first year, possibly second. Whoever picks him will need to put the time in to develop his ability, a lot of which is still possibly untapped.
Leave your comments below, or email me – [email protected]
Follow me on Twitter - @NBADraftBlog