Name: Adreian Payne Age: 23 School: Michigan State
Height: 6'10 Weight: 245 Projected Position: PF
2013-14 Stats (as of 2/27/14):
16.4 ppg, 7.7 rpg, 1.4 apg, 0.8 bpg, 1.8 tpg (28.4 minutes per game)
52.5 FG%, 74.7 FT%, 61.4 TS%, 58.1 eFG%
27.4 USG%, 7.2 ORB%, 23.0 DREB%, 15.5 TRB%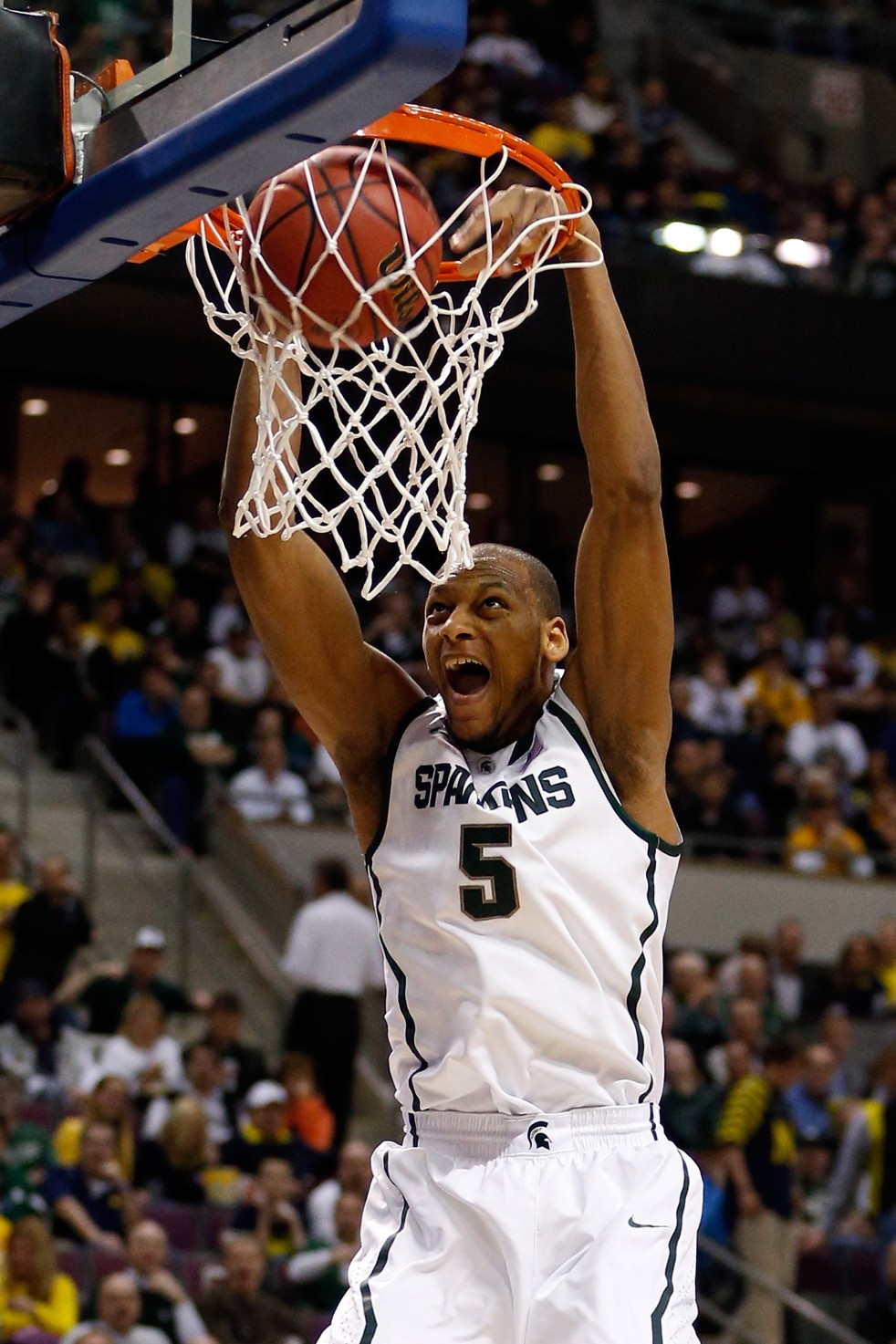 Photo: Gregory Shamus/Getty Images
SKILLS & ATHLETIC BREAKDOWN
Offense
Post Offense
Payne uses his body well to establish position in the post area, though I would like to see him use his lower body more to create separation. He sets a good target for passers and has very good hands. Payne has developed a few moves, and countermoves, to allow him to score around the basket and he has very good touch and understanding of angles. Payne has improved his footwork in the post, and has shown that he can make moves over either shoulder, though he needs to focus more on getting to the basket instead of settling for short jumpers or fall-away shots. He is also strong at facing up out of the post and knocking down the short jumper or using his dribble to get by his man to the basket. Payne needs to continue working on being able to sense help defenders and being able to locate and make a quick pass to teammates on the perimeter. He has shown the ability to make the good pass out of the post, and he uses his length well to see the whole court, but not as often as he could. Payne is a good screener, and when he sets screens out on the perimeter, his good footwork allows him to open up quickly and roll to the basket, where he can score in a few different ways, including looking for lobs above the rim.
Ballhandling/Penetration
Payne handles the ball well for his size, and is capable of using either hand well to get to the basket. Payne is very good at making a move to the basket when he gets the ball within 15 feet of the basket, and his perimeter shooting ability allows him to draw defenders out to him where he then uses his long strides to beat them off the dribble. When going to the basket, Payne uses his body well to shield defenders from the ball, and is capable of finishing in a variety of ways, including with either hand, around the basket. Payne needs to do a better job keeping his head up when heading to the basket and sensing where the help defenders are coming from. Payne has improved his body control as he gets into the lane, and he does a good job keeping his head up to see where the help defense is coming from. He has shown he can make passes to his teammates when help defenders come to stop him, though he hasn't quite mastered throwing these passes on the moves and the results can be erratic.
Perimeter Shooting
Payne has become a much improved perimeter shooter over his college career, both with consistency and range. He does a good job getting square to the basket, has a high release and good follow-through. Payne is very good at getting into his shooting motion quickly off the catch and you can see the improvement in his motion as he has become more confident over the seasons. Payne has also added the ability to take a couple of dribbles to get a better look at the basket, and this works really well when he gets defenders to fall for his strong shot fakes. At times, Payne does need to watch a tendency to float with his shot when he is on the move, but he has shown he can make adjustments at different points this year. With his strong screening ability on the perimeter, combined with his ability to get good, quick shots off, makes Payne a dangerous option in pick-and-pop situations.
Free Throw Shooting
Payne is an average free throw shooter, though he puts some of the same mechanics from his jumper into his free throw shooting, he could be better. He has a consistent routine and good balance at the line, but his shooting motion can be more fluid as he hesitates as he gets near the point where he releases the ball. His follow-through is good, but the hesitation in his motion can cause some shots to come off flat. Payne does a very good job drawing, and getting shots off, through contact around the basket. However, so many of Payne's shots come away from the basket, that overall, he doesn't get to the free throw line as much as he could (around .4 free throws for every shot attempt.)
Defense
Perimeter Defense (On/Off Ball)
Payne has improved significantly as an on-ball defender and he moves his feet well for his size. He positions himself well between his man and the basket, looks to get low and maintain a good defensive stance, and has good lateral movement over short distances. Payne's reaction time to his man's movements could be improved and if forced to move laterally over 5 or 6 steps can force him to start crossing his feet or chase his man. Payne does a strong job closing on perimeter shooters, though he needs to watch falling for shot fakes and getting drawn in the air. Off the ball, Payne positions himself well, putting himself in an area where he can get to his man and help around the lane if needed, though he has a tendency to shade towards helping in the lane area a little too far. His length does allow him to give some room out on the perimeter and still be able to challenge shots well, but his positioning will be important.
Post Defense/Help Defense
Payne is a fundamentally sound post defender, creating a solid base with his legs and positioning himself well between his man and the basket. His footwork has improved, though he can get caught leaning to one side, and he does a good job preventing moves to either side of him. Payne's length and ability to move his feet allows him to defend against players who look to face up, and his length also allows him to use his arms well to try and deny post-entry passes. Payne needs to work on building up his strength and using his lower body better to force his man away from the basket. Payne has good defensive awareness and is capable of being a good help defender around the basket, though he doesn't look to challenge as many shots around the basket as he could with his length and leaping ability. When he does look to block or alter a shot, he does a good job extending straight up and not letting his body create contact. In pick-and-roll situations, Payne does a very good job using his length and footwork to hedge out on the ballhandler, taking away both good looks at the basket or a chance to make a move around the screen to the basket. After he hedges, he does a good job tracking his man and recovering or calling out a switch on the rotation with a teammate.
Rebounding
Payne does a very good job tracking missed shots and getting into position to grab the rebound. He is quick to go up after missed shots, though he can forget to look and put a body on someone, and instead just rely on his length and athletic ability to go up after the ball. Payne's length also allows him to tip balls that he can't get to on the first chance and keep them alive for himself or a teammate. On the offensive end, Payne could be more aggressive going after missed shots. He also needs to work on using his length to tip the ball in instead of always trying to bring the ball back down in traffic.
Transition
Payne runs the floor well for his size and he is a good option on the break for a mid- or long-range jumper or heading on a straight line to the basket. Payne's improved ballhandling ability has also allowed him to start the team in transition after he grabs a rebound, though the longer he has the ball, the shakier his decisions and handle get, especially if the defense looks to stop him. Payne is also a threat to crash the offensive board on the break for a put back, so teams need to make sure they watch where he is and put a body on him.
Intangibles/Summary
Payne has done a tremendous job allowing himself to be taught by his coaches at Michigan State over the past 4 seasons. The talk over the past few years has been how good Payne will be when he finally matches up his natural ability to his skill. This season has shown the answer. Payne is a threat to score from the post and the perimeter, and he works seamlessly within the Michigan State offense. He has become more confident in his abilities, but he doesn't need to be a primary option to contribute on offense. Payne's athleticism allows him to create opportunities and he moves around the floor extremely well for his size. His ability to be a defensive stopper is still a work in progress, but he is capable of making plays on both the perimeter and around the basket. Payne has shown an increased understanding of the game on both ends of the floor this year, and it also seems that he has become more vocal with his teammates. Adding strength to his frame would help Payne on both ends of the floor, and he could be a more aggressive rebounder on both ends as well.
Draft Value: Middle 1st Round – #15-22
Payne has done a tremendous job putting all of his abilities together this season, and he has the skill-set and body to be a rotation player sooner rather than later for most teams. His ability to knock down perimeter shots consistently will appeal to many teams, but his offense is very well-rounded. Payne's ability to guard on the perimeter and in the post will also make him very useful to many teams. I believe he has the demeanor to fit in with any team or coach, and most NBA offensive systems.
Leave your comments below, or email me – [email protected]
Follow me on Twitter - @NBADraftBlog