Name: Patric Young Age: 22 School: Florida
Height: 6'9 Weight: 240 Projected Position: PF
2013-14 Stats (as of 2/25/14):
10.8 ppg, 6.3 rpg, 1.0 bpg, 1.1 tpg (25.8 minutes per game)
55.6 FG%, 60.6 FT%, 57.2 TS%, 55.6 eFG%
21.6 USG%, 13.1 ORB%, 16.0 DREB%, 14.6 TRB%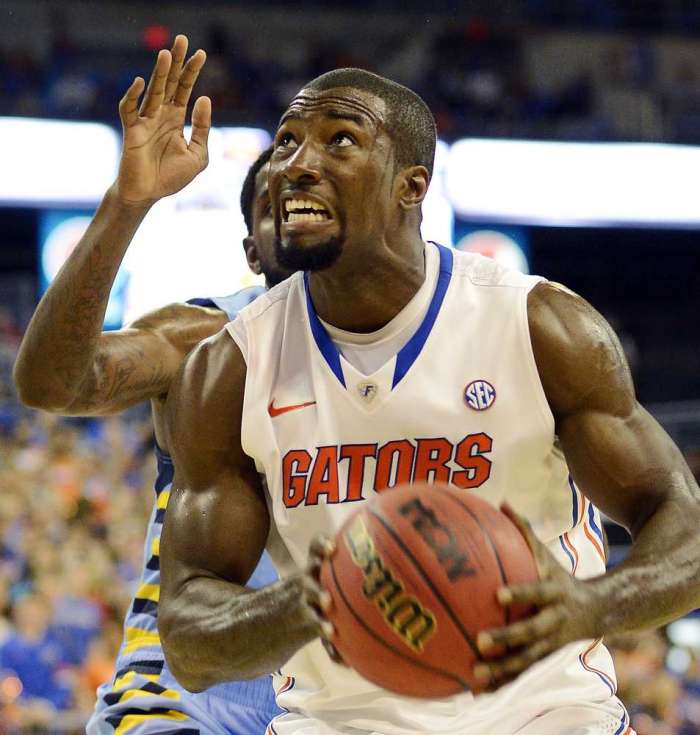 Photo:AP/Phil Sandlin
SKILLS & ATHLETIC BREAKDOWN
Offense
Post Offense
Young has developed into a reliable post option, though his shooting isn't a major part of the offense. Young uses his body well to establish position in the post, creating a wide base and getting low. His hands are improved, though he still needs to work on catching some more difficult entry passes. Young has one go-to move which he can do over either shoulder and with either hand – 1 to 3 dribbles and a short hook shot. He has a soft touch around the basket and has shown that he can hit that shot out to 8 feet. He is also a strong threat to make himself available when a teammate's penetration forces his defender to help. Young fills the space quickly and goes strong to the basket if he gets the ball. Overall, Young's post game can still be improves, especially by incorporating possibly a baseline dropstep or some strong moves out of the face-up. He doesn't shy away from contact and though he has some problems with longer defender, he can use his strength to muscle his shot at the basket. Young is a very good screener on the perimeter, and while not often used, he can be a good option on the pick-and-roll. He opens up to the ball quickly and uses his body well to shield defenders. Young sees the floor well out of the post and he does a good job spotting cutters to the basket or hitting open teammates on the perimeter.
Perimeter Shooting
There isn't much to say about Young in this area, but it will be an important skill for him to continue to develop as his career progresses.
Ballhandling/Penetration
Young doesn't handle the ball often away from the low post, but he has shown that he can handle it well with either hand over a short distance. He does need to watch letting the ball get too far from his body, but generally is moves are limited to 2 or 3 dribble. Young has also shown the ability in certain match-up to face-up out of the post and make a strong move to the basket.
Free Throw Shooting
Young is a below-average free throw shooter, but his shooting stroke doesn't need much work to make improvements. Young's shooting motion is ok, though he should use his legs more, until the release, which is not always consistent. At times he has a fluid motion into the release and at others he hesitates slightly before the release, creating some shots without much rotation. Young gets to the free-throw a line a decent amount based on scoring chances he has, but the problem is he doesn't take a lot of shots (Young averages around 7.5 shots per game, translating into just about 4 free throw attempts per game). Young doesn't shy from contact around the basket, so he is a threat to get to the line if he can get the ball.
Defense
Post Defense/Help Defense
Young is a good post defender, getting good position and using his lower body well to anchor his position. His footwork continues to improve and he is capable of reacting to and preventing moves over either shoulder, or stop penetration off the face-up. Young uses his strength well to his advantage and even larger players have trouble trying to back him down in the post. Young has very good defensive awareness and gets into position well as a help defender around the basket, or even getting out to double-team on the perimeter when his coach calls for it. Young is not a quick leaper, but he has good timing trying to block or alter shots. He extends well, though he needs to watch being over-aggressive and falling for shot fakes. In pick-and-roll situations, Young does a very good job hedging on the ballhandler and his ability to move his feet well allows the defense to make its proper rotations until he can recover. Young's strength advantage over his opponent can be so large at times that I think he gets tagged for fouls when a player just bounces off of him.
Perimeter Defense (On/Off Ball)
Young is a very good on-ball defender for his size, positioning himself well between his man and the basket, maintaining a good stance, and having good lateral movement. Young closes well on shooters, though he needs to watch falling for shot fakes and getting drawn in the air. Off the ball, Young positions himself well, maintaining space where he can get to his man and help around the lane if needed. The Florida defense requires him to be active constantly, moving from position to position, and he often does it seamlessly. As in the post, he has very strong awareness and he does a great job being vocal and directing teammates around him.
Rebounding
Young does a very good job tracking missed shots and getting into position to grab the rebound. He uses his lower body strength well to clear space out to grab the rebound, though he needs to watch using his arms up too high to prevent his man from trying to get the rebound. Also, he needs to watch pushing his way into position with his hands, especially if someone beats him to a spot. Young needs to be more aggressive going after missed shots that aren't right in his area. However, I have seen Young, on numerous occasions, just rip a ball away from an opponent who gets a rebound. Once he gets his hands on the ball, Young does a good job keeping the ball up high and clearing the area before he looks to get rid of the ball, and he has done a very good job becoming a strong outlet passer. On the offensive end, as on the defensive end, Young uses his body well to clear out space and going strong after the ball. He has improved his ability to go straight up with 2nd chance opportunities, giving him a good opportunity for a quick basket or drawing contact.
Transition
Young runs the floor well for his size and he is a good option as he cuts to the basket on the secondary break. Teams also need to account for Young as a strong offensive rebounder trailing the play on the break. Young doesn't handle the ball very well, so the only real option is to get him the ball around the basket. Young also does a very good job in transition defense, closing gaps in odd-number situations or getting in position to protect the basket.
Intangibles/Summary
Young's strength is in his ability to defend the post and the perimeter while having a nice combination of strength and quickness for his size. Florida's offense during his time there has been primarily perimeter based, but Young makes the best of the chances he gets, shooting over 58% from the floor for his career. He contributes consistently on the floor in many ways, whether it's scoring, defending, rebounding, or setting screens which free his teammates. He doesn't make many mistakes on either end and always plays hard when he is out on the floor. Young doesn't have the offensive ability to be a primary option, but even if he isn't getting the ball, he creates opportunities by hitting the offensive glass. I would like to see Young be more aggressive going after rebounds, though he does play with some other quick leapers alongside him. Even if he isn't getting the rebound, he does a good job preventing opponents from getting there also. Young is high IQ player who plays within his ability and is a top-level teammate.
Draft Value: Mid-Late 2nd Round – #48-55
Ideally, Young is a player a team can send out for 15 minutes a night to defend and grab rebounds, with any offense coming as a bonus. Strong and athletic, with a good feel for the game, Young would be an asset as a role player for most teams. As noted, his offense is not a strong area, but he makes the most of his chances and creates extra chances for himself and teammates with a good nose for the ball and his hustle.
Leave your comments below, or email me – [email protected]
Follow me on Twitter – @NBADraftBlog