Name: Alec Brown Age: 21 School: Green Bay
Height: 7'1 Weight: 235 Projected Position: PF/C
2013-14 Stats (as of 2/12/14):
15.6 ppg, 5.9 rpg, 3.2 bpg, 2.3 tpg (29.7 minutes per game)
56.3 FG%, 72.0 FT%, 58.0 TS%, 54.8 eFG%
26.3 USG%, 8.7 ORB%, 13.4 DREB%, 11.2 TRB%, 11.1 BLK%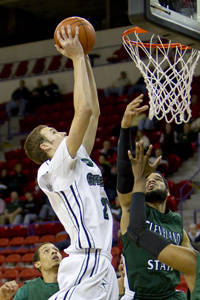 Photo: Green Bay Athletics
SKILLS & ATHLETIC BREAKDOWN
Offense
Post Offense
Brown uses his body well to establish position in the post area, though he needs to work on strengthening is lower body to hold his position, and he is very skilled in the lane area. He has very good touch around the basket, and can make moves over both shoulders, and finish with either hand, though he will often settle for short jumpers instead of going strong to the basket. Brown has above-average footwork in the post, and has developed a few secondary moves if his first move is stopped. When he looks to shoot the short hook on either side, it is extremely tough for any defender to prevent it. He is also good at facing up out of the post and knocking down the short jumper or using his dribble to get by his man into the lane, though he may rely on it too often. Brown needs to continue working on being able to sense help defenders and being able to locate and make a quick pass to a teammate consistently. He has shown the ability to make good passes out of the post, but not as often as he could. Brown is a good screener, and when he sets screens out on the perimeter, his good footwork allows him to open up quickly and roll to the basket, where he can then use his scoring ability to find ways to get a good shot off.
Perimeter Shooting
Brown is a very good perimeter shooter for his size. He does a good job getting square to the basket, has a quick, high release and good follow-through. His motion is very fluid and he does a very good job getting right into his motion off the catch. He needs to add strength, but hitting NBA three-pointers will be possible. Brown is a good option in pick-and-pop situations, but he also does a very good job moving without the ball, and can hit the jumper when being guarded one-on-one on the perimeter.
Ballhandling/Penetration
Brown handles the ball well for his size, and is capable of using either hand, though he prefers to go to his right hand. At 7'1, Brown is very good at making a move to the basket when he gets the ball within 10 feet of the basket, and he has a good first step for his size. Also, with his ability to knock down jumpers consistently, he is able to force defenders to come out and guard him, giving him the opportunity to look to make a dribble move by them. Brown needs to watch letting his dribble get away from him when handling it over a longer distance, but he is capable of finishing with either hand around the rim. Brown has also shown that he can use his dribble to set up his jumper, though it is still an area where he needs work.
Free Throw Shooting
Brown is an average free throw shooter, but with his shooting stroke, he could be better than he is now. Brown's shooting motion is very good until he gets to the point where he is going to release the ball, where he hesitates a bit before he releases the ball. That hesitation in the shooting motion can cause the shot to come out with less arc and takes away many chances for kind bounces on the rim. For a 7'1 player, Brown doesn't get to the line as often as he should, and it's mainly because he relies on jumpers for his shooting attempts. Even around the basket, he will prefer to shoot short jumpers instead of going strong to the basket.
Defense
Post Defense/Help Defense
Brown is an improved post defender, getting good position and having good balance. His footwork is good and he is capable of stopping moves to either side or to adjust and defend against a player who faces up out of the post. Brown likes to use his arms to try and deny entry passes into the post, though he needs to make sure he has help in position on passes over the top. He needs to work on being more physical in the post and using his lower body more to try and force his man away from the basket. Stronger post players, which many are, can easily back Brown down around the basket. Brown has very good defensive awareness and gets into position well as a help defender around the basket. Brown is not a quick jumper, but he has good timing blocking shots. He extends well, though he needs to watch fouling with his body as he goes up to block shots. In pick-and-roll situations, Brown needs to work on hedging hard on the ballhandler instead of dropping back off the screen and giving the ballhandler space to make a move or get off a quick shot.
Perimeter Defense (On/Off Ball)
Brown continues to improve as an on-ball defender and is very good for a player his size. He positions himself well between his man and the basket, tries to stay low, and has average lateral movement. Brown closes well on shooters, though he needs to watch falling for shot fakes and getting drawn in the air. Off the ball, Brown positions himself well, maintaining space where he can get to his man and help around the lane if needed, though can be caught too far out on the perimeter against players who really aren't a threat to shoot, which then leaves him in poor position to help.
Rebounding
Brown does a very good job tracking missed shots and getting into position to grab the rebound. He needs to work on getting more physical and using his body to clear out space and box out. Also, Brown needs to be more aggressive going after the missed shot instead of waiting for it to come to him. Once he gets his hands on the ball, Brown does a good job keeping the ball up high and clearing the area before he looks to get rid of the ball, and he has done a very good job becoming a strong outlet passer. On the offensive end, Brown could be more aggressive going after shots on the offensive end, though he has a nice ability to get quick second shots off when he is around the basket and he converts these opportunities at a very high rate.
Transition
Brown runs the floor well for his size and he is a good option on the secondary break for a mid-range jumper or heading on a straight line to the basket. Brown also has the ability to pop out to the wing behind the three-point line and knock down shots on the break.
Intangibles/Summary
Brown's improvement has been steady over his 4 years and he is a skilled player with a high basketball IQ. What sets Brown apart from other bigs is his ability to knock down jumpers consistently, and everything from his shooting motion to how he moves without the ball are reminiscent of more of a small forward than a 7'1 center. This is also Brown's biggest problem however, as he isn't as dominant around the basket as someone his size should be, and he seems to be much more comfortable on the perimeter than in the post. He has the ability to be a good post scorer and defender, but he needs to work on getting much stronger to compete with power forwards and centers at the professional level. Brown is also a skilled defender, and he moves his feet well on both ends of the floor. He is a good shot-blocker and his ability to block/alter shots allows his team to pressure more on the perimeter. It will be important for him to become more aggressive as a rebounder.
Draft Value: Mid 2nd Round – #42-49
Brown will be appealing to teams because of his shooting ability at his size, though how he handles himself against other bigs in workouts may determine if and where he gets drafted. No matter where he goes, he will need to spend time getting stronger to play in the post and rebound at a higher level. I believe he is worth the 2nd round pick, especially to a team that can use his ability to draw attention on the perimeter, though time in the D-League or overseas will likely allow him to play while working on his strength.
Leave your comments below, or email me – [email protected]
Follow me on Twitter - @NBADraftBlog