Name: Russ Smith Age: 22 (23 in April) School: Louisville
Height: 6'0 Weight: 165 Projected Position: PG
2013-14 Stats (Through 2/4/14):
18.4 ppg, 3.4 rpg, 4.6 apg, 1.9 spg, 3.1 tpg (28.5 minutes per game)
45.4 FG%, 70.6 FT%, 39.5 3FG%, 56.9 TS%, 53.4 eFG%
32.4 USG%, 32.0 AST%, 16.3 TO%, 3.8 STL%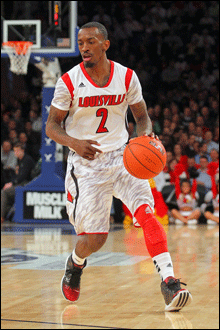 SKILLS & ATHLETIC BREAKDOWN
Offense
Perimeter Shooting
Smith has very good form on his jumper when he gets his feet set to shoot. He has a high, quick release, good follow-through, and range out to the NBA three-point line. He has the ability to hit his jumper off the pass or dribble, and if he has time to get set, he can be a very accurate spot-shooter. Smith uses screens well to set up his jumper, as well as using his dribble to clear space. Smith needs to continue to work on moving without the ball, using screens and making quicker cuts to get open. Shot selection has always been an issue for Smith, but he has shown some improvement this year, but sometimes his mentality that he is capable of hitting any shot wins out and he forces some bad ones.
Penetration
Smith can be very effective when he looks to get into the lane and to the basket. He has a quick first step to both his left and right, and he uses his speed and body control to wriggle his body through all kinds of space. Smith has the ability to finish in a variety of ways around the basket, and can finish with either hand. He does a great job using angles around the backboard to make shots when the help defense gets into position quickly, though he doesn't shy from taking contact on his way to the basket. Smith keeps his head up and sees the defense when he gets into the lane, but he needs to do a better job reading his options and seeing where he can find an open teammate quicker. Smith has some issues shooting the mid-range jumper off the dribble as he tends to let his body float in whichever direction he is heading, often leading to his shot being off in that direction. Smith is strong at using screens to get into the lane, and he is very good at coming off them tight enough to either force a switch or leaving him with the defense trailing him. He needs to do a better job making reads off these screen situations, though he has improved, and is capable of making some good passes in pick-and-roll situations. Smith also needs to work on his floater and short jumper, which he doesn't shoot as well as longer shots.
Ballhandling/Passing
Smith is a very good ballhandler, able to use both hands well and having a full repertoire of advanced dribbles to accomplish anything from creating space for his jumper to getting into the lane or avoiding pressure. He has good control, keeps the ball low and close to his body, but with a tendency to try and force action when it's not readily apparent. Smith has shown a good hesitation dribble, as well as a crossover, that have left defenders completely out of position. Smith will attack the basket from either side, and he is very good at finishing with either hand off the dribble. Smith also uses his dribble well to set up his jumper, both mid-range and three-point range. At only 6-foot tall, it is important for Smith to make as much space as possible, and he does a strong job doing it in all directions. Smith has very good court vision and is a much better passer than he is usually given credit for. He does a good job finding open teammates when he draws help defenders off of penetration and his passes are usually crisp and on target, though, like many things, he may try and force plays that aren't quite there. Smith does have a tendency to try to make passes as bail-outs at the last second when he gets caught without a shot, so he needs to do a better job reading the defense.
Free Throw Shooting
Smith is a good free throw shooter, with a smooth shooting motion and follow-through. This season though he seems to be rushing some free throws and you can see his upper body move to the side as he is shooting. It's a fixable problem, but one he needs to be aware of. Smith isn't getting to the free throw line as often as he did last season, but he is playing a bit more in control this season and looking to involve others more in the offense. He is as capable of anyone in the country of finding ways to draw contact and get to the line.
Defense
Perimeter Defense (On/Off Ball)
Smith is a very good on-ball defender, though he takes chances probably a bit more than he should. He positions himself well between his man and the basket, and moves well laterally, even showing very good ability to cover the ball the length of the court. He does a good job getting low in his stance, and his hands and feet are constantly active. Smith needs to work on not playing so many games when covering the ball, like letting his man go by him and trying to knock out the ball from behind. He anticipates his man's movements well, but he needs to watch for falling for quick fakes. Smith needs to do a better job getting over the top of screens consistently against shooters, often choosing to either go under the screen or switching, which can leave a gap. Off the ball, Smith positions himself well, though he can find himself cheating too much towards help position or overplaying the passing lane. He is a strong help defender though, and can move back and forth between his man and help position quickly. He anticipates very well off the ball and is very adept at jumping passing lanes, even playing off a bit to try and lure a pass he thinks he can intercept. Smith needs to work on navigating through screens off the ball, especially getting caught in the lane area or through multiple screens, and work on not letting his man get a lot of room to get set for a shot. He has very good defensive awareness, and you can see his head constantly moving to survey the court and keep track of the ball and his man.
Rebounding
At 6'0, you don't expect to see Smith involved in much rebounding, but he uses his speed well to get to missed shots, and he isn't afraid to battle with much bigger players. He needs to make sure about at least putting a body on an offensive player on the perimeter to prevent them from charging in for a rebound. Smith is also very good at chasing down long rebounds, anticipating where they will go and looking to beat everyone to the spot, or sneaking in if someone is there. Smith can be dangerous when he gets a long rebound because he will just turn and streak up court, so defenses need to make sure players account for this.
Transition
Smith is excellent in transition, able to push the ball himself, which he prefers, or run one of the wings. He has improved his decision making in the open court and has become a good distributor, when he chooses to make the pass. His shot selection if he chooses to keep the ball still needs some work, but he is starting to recognize the possibilities. Smith is a threat to stop off the dribble and shoot from behind the arc, but is just as capable of streaking to the basket and finishing in a variety of ways. Smith is also a very good transition defender, often trying anything he can to disrupt the fast break by stopping the ball.
Intangibles/Summary
There aren't many players who come to mind quicker when talking about competing than Smith. He plays with an almost manic energy, which has sometimes gotten the better of him, but he has shown more control this season. He prides himself on playing tough defense and he is also capable of scoring from almost anywhere on the floor. Smith is a guy who wants the ball when the game is on the line and he will do whatever he needs to to try and put his team in a position to win. While his erratic play has given him somewhat of a reputation, he does do many things well and often his biggest fault is trying to force too much.
Draft Value: Early-Mid 2nd – #37-45
The stories of Russ Smith have made their way around basketball for the past few seasons, but the reality is that he is a much smarter basketball player than people believe. Smith finds ways to score, and this season he has shown that he can adjust to running the point as well, though it's still a work in progress. Not to mention, Smith is one of the best defensive guards in college basketball. I don't know if he is ready to make a team's rotation right away, but he will make things tough on other guards in practice and he will do whatever is needed for his team to win. Well worth the chance in the early to mid-2nd round range with the idea of some D-League time to continue to learn to run the point. Size may be a concern and he will need to work on getting stronger, and he will need to learn to how to be effective in much smaller minutes.
Leave your comments below, or email me – [email protected]
Follow me on Twitter - @NBADraftBlog