Name: C.J. Wilcox Age: 23 School: Washington
Height: 6'5 Weight: 195 Projected Position: SG
2013-14 Stats (Through 2/2/14):
19.8 ppg, 4.1 rpg, 2.5 apg, 1.1 spg, 1.9 tpg (35.7 minutes per game)
47.5 FG%, 86.4 FT%, 42.8 3FG%
61.8 TS%, 58.3 eFG%, 25.2 USG%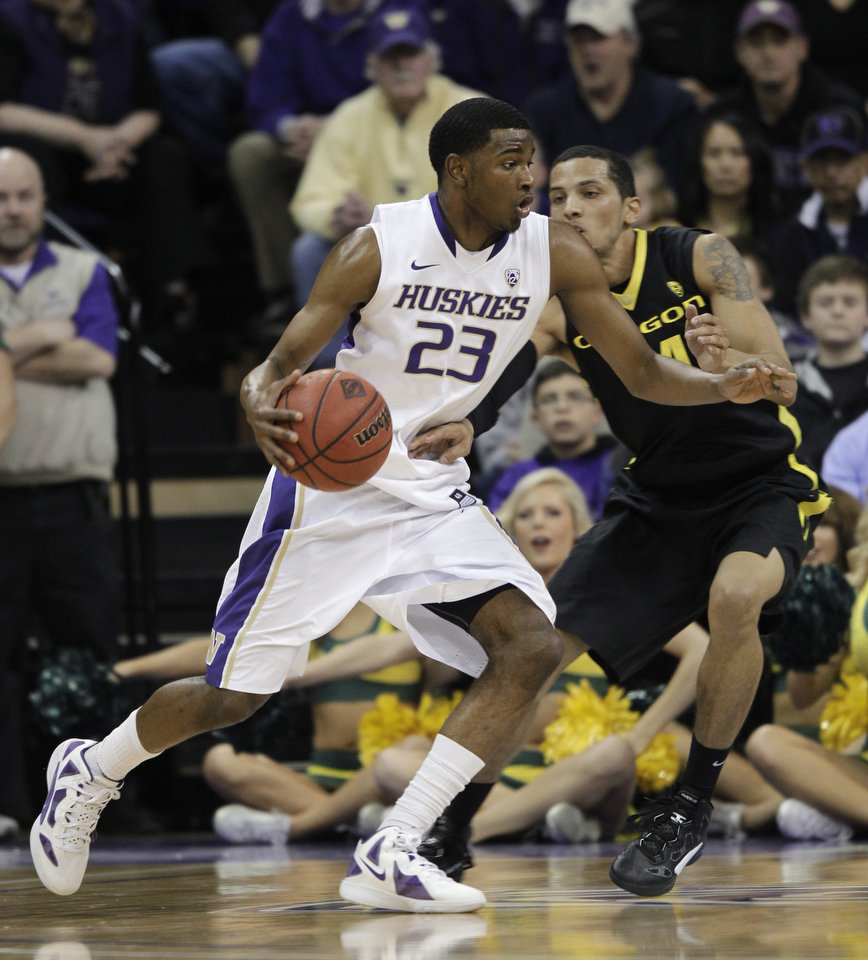 Photo: AP Photo/Ted S. Warren
SKILLS & ATHLETIC BREAKDOWN
Offense
Perimeter Shooting
Wilcox has very good form on his jumper. He has a high, quick release, good follow-through, and range out to the NBA three-point line. He has the ability to hit his jumper off the pass or dribble, and if he has time to get set, he is a very good spot-shooter. While he gets square to the basket quickly off the catch, he needs to work on not rushing his release if he feels pressured. Wilcox uses screens well to set up his jumper, usually using one quick dribble to side to get his shot off. He needs to work on using his dribble more to set up his jumper, especially when he has only one defender in the area. Wilcox has improved how he moves without the ball, using screens and cuts well to create space. I would like to see him come off the screens tighter, giving him more separation to shoot. Shot selection has improved each year in college, and now he may just make an occasional poor shot choice.
Penetration
Wilcox can be effective when he looks to get into the lane and to the basket. He has an above-average first step, especially to his right, and he uses long strides to get by defenders. He needs to look to draw contact more often and go stronger to the basket instead of settling for short jumpers or off-balanced shots. He has the ability to finish in a variety of ways around the basket, and can finish with either hand. Wilcox prefers to go to his right when attacking the basket, to the point he may force action that way. He does a good job keeping his head up and seeing the defense when he gets into the lane, and if the defense helps quickly, Wilcox finds open teammates well. He has a strong mid-range jumper if he chooses to only take a few steps past his defender, though he needs to remember to get himself square to the basket when he is shooting. While he uses screens well to create space for his jumper, he should look to attack the basket more off of them, and if he draws the defense, find the open man.
Ballhandling/Passing
Wilcox is an average ballhandler, able to use both hands well and having developed a couple of advanced dribbles to keep the defense off balance. He has good control, keeps the ball low and close to his body, though he does need to watch forcing his dribble through traffic. Wilcox can also be a bit erratic when he goes to his left. He has shown a good hesitation dribble, especially in the open court, but he needs to work on using dribbles like that to attack the basket. While he can use his left hand for short distances, I would like to see him look to attack the basket more with his left hand. At this point, he tends to always pull up short when he goes left, either passing the ball or taking a jumper. Also, he needs to work on using his dribble more effectively to shoot his jumper. Wilcox sees the floor very well and is a strong passer. He does a good job finding open teammates when he draws help defenders off of penetration and his passes are usually crisp and on target. Wilcox also does a very good job making post entry passes from the wing, a skill that even many young point guards don't do well.
Free Throw Shooting
Wilcox is a very good free throw shooter, with a consistent routine, good shooting motion and follow-through. Wilcox's biggest problem is he just doesn't get to the free throw line enough. Part of that is that most of his shots are jumpers, but he also tends to shy from contact when he does head to the basket. As of this report, Wilcox gets to the line less than 4 times per game, and almost unbelievably, has only gone to the line 15 times in 9 Pac-12 games to date.
Defense
Perimeter Defense (On/Off Ball)
Wilcox is an above-average on-ball defender. He positions himself well between his man and the basket, and moves well laterally over short distances. He does a good job getting low in his stance, though he doesn't do it consistently. Wilcox needs to work on not playing back on his heels when covering the ball, and while he anticipates his man's movements well, he needs to watch for falling for quick fakes. He has done a good job guarding multiple positions this year. Wilcox uses his arms well to disrupt passing lanes and close on shooters. Wilcox needs to do a better job getting over the top of screens against shooters, often choosing to either go under the screen or switching, which can lead to poor matchups. Off the ball, Wilcox generally positions himself well, though he can find himself cheating too much towards help position. He is a good help defender though, and can move back and forth between his man and help position rather easily. While on the ball he anticipates well, he isn't as reactive off the ball. He needs to work on navigating through screens off the ball, especially getting caught in the lane area, and work on not letting his man get a lot of room to get set for a shot. He has good defensive awareness, and can been seen during games directing his teammates into position and calling out movements. Wilcox is able to challenge shots around the basket, and though not a shot-blocker, he has shown that he can get up after shots or make play on the ball from behind.
Rebounding
Wilcox is a decent rebounder, using his athleticism well to get to missed shots and doing a good job securing the ball. He does look to box out, though he can do a better job anticipating where rebounds will go to and looking to get into position. Wilcox doesn't have the strength right now to battle with much bigger players for rebounds, so he needs to rely on quickness and leaping ability. He is quick after long rebounds and looks to either push the ball or outlet it quickly to get the team moving up court.
Transition
Wilcox is very good in transition, especially running one of the wings. If running on the wing in transition, Wilcox is very good at spotting up behind the 3-point line, but if the defense comes out, he is able to take the ball to the basket and finish. He is also capable of pushing the ball himself in transition, and he doesn't look to force too much, instead giving up the ball if he can't find an easy play to make.
Intangibles/Summary
Wilcox's ability to shoot consistently, especially from long-range, already makes him a commodity to NBA teams. He has also improved as a defender, and though he needs to work on getting stronger, he should be able to eventually guard NBA-level shooting guards. Wilcox has a strong basketball IQ, and is a very good playmaker for his position. As mentioned above, he needs to be more aggressive looking to get to the basket, and not shy from contact. Also, he does need to work harder to get open off the ball, though his ability to draw a defender out deep allows a lot of space for his teammates to operate.
Draft Value: Late 1st – #23-30
Wilcox's ability to shoot the three and defend should get him plenty of interest from NBA teams. Getting stronger will be important as well as working on becoming more aggressive. As he continues to develop, he can still fill the role of a shooter who can help stretch the floor. He should have little trouble fitting into most offensive systems. He could be a rotation player sooner rather than later.
Leave your comments below, or email me – [email protected]
Follow me on Twitter - @NBADraftBlog