Name: C.J. Fair Age: 22 School: Syracuse
Height: 6'8 Weight: 215 Projected Position: SF/PF
2013-14 Stats (as of 1/21/14):
16.8 ppg, 5.8 rpg, 1.4 apg, 2.9 tpg (36.4 minutes per game)
45.0 FG%, 72.2 FT%, 27.5 3FG%, 51.3 TS%, 47.7 eFG%
28.1 USG%, 5.7 ORB%, 14.2 DREB%, 9.8 TRB%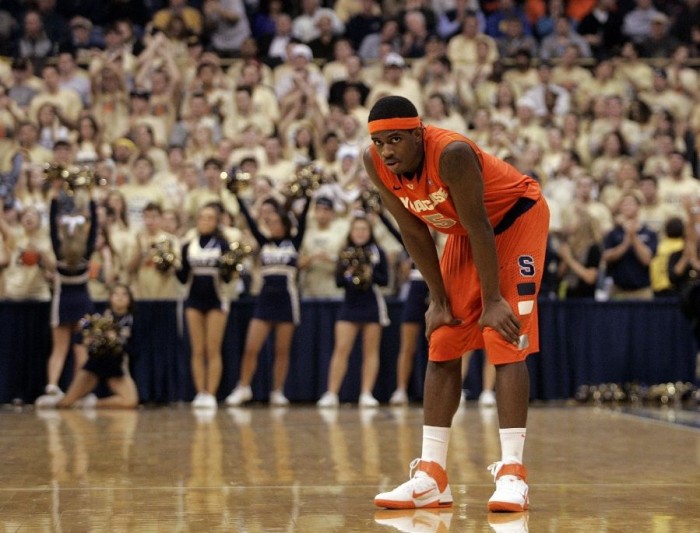 SKILLS & ATHLETIC BREAKDOWN
Offense
Perimeter Shooting
Fair has gone from a poor shooter to an above average shooter in his 3 ½ college seasons. Not only has he tightened up his form and release, but he has expanded his range to the college three-point line. Fair gets good lift on his shot, has a high, though slow, release, and good follow-through. Last season, he started to show more confidence in his shot, but it seems to be off and on this year, leading him to hesitate on open shots he should be able to knock down. Fair has improved how he uses screens to get open for his jumper, but he still needs to work on coming around them tighter and ready to shoot the ball off the catch. Fair is much better off the catch than he is the dribble, and when he shoots his jumper off the dribble, he has a habit of fading to the left or back, even when he has a clean look. He ends up getting less lift and isn't really square to the basket.
Ballhandling/Penetration
Fair is an average ballhandler, capable of using either hand, though much more dominant with his left hand. Fair has improved his first step and can make a move to the basket from the wing or the baseline. Even when he has a step on his man, he has a tendency of pulling up either for a short jumper or a rather than take the ball strong to the basket. Fair has to make sure to keep his head up when handling the ball and not force his drive into help defenders, and often he gets stuck because defenses know he will try and force his drive to the left and is waiting for him. He needs to do a better job finding open teammates when he gets stopped on his penetration, especially when the defense collapses in the lane area. Besides looking to go left, Fair also needs to work on finishing with his right hand around the basket when the defense takes the shot away on his left side.
Post Offense
Fair is able to take smaller or similar sized players into the post and he has the footwork to make a quick move to the basket, though he will almost always go to his left. He has the strength to finish through contact, though he will often try and avoid it and end up taking an off-balance shot if challenged. Fair has gone away from the lane and spends more time on the perimeter, but it is still an option when the match-up is there.
Free Throw Shooting
Fair has become an average-above average free throw shooter, with a fairly consistent routine and smooth shooting motion and follow-through. Fair needs to watch a tendency to short-arm his shot at the line, leaving it with little arc. Fair is able to draw and finish through contact, but he is relying more and more on jumpers that he doesn't get to the line as often as he could.
Defense
Perimeter Defense (On/Off Ball)
As with all Syracuse players, some assumptions are needed because of the zone defense, but it is still possible to find the man-to-man principles. Fair is extremely active playing in the back corners of the 2-3 zone. He has good defensive awareness and can be heard and seen directing his teammates around him. Fair uses his length well to challenge shots and disrupt passing lanes, and he is quick to get into trapping position in the corner or along the sideline. When on the ball, he gets good position between his man and the basket, but he has to watch the balance in his stance. He plays back on his heels and can have trouble recovering quickly from a fake to either side. Still, his length allows him to give a bit of room and still close well on shooters, and he will almost always make an effort to get out on them. Because of this, he has to also watch for not falling for shot fakes so easily and getting drawn into the air for either a foul or a quick dribble past him for an easy shot. Off the ball, Fair does a good job with his positioning, making sure he is in position to help around the lane if needed or get out to the corner/wing quickly as the ball is moved around the exterior of the zone. He has good defensive awareness and is adept at jumping passing lanes, especially skip passes caused by the Syracuse zone. Though he doesn't get many block opportunities because he plays out on the corners and wings of the zone, Fair has the ability to block shots in the lane when in position. He has shown good timing and a nice ability to go straight up without fouling, though, as mentioned, he needs to watch for the shot fakes that draw him in the air.
Rebounding
Fair is very good job tracking missed shots and getting quickly to a spot where he can grab the ball. The problem is he rarely looks to put a body on someone and just relies on his ability to get to the ball quicker or by out-jumping them. That tactic can work often now because of how offensive players are spaced against the zone, but he will need to be more conscious of it at the next level. Fair's length allows him to also help keep alive balls that he can't get to immediately, for he or a teammate to then grab. The same also applies to Fair on the offensive glass. He uses his athleticism well to get to balls quickly and outleap opponents for them, but he doesn't look to clear out space with his body and can be often be stopped with a simple box out. If given a clear lane to the basket, Fair has the ability to attack the glass from the perimeter and finish above the rim.
Transition
Fair runs the floor well in transition, capable of running the wings and spotting up for the jumper or heading right to the basket for a pass at the rim. As noted above, Fair is not a great ballhandler and will only look to take the ball to the basket if the path is clear to use his left hand. If the defender comes out on Fair on the perimeter, it is possible to slow the team's transition offense.
Intangibles/Summary
While Fair's growth as a player doesn't seem a big as many former teammates who have already gone to the NBA, he has done a very good job making his game more well-rounded over the past couple of seasons. If he can continue to grow confidence in his jumper, he should be able to cut down on some of the mistakes he has made trying to force the ball to the basket, though the emergence of players like Jerami Grant, Tyler Ennis, and Trevor Cooney should lessen the burden he felt earlier in the season to be the primary scorer. Fair has shown to be an improving leader of this team and valuable enough that he doesn't spend much time off the court for the Orange. There are still clear flaws in his game, but they are all easily fixable. Physically, Fair can stand to gain more strength in both his upper and lower body, and his game wouldn't likely be hurt with some added muscle.
Draft Value: Mid-Late 2nd Round – #45-55
As with most seniors, there may not be much more upside in Fair's game, but he is still a solid combination of skill and athleticism, as well as a vital part of a legitimate National Championship contender. It will likely come down to a team liking what they see from Fair as a player and person when they bring him in for workouts as there will be similar players to him also available in the bottom half of the 2nd round who can easily claim a spot.
Leave your comments below, or email me – [email protected]
Follow me on Twitter - @NBADraftBlog