Name: Doug McDermott Age: 22 School: Creighton
Height: 6'8 Weight: 225 Projected Position: SF/PF
2013-14 Stats (as of 1/10/14):
24.7 ppg, 7.5 rpg, 1.5 apg, 2.6 tpg (31.9 minutes per game)
49.1 FG%, 90.0 FT%, 42.7 3FG%, 62.5 TS%, 56.6 eFG%
35.6 USG%, 6.4 ORB%, 20.2 DREB%, 13.7 TRB%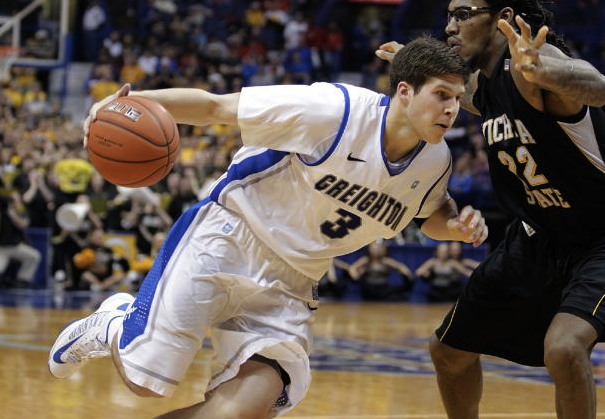 Photo:AP
SKILLS & ATHLETIC BREAKDOWN
Offense
Perimeter Shooting
McDermott's jump shot is his biggest strength, and one of the biggest weapons in all of college basketball. He does a good job getting square to the basket, even off the dribble or screens, elevates quickly, with a high release and great follow through. McDermott already has NBA-range on his shot off the catch, and hitting it off the dribble shouldn't be an issue. McDermott does a very good job coming off screens ready to catch and shoot, and it often seems like he is already in his motion before the ball even gets to him. McDermott is also very good at getting clean looks in the mid-range area, though he may rush shots if he senses defenders closing in from the sides. Off the ball, McDermott is very skilled at using a variety of cuts, fakes and screens to get open, and his ability to draw defenders wherever he goes on the floor helps open up space for his teammates.
Post Offense
McDermott uses his body well to establish position in the post area, and he has developed a variety of moves to allow him to score around the basket. He can use either hand to get off shots, and is also very good at using angles to make shots off the backboard. McDermott has shown strong footwork in the post, and has developed some nice countermoves if his first move is stopped, including a nice up-and-under move. He is also strong at facing up out of the post and knocking down a shot or mid-range jumper, though I would like to see him take his man off the dribble more often out of the face-up.
Ballhandling/Penetration
This is one area where McDermott could use some work. McDermott is an average ballhandler, capable of using either hand well, though much more dominant with his right hand. McDermott is very good at making a move to the basket when he gets the ball at the high post or on the wing, usually within 15 feet of the basket. He doesn't have a great first step, but his ability to hit jumpers from anywhere always draws defenders out and gives him the chance to get by his man with a power dribble or two. McDermott also uses his dribble well to set up his jumper, especially behind the three-point line, creating just enough space to always get a clean look. When going to the basket, McDermott uses his body well to shield defenders from the ball, and is capable of hitting shots from various angles around the basket, as well as finishing through contact. McDermott needs to do a better job keeping his head up when heading to the basket and sensing where the help defenders are coming from. Also, he has tendency to try and force shots up with his right hand around the basket when he has driven to the left, which can lead to block opportunities for the defense.
Passing Skills
McDermott has good court vision and awareness, and has really improved as a passer out of the post. He does a very good job sensing and reacting to double-teams in the post, knows where an open man will be, and gets the ball out quickly. McDermott is also capable of dribbling out of the double team to find teammates on the opposite side of the floor or cutting to the basket. He doesn't get many assists, but his ability to get the ball out quickly and start the ball moving around the perimeter often leads to an open shot for one of his teammates. On the perimeter, McDermott doesn't look to make many passes other than to keep the offense moving and creating a good look.
Free Throw Shooting
McDermott is an excellent free throw shooter, with a consistent routine and smooth shooting motion and follow-through. Most impressive is that McDermott's free throws look exactly the same whether he is shooting them in the first 5 minutes of the game or the last 5. McDermott does a very good job drawing, and finishing, through contact around the basket, but since the majority of his shots are jumpers, he doesn't get to the line as often as he could (96 attempts on 250 field goal attempts as of this writing.)
Defense
Perimeter Defense (On/Off Ball)
McDermott has improved as an on-ball defender the past few seasons, though his lack of foot speed can cause him to get beat off the dribble. He positions himself well between his man and the basket, maintains a good defensive stance and has improved his lateral movement. He uses his body well and can play physical when needed, as well as being capable of guarding multiple positions. McDermott anticipates his man's movements well, but his reaction time in moving can be a step slow. He seems to know how to play angles and tries to find spots to cut his man off. McDermott needs to work on getting through screens and especially not being forced into switches or going under the ball. Because he may play a step or two off to counter any quickness difference, he may have trouble closing effectively on shooters, though he always makes a good effort. Off the ball, McDermott positions himself well, putting himself in an area where he can get to his man and help around the lane if needed. McDermott has good court awareness and can deny passing lanes well when needed, though he needs to watch getting caught overplaying the pass and getting beat backdoor. He needs to work on navigating through screens off the ball and not letting his man get time to get set with a good look at the basket off the catch.
Post Defense/Help Defense
McDermott handles defensive duties well in the post, and though not the strongest player, he knows how to use his body to hold his position. He does a good job creating a wide base with his legs and uses his lower body to try and force his man away from the basket. He is susceptible to getting beat by quick moves to either side or by a player with a strong face-up game who can take him off the dribble. McDermott has good defensive awareness and is capable of being a good help defender around the basket, though he isn't a shot blocker and his best chance is to get in position to take a charge or try and disrupt a shot.
Rebounding
McDermott does a very good job tracking missed shots and getting into position to grab the rebound. He uses his body well to establish position and goes up after the ball instead of waiting for it to fall to him. He looks to box out by getting wide and using his body to shield the offense from getting to the ball, but he has to watch using his arms and upper body to box out instead of using his lower body. McDermott clears out his area well and can be a strong outlet passer to get transition offense started. On the offensive end, McDermott still does a good job tracking the ball and can get to some longer rebounds quickly, but he doesn't look to crash the offensive glass often.
Transition
McDermott runs the floor well in transition, capable of running the wings and spotting up for the jumper or heading right to the basket for a quick entry pass. McDermott is also capable of pushing the ball himself in transition, or be used as an outlet if the ball gets pressured, though you won't see him take the ball himself often from end to end.
Intangibles/Summary
McDermott doesn't seem to show a lot of emotion, good or bad, on the floor, but from what I have seen, he is one of the fiercest competitors in college basketball today. While already one of the best shooters in the NCAA, he continues to work on his game and add little wrinkles to make him more effective. Many times, the defense knows he is getting the ball and still has trouble stopping him. His ability to be a threat from anywhere on the floor has keyed one of the top offenses in college basketball, not only for the shots he makes, but the focus the defense always has to give him. While not a great defender, McDermott continues to improve, and his understanding of the game will help make up for any speed issues he may have.
Draft Value: Mid-Late 1st Round – #18-25
McDermott's ceiling may not be much higher than it is right now, but he has a skill that is valued by every NBA team – consistent shooting. He has a high basketball IQ and should have little trouble fitting into most NBA offensive systems. He will need to continue working on the defensive end, but he has the skills to step in immediately and help almost any team.
Leave your comments below, or email me – [email protected]
Follow me on Twitter – @NBADraftBlog