Just a few days from the start of college basketball season, and it's time to continue wrapping up the player previews with a look at a sophomore class which is filled with a lot of potential.
These are not meant to replace scouting reports, which will come out during the season. These are not all-inclusive and just meant as a brief primer for those who want to track draft prospects throughout the season. These are also not in any particular order other than who I choose to write about each post.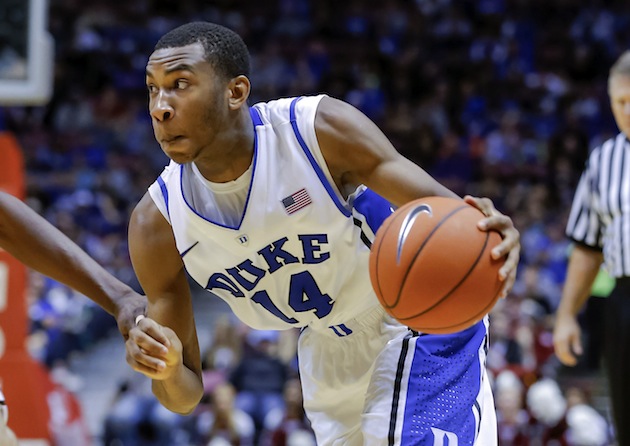 Photo: US Presswire
Rasheed Sulaimon, Duke, Guard, 6'4, 190
(2012-13) 11.6 ppg, 3.4 rpg, 1.9 apg, 42.4 FG%, 80.2 FT%, 37.1 3FG%
Sulaimon emerged as a key member of the Blue Devils as a true freshman and should expect to become a bigger part of the offense this year. Sulaimon is a good perimeter shooter, with a quick, high release, and good range. He is capable of going strong to the basket and can take many defenders off the dribble. He is a good ballhandler, though much more comfortable with his right, and he is continuing to develop advanced dribble to help him create space, including a good crossover. Sulaimon does a good job recognizing holes in the defense and can use his speed to make quick cuts to the rim, with the ability to finish with either hand. Sulaimon is strong in transition, able to push the ball himself quickly up the floor, or run one of the wings to spot up for a jumper or make a line for the basket. On defense, Sulaimon is fundamentally strong, getting good position on the ball, staying low and moving laterally well. He does a good job using his length to disrupt passing lanes and he anticipates passes well. He is active and aware on defense and is capable of guarding either backcourt spot.
What he needs to show this season: As Sulaimon became more comfortable in the Duke offense last season, his shot selection started to waver, especially behind the 3-point line. Sulaimon should look to use shot fakes more to draw the defender and then use his ability to use the dribble to either get to the basket or knock down the mid-range jumper. He needs to work on becoming more confident driving to the basket with his left hand instead of looking to force plays to his right. Sulaimon also needs to work on moving without the ball, especially coming tighter off of screens ready to shoot. On defense, Sulaimon does move well laterally, but he can get caught up over longer stretches and needs to work on finding angles to cut off his man. Also, he has a tendency to cheat a little too far off the ball, leaving him with too big a gap to make up on a quick reversal or skip pass. Sulaimon is an overall strong player, and most of the work that needs to be done is polishing his game.
Sam Dekker, Wisconsin, Forward, 6'7, 220
(2012-13, 22.3 mpg) 9.6 ppg, 3.4 rpg, 1.3 apg, 47.6 FG%, 69.0 FT%, 39.1 3FG%
Last season, Dekker became just one of a handful of true freshmen to ever make an impact under Bo Ryan. Even coming off the bench, Dekker often looked, ad probably was, the Badgers best player on the floor. Dekker is athletic and savvy, has a strong understanding of the game and his role, and is still developing as a player. He is a strong perimeter shooter, with a quick release and good range. He use shot fakes well to get the defender off-balance, and is capable of hitting mid- and long-range jumpers off the dribble. Dekker is an average ballhandler, and relies on long strides to get to the basket. He is able to finish creatively around the basket, as well as above the rim. Dekker runs the floor well in transition, though you may not see it often, and is able to push the ball himself or run one of the wings. Dekker has very good defensive awareness, and is fundamentally solid. He gets good position on and off the ball, and he works hard to get over screens on the perimeter.
What he needs to show this season: A move to the starting line-up this season will show more of what Dekker is capable of. Dekker could stand to be more aggressive looking to score when he has the ball, though that may not work well in Bo Ryan's offense. He needs to become a better ballhandler, especially making sure to not let the ball get too far away from his body. Also, he needs to work on going to his left hand more. Adding strength will be important for Dekker as he matures, as will his ability to draw and finish through contact around the basket. He has shown that he can hit jumpers off the dribble, but at times he will fade to one side when he is shooting, causing his shot to be off. On defense, Dekker could be capable of guarding the 2 or the 3, but he needs to work on his foot speed, as well as keeping his lateral movement smooth over longer stretches.
Isaiah Austin, Baylor, Forward/Center, 7'1, 225
(2012-13) 13.0 ppg, 8.4 rpg, 1.6 bpg, 45.5 FG%, 63.4 FT%, 33.3 3FG%
Austin made an immediate impact for the Bears this season, and the hope is that with 1 year behind him, Austin could be a dominant player in the Big 12. Extremely long and lanky, Austin is skilled for his size. He has the ability to knock down jumpers beyond the 3-point line, showing good form while doing so. Austin handles the ball well for his size, even showing a bit of ability in the open floor (though you don't want him doing it often). In the post, Austin does a good job using his lower body to seal off the defender and calls for the ball when in position. He is able to make moves over either shoulder and can shoot with either hand around the basket, with good touch. Austin uses his length well to rebound on both ends of the floor, extending fully to get the ball. Austin is a fundamentally sound on-ball defender. He sets a wide base in the post, and he uses his long arms to try and deny post-entry passes. He is a strong shot-blocker and when he extends his arms fully, it is tough for anyone to get a good shot off against him. Austin has shown to be a capable perimeter on-ball defender as well, getting good position and moving his feet well to avoid getting beat off the dribble.
What he needs to show this season: Continuing to build strength is key for Austin's development . While it's a luxury to have a 7-footer who can knock down 3's, he needs to be much stronger around the basket. His lack of strength makes it tough for him to win positioning battles in the post on both ends of the floor. Austin's footwork also needs to improve on both ends. On offense, his post moves can come off as awkward, and on defense, he is not able to move his feet well enough to avoid getting beat on quick moves to either side. Austin's defensive awareness needs work as well. With his ability to block shots, he needs to keep track of the ball at all times and anticipate needing to get to help position. There were many plays last year where drives happened right next to him without a movement from Austin. On offense, Austin needs to work on going strong to the basket instead of his moves taking him away from the rim before he shoots it. Also, he has the ability to make good passes out of the post, but he needs to read the defense quicker and get the ball to the open teammate sooner on help rotations. If Austin continues to grow into his body, that, combined with his skill, will make him tough to stop, but right now his lack of strength is hindering how much he can realistically do.
Kyle Anderson, UCLA, Forward, 6'9, 230
(2012-13) 9.7 ppg, 8.6 rpg, 3.5 apg, 1.8 spg, 41.6 FG%, 73.5 FT%, 21.1 3FG%, 1.7:1 A/TO
Commonly known as "Slo-Mo", Anderson may have been the Bruins best all-around talent as a freshman last year. Anderson is a very good ballhandler for his size, possesses great court vision and is a strong passer. His size allows him to make passes over the top of the defense, but he can also make quality passes off of penetration. Anderson is a finesse player when he looks to drive to the hoop, using long strides and having the ability to finish in creative ways around the basket. He is able to exploit mismatches by taking defenders into the post and using a variety of moves to get shots off. Playing out of position last year at the 4 or 5, Anderson proved to be a very good rebounder, having very good instincts for where the ball is going and using his length to go up and corral it. On defense, Anderson should be capable of guarding multiple positions and he uses his long arms well to deny passing lanes. Off the ball, he anticipates passes well and can jump the pass when he gets a good read on it. When he handles the ball in transition, it isn't very fast, but he is smooth and does a good job seeing the floor and finding open teammates.
What he needs to show this season: Anderson's lack of ability to shoot the ball is what keeps him from being one of the top players in college basketball right now. Defenders have been able to sag off him completely when he gets the ball in mid- and long-range areas. His shooting motion isn't very smooth from catch to release, and he has a hitch/hesitation when he releases the ball which makes it come off his hand very flat. If he can get his motion under control, his size gives him a nice advantage, but until then, defenders can just play him to drive. On defense, Anderson's slow feet get him into trouble when guarding on the perimeter. He can get beat on the corner easily and he is slow to react to changes of direction. To make up for it, he will play off the ball more than he should, leaving him susceptible to shooters with a quick release. Anderson also has problems getting over the top of screens, often choosing to just go under and again leaving him open to getting beat by a quick shooter. Anderson is a gifted player, and the UCLA offense needs to run through him, but he needs to work harder on defense and show that he is capable of guarding on the perimeter.
Montrezl Harrell, Louisville, Forward, 6'8, 235
(2012-13, 16.2 mpg) 5.7 ppg, 3.6 rpg, 57.7 FG%, 50.8 FT%
Harrell is coming off a break-out summer, having been a major part of the US team which won the Under-19 World Championships. Harrell's game is centered around his strength. He uses his body well to get position around the basket on both ends of the floor, and he has no problem fighting through contact to get a shot off. Harrell is capable of getting quickly off the ground and finishing above the rim. He is also an active rebounder on both ends of the floor, using his body well to box out and going strong after the ball. Last season, even when he got significant minutes, he didn't get a whole lot of offensive touches, with the shots being dominated by the team's guards. Harrell is an efficient scorer around the basket, so the Cardinals will need to find a way to get the ball into him.
What he needs to show this season: We'll get a much better sense of what Harrell can do with more touches, but there are some areas he needs to work on now. His mid-range jumper needs to improve, especially making his catch and release a smoother process. Also, it would help Harrell if he could finish with his left hand consistently around the basket. His post moves are basic, relying more on strength, so he should continue to develop his footwork in his back-to-the basket game, as well as being able to face up and take the ball off the dribble to the rim. On defense, Harrell should focus on using his feet more to stop players, and not rely so much on using his hands and upper body to lean on players. He can be a good shot-blocker, but he needs to watch falling for shot fakes too easily or trying to make plays on shots he has no chance of getting to. Hopefully, more time this year will let Harrell's skills start to catch up to his physical abilities.
Read the 2014 NBA Draft Watch List here
Follow me on Twitter - @NBADraftBlog
Leave your comments below, or email me at [email protected]