We are one week away from the start of college basketball season, and it's time to start wrapping up the player previews with a look at a sophomore class which is filled with a lot of potential.
These are not meant to replace scouting reports, which will come out during the season. These are not all-inclusive and just meant as a brief primer for those who want to track draft prospects throughout the season. These are also not in any particular order other than who I choose to write about each post.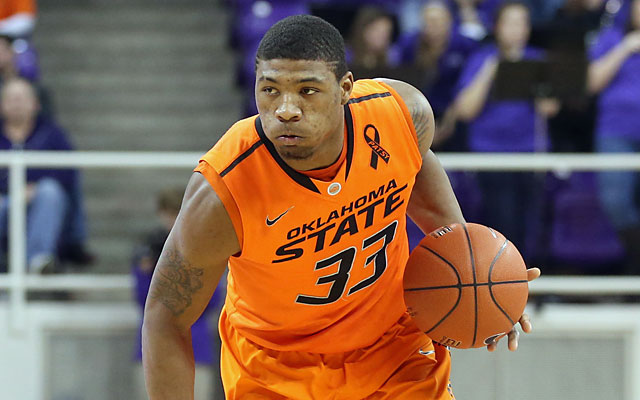 Photo:USAToday
Marcus Smart, Oklahoma State, Guard, 6'4, 220
(2012-13) 15.4 ppg, 5.8 rpg, 4.2 apg, 3.0 spg, 40.5 FG%, 77.7 FT%, 29.0 3FG%, 1.3:1 A/TO
Smart shocked everyone with his decision to pass up a likely Top 5 spot in the 2013 NBA Draft and return to Oklahoma State for his sophomore year. Along with that, Smart starred on the USA Under-19 team which won a gold medal in the World Championships and was one of 2 college players who worked out with the US Select Team this summer. Smart's strength and aggressiveness when he has the ball are the first things that jump out at you when you watch him. He is able to use both his dribble and screens to get into the lane and he has little problem absorbing contact on his way to the basket. Smart also does a very good job initiating contact, going to the free throw line at a very good rate, and finishing through contact. Smart is a good ballhandler and his hesitation move is one of the better ones I have seen from a freshman in the past few years. Smart is also able to play off the ball, and he has shown himself to be a good screener on the perimeter, freeing teammates for good looks. Defensively, Smart positions himself well on and off the ball, moves his feet well, and is very good at anticipating his man's movements on and off the ball. Smart likes to be aggressive jumping passing lanes, though he has also shown the ability to time his plays on the ball almost perfectly to cause a turnover. Smart is also good at forcing his man to play to their weak side, with Smart often looking to take away one hand completely from them. Smart isn't very fast in the open floor, but he is making better decisions and he can be tough to stop if he wants to go to the basket.
What he needs to show this season: Many point to Smart's jumper as his major weakness, and in some ways it is, but the adjustments he needs to make aren't a big deal at all. When Smart gets his feet set and his shoulders square, he is actually a pretty good shooter. He has nice form and a quick release. Smart's problems come when he doesn't get himself square, or when he shifts his upper body after he has started his shooting motion. I mentioned Smart's ability to get to the basket above, but he needs to watch not being over-aggressive, leading to getting caught in the help defense without a shot or pass, or committing an offensive foul. Smart should also work on making quicker reads off screens. Smart is a tough, physical defender, but he needs to watch a tendency to be overaggressive and commit unnecessary fouls, or to overplay and get caught out of position on a cut.
Willie Cauley-Stein, Kentucky, Forward, 7'0, 244
(2012-13, 23.6 mpg) 8.3 ppg, 6.2 rpg, 2.1 bpg, 62.1 FG%, 37.2 FT%
Cauley-Stein was seen as more of a project than other recent Kentucky freshmen, but Nerlens Noel's knee injury suddenly thrust him into a more prominent role than he was ready for. By year's end though, Cauley-Stein made some progress in some key areas, but still has a long way to go before becoming a polished basketball players. Long and athletic, and with the ability to get off the ground quickly, Cauley-Stein's offense has been largely limited to dunks off of lobs when defenders had to help off of him, or quick put-backs off of offensive rebounds. As mentioned, he is quick off the ground and is able to finish strong once he gets his hands on the ball. Even when Cauley-Stein can't get to an offensive rebound, he does a good job keeping balls alive with his long reach and giving his teammates a chance to grab it. While not fast, he does run the floor well in transition and he does a good job heading straight to the basket on the break to get a pass around the basket or try to clean up on the boards. Defensively, Cauley-Stein is a major shot-blocking threat, able to get to shots that many shot-blockers wouldn't even attempt. If he isn't blocking shots, he has the ability to alter anything around the basket if he is in position.
What he needs to show this season: Cauley-Stein showed improvement by the end of the season as a back-to-the-basket post player, but almost every part of his offense needs significant work. In the post, he does a good job using his body to seal off the defender, but he doesn't have the strength or balance to compete with strong defenders, who end up pushing him away from the basket. His post moves are limited and his footwork can be awkward, though when he gets the ball in deep around the basket area, he finds ways to finish. Though not the biggest thing to show right now until he gets the post basics mastered, Cauley-Stein needs to work on using his left hand to shoot around the basket. There are times when he will even make a good move on the left block towards the baseline or the right block into the lane, but because he has to use his right hand to shoot, he ends up bringing the ball right to the defender. He usually has a good size advantage now, so it doesn't hurt him too often, but he won't get away with it at the next level. Cauley-Stein has shown some decent ballhandling skills over short areas, but he still doesn't have good enough control with either hand to make a move to the basket outside of 6-8 feet against an average defender. He has a lot of potential in the pick-and-roll game with his athleticism, but he needs to become more fluid opening up to the ball, as well as becoming a better screener. Cauley-Stein's length against smaller defenders allows him to get fouls at a good rate, but he is abysmal at the free throw line, and he has to put serious work into every part of his shooting mechanics, including making sure of a smooth release. On defense, Cauley-Stein will play standing straight up in the post, which allows him to try and block shots quicker, but also allows him to be backed down easily or get beat by a quick step to either side. On the pick-and-roll, Cauley-Stein has to do a better job hedging out against the ballhandler instead of dropping back off the screen and giving the ballhandler room to make a move or take a shot.
Winston Shepard, San Diego State, Forward, 6'8, 205
(2012-13, 20.3 mpg) 5.3 ppg, 3.5 rpg, 2.0 apg, 39.3 FG%, 57.6 FT%, 25.0 3FG%
The numbers were nothing special to look at, even as a role player, but Shepard showed the potential to blossom into a special player with a unique skill set for his size. Acting more a "point" forward when in the game, which allowed scorers Chase Tapley and Jamaal Franklin to play off the ball, Shepard showed a good handle for 6'8. He uses both hands well and does a good job protecting the ball. There is nothing flashy about his ballhandling, but the fundamentals are solid. His size allows him to see the floor well and he has shown good passing skills, including not forcing many bad passes. Shepard has a good first step and his long strides allow him to get to the basket quickly. On defense, Shephard made some strides as a ball defender and he is capable of guarding multiple positions. Right now, he is a more effective defender in the post area than he is on the perimeter.
What he needs to show this season: Shepard came off the bench last season and he was playing with a few players who dominated the ball on offense, so he did not have a big chance to show steady improvement. As mentioned, he actually can do a good job getting around the basket off the dribble, but he has a lot of issues finishing around the basket, though he did draw a lot of free throw attempts based on the amount of shots he took last season. Still, with Shepard's athleticism, he could do a better job finding ways to score once he is in the lane. Shepard is capable of knocking down the mid-range jumper, though he needs to find some consistency in his release. With Shepard's size, he should be capable of taking smaller defenders into the post, but the few times I saw him to do this, he settled for taking a turnaround jumper instead of going strong. Defensively, Shepard needs to work on both his foot speed and lateral movement on the perimeter, and he needs to learn to take advantage of his length to disrupt passing lanes on and off the ball. Off the ball, he can become fixated on following where the ball is and lose sight of his man. He may get away with it now, but he won't at the next level. Also, Shepard needs to be more aggressive when he is position to get a rebound, especially on defense.
Jahii Carson, Arizona State, Guard, 5'10, 180
(2012-13) 18.5 ppg, 3.7 rpg, 4.9 apg, 1.2 spg, 47.3 FG%, 73.4 FT%, 32.0 3FG%, 1.4:1 A/TO
Carson made the most of his opportunity once he was able to get on the court for the Sun Devils. Carson's game is based on skill and speed, and he has plenty of both. He is a very good ballhandler, able to use both hands well, and he has already developed strong crossover and hesitation dribbles. There are not many defenders who can stay in front of him in isolation and Carson has shown the ability to distribute or score efficiently once in the lane. Carson is a creative finisher around the basket, weaving his way to find openings for his shot, though he doesn't shy away from contact. Carson has also developed a strong mid-range jumper, as well as floater in the lane. He sees the floor well, and he is still developing the ability to make quick reads off of screens. Carson is quick in the open floor in transition and he has improved his decision-making when transition defense looks to stop him. Defensively, Carson moves his feet well and keeps his hands and feet active. He anticipates well off the ball and can turn a steal in quick points. Carson is not afraid to get involved with rebounding around the basket and he reads where missed shots are likely to go well. He is quick to long rebounds and can grab a rebound and get into transition smoothly.
What he needs to show this season: As with many players who have speed like Carson, control can be an issue, especially leading him to getting caught in the lane without options or losing control in transition. Carson sees the floor well, but he can overestimate his ability to squeeze a pass through a window that is closing rapidly. His ability to make reads in pick-and-roll situations as improved, though he needs to get to his decision quicker in many cases. Carson uses his dribble well to create space on the perimeter, but he needs to build the strength to get his long-range jumper off quickly before the defense can recover. On defense, Carson needs to watch his position both on and off the ball. Also, Carson has to put a lot of work into getting over screens, or at least avoid getting caught in them.
Przemek Karnowski, Gonzaga, Center, 7'1, 305
(2012-13, 10.7 mpg) 5.4 ppg, 2.6 rpg, 56.7 FG%, 44.4 FT%
Karnowski is a massive presence on the court, though his extended minutes last season were limited to games when Gonzaga was winning big. Karnowski is fundamentally sound on both ends of the floor and he appears to have a good understanding of the game. When he gets good position on the low block, it is very tough for a defender to get around him. Karnowski has also shown impressive footwork for someone his size. He has good touch around the basket and when he gets in deep, there isn't much to do to stop him from getting an easy basket other than foul him. On defense, Karnowski seems to have good awareness and he knows the basics of how to defend the post. He does a good job looking to box out when a shot goes up.
What he needs to show this season: Karnowski has the potential to be a strong post player, but he needs to continue to develop all facets of the post-game. It starts with him getting tougher when looking to establish position and being assertive calling for the ball. He has to be careful not to put the ball on the floor too often when making a move and he has to work on being able to make moves on both sides of the floor, over both shoulders. A lefty, Karnowski needs to be able to take even short shots effectively with his right hand. On defense, Karnowski understands what he should be doing, but he doesn't have the footwork or foot speed to often do it. He doesn't challenge many shots around the basket, even when he is position to at least alter a shot, and by the time he makes a move to come over to help, it can be too late. More important, Karnowski needs to be more aggressive going after rebounds. He does a good job establishing position and putting a body on someone, but he needs to go after the ball strong. Once he gets the rebound, he has to watch a tendency to drop it down low where an opponent can take a swipe at it. Karnowski has a tough time defending in pick-and-roll situations, either not being able to recover well if he does hedge, or not hedging and giving the ballhandler room to get a shot off or make a move off the dribble. With more minutes this year, Karnowski could improve exponentially, though I'm not sure how his minutes will be effected when he is playing with a group that likes to play at a quick tempo.
Read the 2014 NBA Draft Watch List here
Follow me on Twitter - @NBADraftBlog
Leave your comments below, or email me at [email protected]