We are closing in on the start of the college basketball season, practice has started, and the road to the 2014 NBA Draft has begun. It's time to finish my look at this year's junior class with 4 players who have shown improvement over 2 years, but, for various reasons, still have a lot they haven't shown yet.
These are not meant to replace scouting reports, which will come out during the season. These are not all-inclusive and just meant as a brief primer for those who want to track draft prospects throughout the season. These are also not in any particular order other than who I choose to write about each post.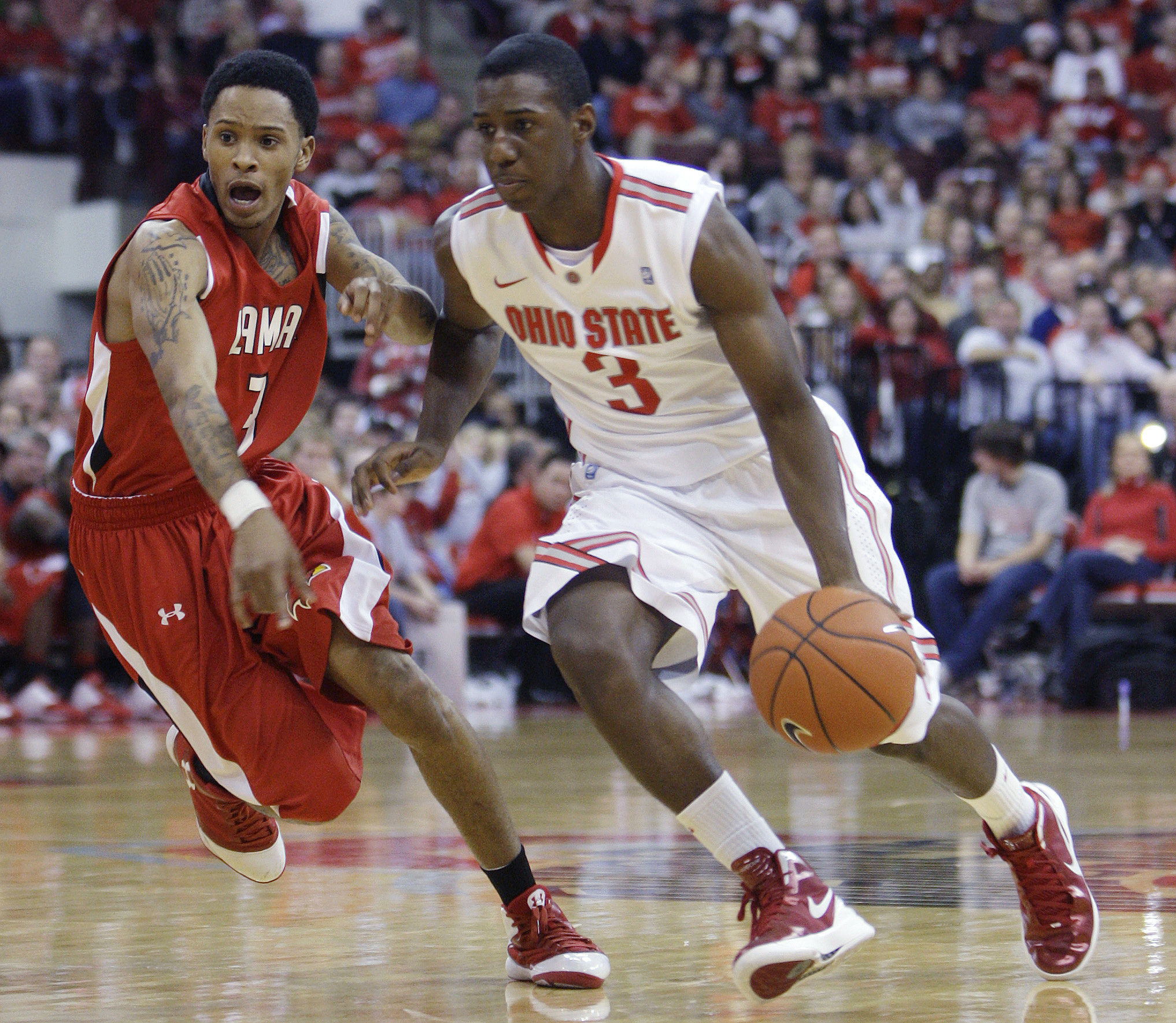 Photo: Jay LaPrete/Associated Press
Shannon Scott, Ohio State, Guard, 6'1, 185
(2012-13, 20.9 mpg) 4.9 ppg, 3.8 apg, 1.7 spg, 41.1 FG%, 62.7 FT%, 33.3 3FG% (33 attempts), 3.2:1 A/TO
Scott's sophomore season was a success on many levels, yet his chance to break out significantly is still hindered somewhat by sharing a backcourt with Aaron Craft. Scott is a good ballhandler, able to use both hands well and a nice ability to use a change of pace dribble or crossover to get the defender off-balance. He is patient, very good at protecting the ball and doesn't look to force plays or passes. Scott can get into the lane in open space or coming off screens and he shows good body control around the basket to get shots off. Scott's strength is on the defensive side where he has a very combination of balance, speed and lateral movement. He is also good off the ball, where he is capable of pressuring and denying passing lanes or staying with his man through screens. In transition, Scott has shown strong decision-making, and he uses a combination of speed and his change-of-pace handle to get to the basket, often drawing contact.
What he needs to show this season: As mentioned, it is tough for Scott to really show all he can do when he is sharing a backcourt with Craft. On offense, like Craft, he needs to work on scoring. He does a good job getting to the basket, but he has trouble finishing around the basket, and instead of going strong, he will fade away or take underhanded scoop shots to avoid being blocked. Also, Scott's jumper is inconsistent, and a lack of strength makes it difficult for him to get set and shoot quickly when he has some open space. While he uses screens well to get into the lane and can make basic reads off the screen, he needs to go through the process quicker, especially when he ends up with an open teammate off the defensive rotation. On defense, Scott needs to watch overplaying, especially off the ball, unless he knows he has the help he needs in position. Also, he has some issues getting through screens when on the ball, though he has improved. He just needs to watch going under screens against a good shooter.
Rakeem Christmas, Syracuse, Forward, 6'9, 250
(2012-13, 21 mpg) 5.1 ppg, 4.6 rpg, 1.8 bpg, 52.7 FG%, 57.4 FT%
Numbers won't justify it, but Christmas showed very nice improvement in his sophomore season. However, Syracuse's system on offense and defense has limited his development. Christmas is solidly-built, but quick and athletic for his size. He is an active defender in the back of the Syracuse zone, and uses a good combination of physical play and positioning to force either a tough shot or a pass away from the basket. Also, Christmas is very vocal in the zone, seeing the floor well and directing his teammates into position. He moves his feet well and he covers ground quickly both in and out of his area, and he will look to challenge any shot he can get to. Christmas' offense has been mostly limited to finding openings on the baseline when defenders look to stop penetration, or offensive rebounds and put-backs. When he has the opportunity to post-up, he uses his lower body well to seal the defender and he does a good job calling for the ball. Christmas also does a good job as the screener in pick-and-roll action, opening up well to the ball and having the ability to catch and finish around the basket.
What he needs to show this season: Playing in the zone limits some of what Christmas shows on the defensive end, but you can see uses his body and moves his feet well. Guarding on the perimeter may cause some problems if he has to move laterally over a longer span. Christmas does well when shots go up, looking to box out, but once he has a body one someone, he needs to be quicker to the ball. Almost all parts of his offensive game are up for development. When he has the opportunity to make a move in the post, he can be slow to get into the move and he has to develop ways to get a good shot off. He needs to work on using his left hand around the basket, especially when he is making moves from the right block over his left shoulder. He will try to force a shot with his right hand, usually right where the defender will be. Christmas hasn't shown much in the way of a mid-range jumper, but he does have decent form on his free throw attempts. Speaking of free throws, he shows a much better shot than his numbers suggest and his percentage can likely be chalked up to a small sample (only 82 attempts over 2 seasons). Again, significant improvement may be tough on offense unless the Orange have some consistent perimeter shooters to open up the floor. Last season, teams would go zone against the Orange often, leaving Christmas to have his touches limited.
K.J. McDaniels, Clemson, Forward, 6'6, 200
(2012-13) 10.9 ppg, 5.0 rpg, 1.1 spg, 2.1 bpg, 43.3 FG%, 68.4 FT%, 33.3 3FG%
McDaniels is coming off a strong sophomore year for the Tigers, and he had the opportunity for strong offseason improvement with invites to the Kevin Durant and Lebron James Skills Academies. The first thing people notice about McDaniels is his athleticism, including his quick leaping ability and his graceful movements. He is an average ballhandler, able to use both hands, and he does a good job protecting the ball. When he gets into the lane he is capable of finishing strong at the basket or pulling up for a short/mid-range jumper. As a long-range shooter, McDaniel has a high, quick release, and his range continues to improve. Defenders have to make sure to put a body on him when a shot goes up, as he can be quick to go after offensive rebounds, even from the perimeter, and his leaping ability allows him to finish in some spectacular ways before the defense even knows where he is. Defensively, McDaniels gets good position and he moves his feet well trying to keep his man in front of him. He uses his arms well to disrupt passing lanes on and off the ball and he has the ability to turn steals into quick baskets on the other end. McDaniels blocks shots very well for his size, having a great sense of timing and an ability to get off the ground quickly, letting him wait and not fall for shot-fakes. He can block shots around the basket or on the perimeter, and has shown the ability to block with either hand. McDaniel is strong in the open court, getting down the floor quickly and able to catch the ball on the perimeter and drive to the rim, or catch passes up around the basket area and finishing.
What he needs to show this season: McDaniels took some needed step in his improvement in offense form freshman year to sophomore year, and now it is time to show even more. He needs to work on his ballhandling ability, especially his confidence in his handle. He will often cut short attempts to get to the basket, even if he is only a few dribbles short and he has some space. He won't always get a clean shot off, but he shouldn't worry about taking some contact and looking to get to the free throw line. Instead, McDaniels will rely too heavily on mid- and long-range jumpers. While his perimeter shooting has improved, McDaniels doesn't always get his feet spaced well before he shoots, leading to his upper body drifting as he takes the shot. When he has time and gets set, he has become a decent option off the catch. Also, as McDaniels' role in the offense continues to grow, hopefully his choice in shots improves. On defense, McDaniels can get caught playing on his heels on the ball, leaving him open to getting beat by a quick move or a pull-up jumper, though his quick jumping ability helps negates some of that. Off the ball, McDaniels will tend to drift too far looking to help around the lane, often leaving too far a gap for him to recover if his man gets the ball, or losing him entirely, forcing a switch.
Kevin Pangos, Gonzaga, Guard, 6'2, 182
(2012-13) 11.9 ppg, 3.3 apg, 1.5 spg, 42.6 FG%, 80.7 FT%, 41.7 3FG%, 2.3:1 A/TO
Pangos, entering his 3rd season as the starting point guard for the Zags, is coming off a summer where he represented Canada at the World University Games. His numbers are incredibly similar between his freshman and sophomore seasons, though the loss of Kelly Olynyk may force him to take a bigger scoring role again. There isn't much that's flashy about Pangos at the point – he handles the ball and sees the floor well, he understands spacing, and he is patient waiting for things to develop. The Zags offense is built on getting one-on-one matchups, which does skew Pangos' assist numbers down. He is a good perimeter shooter, with a quick release and good range, and the ability to create space with screens or off the dribble. Pangos also uses his dribble well to get defenders off-balance, giving him the chance to make a move towards the basket. Pangos should very good improvement on defense last season, especially on the ball. He positioned himself well and showed much better lateral movement and foot speed. Pangos is a versatile threat in transition, able to push the ball or run one of the wings. His ability to get a quick jumper off the dribble forces transition defenders to come out on him, opening up the floor for teammates.
What he needs to show this season: While Pangos facilitates the Gonzaga offense, he hasn't shown much ability as a playmaker. When he uses screens, his first instinct always seems to be looking for a scoring opportunity for himself, then making a pass if it's not there. I'd like to see Pangos read the floor better once the defense rotates and make quick decisions. He also needs to look to get into the lane and to the basket more, though he may have some trouble finishing. He is a good free throw shooter, but doesn't put himself in position to draw many fouls. Pangos' shot selection can be an issue at times, especially forcing or rushing his jumper in the mid-range area. On defense, Pangos has improved as mentioned, but he can still be a second slow to react on and off the ball. Also, he can get caught up in screens too easily and he has to do a better job using angles to cut off his man on the drive. Still, he has shown himself to be a strong leader for the Zags, and there should be little doubt that this is his team this year.
Read the 2014 NBA Draft Watch List here
Follow me on Twitter - @NBADraftBlog
Leave your comments below, or email me at [email protected]