We are closing in on the start of the college basketball season, practice has started, and the road to the 2014 NBA Draft has begun. It's time to continue my look at this year's junior class, which is not very talent-deep, but has some very good prospects near the top.
These are not meant to replace scouting reports, which will come out during the season. These are not all-inclusive and just meant as a brief primer for those who want to track draft prospects throughout the season. These are also not in any particular order other than who I choose to write about each post.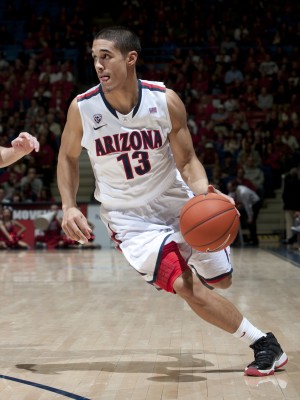 Photo: Luke Adams/Arizona Athletics
Nick Johnson, Arizona, Guard, 6'3, 200
(2012-13) 11.5 ppg, 3.6 rpg, 3.2 apg, 1.9 spg, 44.8 FG%, 71.3 FT%, 39.3 3FG%
After a mediocre freshman season, Johnson looked more comfortable on the floor and had the chance to show much more of his ability. Much had been made of his athleticism and his ability to finish at the rim, especially in transition, but Johnson showed he is capable of much more. Johnson is a good perimeter shooter off the catch, getting good lift with his legs and quick, high release. He has improved his ballhandling skills and can be dangerous going to his right if he can beat his defender around the corner. Once in the lane, he sees the floor well and can look to finish at the rim, which he can do with either hand, or if the help reacts quickly, he can hit an open teammate. Johnson doesn't shy from contact often, and has gotten better at trying to initiate it around the basket. Defensively, Johnson may be one of the best perimeter defenders in the PAC-12. His play on and off the ball is fundamentally sound, and he can defend either guard position. He gets good, balanced position and moves well laterally. Johnson has very good awareness and does a good job anticipating and jumping passing lanes.
What he needs to show this season: Johnson seems lost at times when he doesn't have the ball in his hands and becomes a spectator. He needs to work on moving without the ball, especially coming off of screens ready to shoot. While his perimeter shooting has improved, he still has problems pulling up off the dribble without drifting. Johnson needs to work on his left-handed handle, and look to stop trying to always attack the basket to his right. On defense, Johnson needs to watch playing too tightly on the ball and being beat by one good step, as well as working on trying to step over screens instead of trying to just push through them. Still, he plays angles well and can recover if he gets caught up in a screen on or off the ball. Overall, and it may not be Johnson's nature, but he could be better served being more aggressive on both ends, but picking the spots when to do this.
Aaron White, Iowa, Forward, 6'9, 220
(2012-13) 8.3 ppg, 2.9 rpg, 46.8 FG%, 77.6 FT%, 38.9 3FG%
White is coming off a summer representing the United States at the World University Games, and a season when he was named 3rd Team All-Big Ten. White is a good offensive threat in the post, using his lower body well to seal off the defender and getting into his move quickly. White is an efficient scorer in the post, and as important, he draws fouls better than most college players in the country. He also helps the Iowa offense with his solid screening on the perimeter, and he has good understanding of how to execute in pick-and-roll and pick-and-pop situations. White is an above-average passer, using his height on the perimeter to see over the defense, though the passes usually don't lead to many scoring attempts. Rebounding, on both ends, could be better from White, but when he gets good position, he goes strong after the ball and clears the area well. He also anticipates well on the defensive end and can use his size to disrupt passing lanes.
What he needs to show this season: As mentioned above, White executes well in pick-and-pop situations, but he has trouble knocking down jumpers, mid- and long-range, even when open. One issue may be on his release, where he seems to over-follow-through leading to jumpers which come up short because of the rotation on the ball. The rest of his form looks good, so his release may be the problem. In the post area, White does get into his moves quickly, but he doesn't get to a shot quickly. Part of the reason he draws so many fouls is that by hesitating and pump-faking, defenders bite easily, but I don't think this will be the case at the next level. White could also get some easier shots around the basket if he became comfortable using his left hand to get short shots off. On defense, White's lack of foot speed gets him in trouble out on the perimeter, and if against an offense which screens often, Iowa ends up switching on screens, leaving White in some bad mismatches. The alternative has been White giving too much space to his man, which a good shooter can take advantage of. White looks to move his feet on defense, but he needs to work on getting quicker.
DeAndre Daniels, Connecticut, Forward, 6'9, 195
(2012-13) 12.1 ppg, 5.5 rpg, 46.8 FG%, 70.5 FT%, 30.9 3FG%
Daniels was hyped as a high-school player, and finally started to show some flashes of talent at the end of his sophomore year. Long and athletic, Daniels likes to operate out of the low post area, where he usually has a size advantage over other small forwards. Daniels' footwork continues to develop and his quick feet allow him to get around the defender quickly. Daniels has good touch around the basket and is capable of elevating quickly to finish above the rim. While not a very good ballhandler, he is good over short distances, and he uses it well to get to the basket from either the high post or facing up out of the low post. Daniels can be a good perimeter shooter, even to the 3-point line, when he has time to get his feet set and square, but the process can take too much time. Daniels uses his length well to guard his man and he can make it difficult to get shots off at times. He is continuing to improve as a perimeter defender, though he needs to get much better this season.
What he needs to show this season: Continuing from the above, Daniels is just not a good defender, and that's even with improvement. He doesn't have the strength to defend in the post, and he doesn't have the understanding and lateral movement to guard on the perimeter. Daniels' defensive awareness isn't good, and he can be slow to help, even when he is in position to do so. He should also work on anticipating missed shots better, getting rebounding position and going strong after the ball. On offense, Daniels has been effective around the basket, but he could be an even bigger threat if he just went strong to the basket. Too many of his moves leave him going away from the basket, and he can turn a 2 or 3 foot shot into a 7 or 8 footer. Also, if he went strong, he could get to the free throw line, which he doesn't do nearly enough. Daniels took part in the Kevin Durant Skills Camp this summer, and the hope he is ready to build on the end of last season.
Jerian Grant, Notre Dame, Guard, 6'5, 203
(2012-13) 13.3 ppg, 5.5 apg, 1.3 spg, 40.6 FG%, 73.7 FT%, 34.4 3FG%, 1.8:1 A/TO
Grant is heading into his redshirt-junior season having shown little improvement after his 1st season. Still, his size and athleticism keeps expectations high that he can have a very big year. Grant is a strong ballhandler and has very good court vision. His size allows him to see over, and make plays, over the top of the defense. Grant is aggressive attacking the basket and his ability to draw defenders opens up the floor for his teammates. Grant uses long strides to get to the basket and uses his body well to protect the ball through traffic. On defense, Grant gets good position on and off the ball, and his long arms can cause problems for guards he defends. He has very good awareness and is quick to jump into passing lanes if he sees a pass coming his way. Grant moves well laterally, though he has some trouble keeping quicker guards in front of him. In transition, Grant can push the ball on run one of the wings, and he will look to take the ball right to the basket.
What he needs to show this season: Grant needs to work on control and decision-making issues on offense. His passes after he draws the defense can be a bit wild and he can find himself stuck in traffic with no outlet. Also, Grant should work on finishing in traffic, which he should do much better at his size, and not be afraid of drawing contact. He should get to the line more often for the amount of time he has the ball in his hands, especially in the lane. Grant's jumper is inconsistent, and it could be caused by a low release point, which causes many of his shots to not have enough arc on them. He uses screens well to create room for his jumper or to get into the lane, but he needs to work on coming tighter around the screener, not giving the defender room to get through. Defensively, Grant needs to work on getting through screens and learning how to play angles better when his man tries to get beat him on the corner. When Notre Dame goes to zone, Grant's effort level can seem to drop, especially on long possessions, and opponents can find openings when this happens.
Read the 2014 NBA Draft Watch List here
Follow me on Twitter – @NBADraftBlog
Leave your comments below, or email me at [email protected]