We are closing in on the start of the college basketball season, practice has started, and the road to the 2014 NBA Draft has begun. It's time to continue my look at this year's junior class, which is not very talent-deep, but has some very good prospects near the top.
These are not meant to replace scouting reports, which will come out during the season. These are not all-inclusive and just meant as a brief primer for those who want to track draft prospects throughout the season. These are also not in any particular order other than who I choose to write about each post.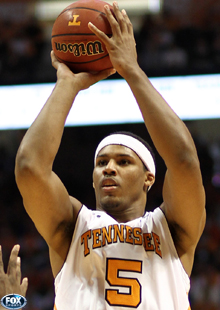 Jarnell Stokes, Tennessee, Forward, 6'8, 260
(2011-12) 12.4 ppg, 9.6 rpg, 53.0 FG%, 56.7 FT%
Stokes continued to impress last season, his first full season with the Volunteers. Expectations should rise this season after a strong showing with the US Under-19 team that won gold at the FIBA Championships. Stokes' strengths all start with his wide body. He uses it well to get position in the post and his ability to seal off the defender helps create lanes for his teammates. Stokes has good hands, as well as good footwork in the post for his size. He is most comfortable from the right block and making a few strong dribbles to the basket to finish. Stokes is at his best on the offensive glass where he uses his strength to clear space for rebounds and often forces defenders to foul to prevent him from getting an easy 2nd chance shot off. Stokes uses his body well on the defensive side, using his strong lower body to force players away from the basket. He isn't the leaper to be a big shot-blocker, but he will challenge shots, and he has a good knack for getting his hands on the ball if an offensive player brings it down low. As a defensive rebounder, he is fundamentally sound, using his body well to box out and going strong after the ball.
What he needs to show this season: Stokes' game relies more on strength than skill, especially on offense. He is an efficient scorer right around the rim, but once you move him away from the basket, he has difficulties. Stokes needs to watch handling the ball into the post, especially when going right into help defenders. Also, he could find some better shots around the basket if he became better with his left hand. He is slow to react to double teams and needs to work on getting the ball out quicker when he feels the help defender coming. As mentioned above, Stokes does a good job drawing fouls around the basket, but is inconsistent at the free throw line. While his form and routine is generally good, he has a tendency to rush his free throws, often leading to inconsistent releases. His shooting woes extend to the mid-range area, where an inconsistent shot allows defenders to leave him. On defense, Stokes' footwork in the post and perimeter has improved, but still needs to be polished. He needs to work on moving his feet quicker and anticipating his man's movements. He can be slow to help around the basket, which can lead to some easily-avoided fouls. Also, he needs to watch dropping too soon when hedging out on pick-and-rolls, leaving too much room for the ballhandler to make a play.
LaQuinton Ross, Ohio State, Forward, 6'8, 220
(2012-13, 16.9 mpg) 8.3 ppg, 2.9 rpg, 46.8 FG%, 77.6 FT%, 38.9 3FG%
Playing time was limited last season, but expectations for Ross have been raised after an impressive NCAA Tournament run, including a game-winning 3-pointer to knock out Arizona in the Sweet Sixteen. Ross is long and athletic, but is still developing his skills. He is a good perimeter shooter, with range, when he has time to get set, but he has shown the ability to hit his jumper off the dribble. Ross uses long strides to attack the basket and can finish in a variety of ways at the rim, including with either hand. Ross can also be a weapon running one of the wings in transition, using long strides to get up the floor quickly and being able to get up quickly to catch passes around the basket and finish. Defensively, Ross can use his length and long arms well to disrupt passing lanes and close on shooters, though he needs to watch falling for shot fakes.
What he needs to show this season: While limited minutes may have hidden all that Ross can do, he still has a lot to prove as his playing time rises. Defensively, he has to watch a tendency to stand straight up, making it difficult for him to keep his man in front of him and allowing him to get beat off the dribble. His lateral movement has improved, but he still needs to get quicker and learn to play angles. Off the ball, Ross needs to watch his positioning, as he can cheat too much towards the lane to help, but leaves too much ground too make up quickly if his man gets the ball. Ross is an average ballhandler, but needs to continue to improve. He often picks up his dribble too soon when he has a chance of getting to the basket. Ross does use his dribble well to create space for his jumper, though he has to watch taking off-balance shots when he has the space to get square. He is a good free throw shooter, though like most of his teammates, he doesn't get to the free throw line often.
Ryan Boatright, Connecticut, Guard, 6'0, 168
(2012-13) 15.4 ppg, 4.4 apg, 1.5 spg, 42.9 FG%, 78.5 FT%, 33.3 3FG%, 1.5:1 A/TO
Boatright joins Shabazz Napier to form one of the most dynamic backcourts in the country. Boatright is a strong ballhandler, able to uses both hands well, and possessing a group of advanced dribbles, including strong crossover and change-of-pace dribbles. He has a quick first step and is tough to contain in isolation. Also, Boatright does a good job using screens, both to create space for his jumper, and to get into the lane. He has developed a somewhat reliable floater/short jumper and can be a creative finisher around the rim. Boatright is a very good on-ball defender, getting strong position and moving his feet well. He plays angles well and can force his man to his weaker hand well. He is also strong off the ball, and moves well enough to deny passing lanes and get a quick jump on lazy passes. Boatright gets over screens well and does a good job finding routes through the lane to avoid getting caught up when chasing his man off the ball. Boatright is quick up the court in transition and is capable of pushing the ball or running the lanes.
What he needs to show this season: Shot selection continues to plague Boatright, though some of it can be attributed to a lack of talent around him and Napier. There are more capable scorers around them now, and hopefully this leads to some improvement. Still, Boatright needs to watch his decision-making, especially when he gets into the lane. He can be a very good passer when he draws help defenders, but he needs to work on making decisions quicker before he gets stuck in the lane without a good look. Also, I want to see Boatright make better reads off of screens instead of looking to find a way to get a shot off most of the time. Boatright's size, or lack of, does give him some problems getting good shots off, both around the basket and on the perimeter. He makes some moves so quickly that he doesn't give himself a chance to get in good position for a shot, leaving him taking some wild or off-balance shots. On defense, Boatright can take some bad risks, especially looking to jump passing lanes and can take himself out of a play. He also needs to watch falling for ball and shot-fakes easily.
Dezmine Wells, Maryland, Guard, 6'5, 215
(2012-13) 13.1 ppg, 4.9 rpg, 3.0 apg, 52.6 FG%, 70.5 FT%, 33.3 3FG%
Wells recovered nicely after a tumultuous off-season which saw him expelled from Xavier and established himself as the best player on a Maryland team that featured lottery pick Alex Len. Wells is aggressive when he has the ball and plays much bigger than his size. He likes to attack the basket and he uses his body well to force his way into the lane. He doesn't shy from contact and is able to finish strong through some tough hits. Wells can be a good perimeter shooter off the catch when he has time to get set. He has a quick, high release and doesn't force many bad shots. On defense, Wells keeps good position on and off the ball, and he uses his strength well to play physical defense when needed. He is a fundamentally-sound rebounder, getting strong position and putting a body on any offensive players in the area. Wells runs the floor well in transition and is capable of some spectacular finishes when he heads towards the rim.
What he needs to show this season: Wells will need to polish his offensive skills, including becoming a more reliable ballhandler and a more consistent shooter. He needs to work on moving without the ball, and using screens to get open for his jumper. Also, I want to see Wells work on being able to hit his jumper off the dribble, especially in the mid-range area. Defensively, Wells does a lot of things well, but he doesn't have great foot speed and could have trouble guarding quicker 2's and 3's. He should get through screens better, especially with his strength, and he needs to work on anticipating his man's movements off the ball and reacting quicker. Wells is physically gifted and just needs to build the skills to go with his gifts.
Alan Williams, California-Santa Barbara, Forward, 6'7, 240
(2012-13) 17.1 ppg, 10.7 rpg, 2.3 bpg, 46.9 FG%, 72.4 FT%
Williams is coming off a big season, where he averaged a double-double, and at times dominated the Big West Conference. He is solidly built and strong, and he uses his body well to create space around the basket. He has good touch around the basket and can get his shot up in traffic. Williams is very good being active in the post, using his body to gain leverage and calling for the ball. He is a solid screener and does a good job opening up to the ball quickly in pick-and-roll situations. Williams is capable of knocking down mid-range jumpers with enough consistency to force defenders to come out on him. On defense, Williams uses his body well to battle for position and you won't see him back down from bigger men. Williams does a very good job sealing opponents off when going for rebounds on both ends of the court and he looks to go strong after missed shots.
What he needs to show this season: Williams doesn't have very good defensive awareness, and he can get caught in some bad spots, often leading to unnecessary fouls and time on the bench. He uses his strength well, but he doesn't have very quick feet, doesn't move very well laterally, and can be slow to defend both post moves and as sliding over as a help defender. This may also be the reason he doesn't hedge out on screens, but a good ballhandler or shooter will find plenty of room because of this. On offense, Williams will often settle for mid-range jumpers instead of working around the basket where he can be dominant. This may not be all his fault though as the UCSB offense didn't always run smoothly, leading to Williams not getting the ball where he wanted. Williams goes after many shots around the basket, and while he does get a good share of blocks, he will have to be more discriminate against more skilled players, including big men.
Read the 2014 NBA Draft Watch List here
Follow me on Twitter – @NBADraftBlog
Leave your comments below, or email me at [email protected]