We are closing in on the start of the college basketball season, practice has started, and the road to the 2014 NBA Draft has begun. It's time to continue my look at this year's junior class, which is not very talent-deep, but has some very good prospects near the top.
These are not meant to replace scouting reports, which will come out during the season. These are not all-inclusive and just meant as a brief primer for those who want to track draft prospects throughout the season. These are also not in any particular order other than who I choose to write about each post.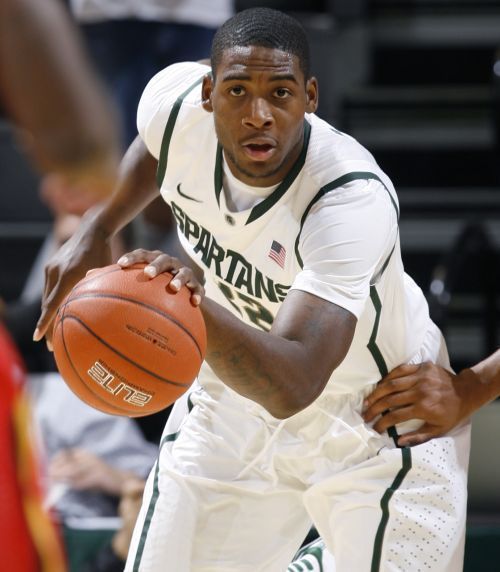 Phot: Associated Press
Branden Dawson, Michigan State, Forward, 6'6, 225
(2011-12) 8.9 ppg, 5.9 rpg, 1.6 spg, 53.1 FG%, 53.8 FT%
After his freshman season ended with an ACL injury, Dawson came back and had an impressive sophomore year, and more will be expected of him this season. Another in a line of Spartans' forwards who plays much bigger than they actually are, Dawson uses his strong body well around the basket, and he is more athletic than many may give him credit for. He seals off defenders well in the post, has good hands, and is able to finish at the rim with either hand. Dawson is also capable of facing up out of the post and taking his man off the dribble. He is a strong rebounder on both ends of the floor with good ball instincts and the ability to use his body to establish position. Dawson is capable of guarding multiple positions. He is a strong post defender, using his body well to hold his position on the blocks and forcing his man towards the help defense. On the perimeter, he shows good balance and positioning and closes well on shooters.
What he needs to show this season: Dawson still needs to develop his offense, especially out on the perimeter. The release on his jumper is low and he ends up with a lot of line drive shots. Also, he fades away on his jumper, including off the dribble, whether he needs to or not. His ballhandling has improved, and he likes to use his left when making a move to the basket from the perimeter, but he can still be sloppy with his handle. He can also develop some more moves in the post, especially since he can use either hand around the basket. While Dawson continues to improve as a perimeter defender, he still has some issues guarding out in space, and he needs to work on increasing his foot speed. Last season, he seemed to fade down the stretch, but a full season removed from his knee injury, he should be prepared for a full season at full strength.
Andre Hollins, Minnesota, Guard, 6'1, 200
(2012-13) 14.6 ppg, 3.4 apg, 3.7 rpg, 1.1 spg, 41.6 FG%, 80.6 FT%, 41.8 3FG%, 1.5:1 A/TO
Hollins burst onto the national scene with a 41-point game against Memphis last November, including 7 of 11 from 3-point range. Hollins is an above-average ballhandler and he does a solid job getting Minnesota into their offense. He uses his dribble and a good first step to go by his man or create space for his jumper. Hollins is a strong perimeter shooter and is able to hit the 3 off the catch or the dribble. He is a good free throw shooter, but since he tends to stay on the perimeter, he doesn't shoot many free throws comparatively to the number of shots he takes, but he is reliable down the stretch of close games. On defense, Hollins is a very strong on and off the ball. He positions himself well, moves his feet well and picks his spots wisely to go for a steal. He is a good help defender, and can get into position quickly to help make a play. Hollins also does a very good job recognizing screens and getting over the top when he needs to.
What he needs to show this season: I expect Hollins to have more freedom in new coach Richard Pitino's offense, though this may not work well to start. Hollins' strengths are in his scoring ability, and he will need to show that he can be a reliable, and consistent, distributor. His first instincts when coming off a high screen is to look for his shot, but he needs to show he can make proper reads and shoot or pass as needed. Also, Hollins needs to have better awareness when he gets into the lane and be able to quickly find an open teammate if he is stopped by the help defenders. Shot selection can be an issue, and he needs to become more consistent with his mid and short-range jumpers.
P.J. Hairston, North Carolina, Guard, 6'6, 220
(2012-13) 14.6 ppg, 4.3 rpg, 1.3 spg, 43.1 FG%, 77.9 FT%, 39.6 3FG%
For a moment put aside the offseason troubles and let's focus on Hairston the player. His strength continues to be his perimeter shooting. Hairston has good form, a high, quick release, and close to NBA 3-point range already. Hairston's size allows him to get good looks and get his shot off against other guards defending him. He uses his size advantage well by posting up smaller defenders. He also has shown the ability to put the ball on the floor and get to the basket, using his body well to shield the ball from defenders and finishing in a variety of ways around the basket. While he doesn't do it often, Hairston is capable of crashing the offensive boards from the perimeter and he uses his athleticism well to get up quickly after the ball. In transition, Hairston does a good job running the wings and spotting up behind the 3-point line, forcing defenders to come out to him and opening up the floor. Defensively, he uses his length well to disrupt passing lanes and close on shooters.
What he needs to show this season: Hairston is practicing with the team, but as of now, no one knows when he will be allowed to play after an offseason that was tumultuous to say the least. As mentioned, he can take the ball to the basket, he still doesn't do it often, and while he can be creative finishing around the basket, he doesn't go very strong, will shy away from contact, and has some problems finishing against long defenders. Hairston needs to do a better job moving without the ball, especially coming tighter off of screens and not look so much like he is just going through motions. He can be a good defensive rebounder, though his effort can be inconsistent, which also applies to his defense in general. On the ball, he needs to work on his positioning, often giving up too much space to his man. Also his anticipation and reaction times to his man's movements need to improve. Screens can be a problem for him, and he tends to automatically look to go under screens, giving good shooters space to get a good shot off.
David Laury, Iona, Forward, 6'9, 255
(2012-13) 13.1 ppg, 10.3 rpg, 1.6 bpg, 53.1 FG%, 64.9 FT%
After a long road that included multiple high/prep schools, commitments to multiple colleges, and a stop in junior college, Laury finally played his first Division 1 college game in December 2012. That first game was also his first double-double, finishing with 21 points and 14 rebounds against a La Salle team that went to the Sweet 16. Laury has a strong body and he knows how to use it. He establishes position well in the post, and he uses his lower body well to seal off the defender. Laury sees the floor well and can be a skilled passer out of the high or low posts. The combination of his body and instincts make Laury one of the best rebounders in the country. He is quick to the ball and he always goes strong after it. Laury has very good defensive awareness and can be seen directing his teammates when he has a good view from around the basket.
What he needs to show this season: Laury's scoring abilities are still very raw, relying a lot on putbacks off of offensive rebounds and open shots after his defender goes to help. He does a good job getting position in the low post, but he needs to work on all components of post moves – footwork, ballhandling and shooting. Laury's mid-range game needs some work also. He has shown that he can knock down wide open mid-range jumpers, but he needs to be consistent. Laury has also surprised some defenders with his ability to take the ball off the dribble to the basket, but his skills need refining and he can get out of control. On defense, Laury has a great understanding of what to do, though he may not have the foot speed to accomplish it, especially as a perimeter or basket help defender.
JayVaughn Pinkston, Villanova, Forward, 6'7, 240
(2012-13) 13.3 ppg, 5.0 rpg, 1.0 spg, 46.4 FG%, 71.0 FT%, 27.0 3FG%
Pinkston showed very good improvement in many parts of his game last season and could be in prime position for a huge season for the Wildcats. Pinkston's strength is operating around the basket, and he uses a good combination of physical ability and skill to make scoring easy. He establishes position well, is an average ballhandler, and he has good footwork, allowing him to make quick moves to the basket and finish strong. Pinkston is also able to face up out of the low post and make a quick move off the dribble. Pinkston can be tenacious on the offensive boards, getting to spots quickly and going strong for the ball. Probably the best part about Pinkston's game is his ability to draw contact. Last season, he took only 52 more field goal attempts than he did free throw attempts (293-241), but he needs to become a more consistent free throw shooter to capitalize on that ability. Pinkston has improved as a defender, both on the perimeter and in the post, and he moves his feet very well for his size. He is capable of guarding multiple positions, though he should work on his foot speed to guard quicker wings.
What he needs to show this season: Pinkston still needs to become more comfortable on offense on the perimeter. The release on his jumper can be slow and he doesn't always get square before taking his shot. When he has time, he has shown that he has a perimeter game he can hope to build on. His ballhandling skills need to continue to improve and he needs to work on using his left hand to finish around the basket. Pinkston also needs to work on being more active on the defensive boards, including anticipating missed shots and establishing position to go after the ball. Defensively, Pinkston showed a lot of improvement as a perimeter defender, but he should continue to develop his lateral movement and awareness. Pinkston needs to learn how to play angles better on defense and how to utilize his help defenders.
————————————————————————————————————
Read Part 1 here – McAdoo, Tyler Haws, Chane Behanan, Corey Hawkins, Khem Birch
Read Part 2 here – Dinwiddie, Quinn Cook, Ryan Anderson, Johnny O'Bryant III, Wesley Saunders
Read Part 3 here – LeBryan Nash, Elfrid Payton, D'Angelo Harrison, Alex Kirk, LeDontae Henton
————————————————————————————————————-
Follow me on Twitter – @NBADraftBlog
Leave your comments below, or email me at [email protected]