We are closing in on the start of the college basketball season, practice has started, and the road to the 2014 NBA Draft has begun. It's time to continue my look at this year's junior class, which is not very talent-deep, but has some very good prospects near the top.
These are not meant to replace scouting reports, which will come out during the season. These are not all-inclusive and just meant as a brief primer for those who want to track draft prospects throughout the season. These are also not in any particular order other than who I choose to write about each post.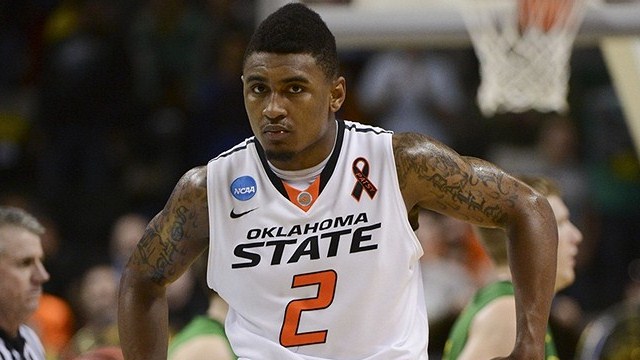 Photo: Kyle Perada/USA Today
Le'Bryan Nash, Oklahoma State, Forward, 6'7, 235
(2011-12) 13.9 ppg, 4.1 rpg, 46.1 FG%, 74.1 FT%, 24.0 3FG%
Highly touted coming out of high school, Nash is entering his 3rd season in Stillwater having only shown glimpses of why he was so well thought of. Athletic and having an NBA-ready body, Nash thrives on finding a path to the basket and finishing above-the-rim. He is an average ball-handler, though he doesn't seem very comfortable with his left hand, and he uses his body well to shield off defenders as he attacks the basket. As a freshman, Nash looked to force many shots, and he did show some improvement last season with his shot selection. Nash has also shown the ability to post up smaller defenders and he uses his athleticism well to make a quick move or face-up and go by his man. He is aggressive when he has the ball, and he can get to the free throw line in bunches. In transition, Nash understands spacing well and gets up the court quickly ready to catch and finish around the basket. On defense, Nash can be an above-average on-ball defender, moving his feet well and working to keep his man in front of him.
What he needs to show this season: After 2 seasons, Nash really hasn't gotten much better as a shooter. He settles for too many mid-range jumpers and he has a bad habit of fading away on his shot, even when there is no need to. He needs to work on becoming a more consistent perimeter shooter, as well as expanding his range behind the 3-point line. As mentioned, his ballhandling can also be improved. On defense, as good as Nash can be on the ball at times, he can be as bad off the ball. He seems to have trouble tracking both his man and the ball, and can get beat off of quick cuts or find himself turned around with his man left wide open. Included in all of this, Nash needs to be consistent on both ends of the floor. Someone with his abilities shouldn't disappear for long stretches.
Elfrid Payton, Louisiana-Lafayette, Guard, 6'3, 170
(2012-13) 15.9 ppg, 5.5 apg, 5.6 rpg, 2.4 spg, 47.5 FG%, 64.3 FT%, 32.0 3FG%, 1.6:1 A/TO
When the US Men's Under-19 Team was announced before the World Championships this summer, many had to scramble and look up Payton, who was on the roster. Payton is a good ballhandler, able to use both hands well, though at times he can be a bit careless with the ball. He does a good job getting the Cajuns into their offense quickly, and he has a good command over his team. Payton has a quick first step that when combined with his handle allows him to get him by his defender. He has good acceleration with his dribble and he shows good control when heading to the basket. Payton can finish around the basket with either hand, doesn't shy from contact, and is developing a runner/short jumper. He sees the floor well and doesn't try to force many bad passes. Payton is an active defender with quick hands and feet and he does a good job using his speed to disrupt or jump passing lanes, leading to turnovers and easy baskets.
What he needs to show this season: Payton will have a lot more eyes on him this season, and it will be interesting to see how he handles it. Payton's strengths are getting the team into its offense and looking to beat players off the dribble, but he hasn't had many opportunities to show that he can create for others. He works a lot in isolation and will need to show how he makes reads off of screens. Strength can be an issue for Payton, and it affects him in both his ability to hit long jumpers and finishing around the basket. He gets to the free throw line at a good rate (6+ times per game), but he isn't a very good shooter. He has a hesitation at the top of his shot release which causes a somewhat flat shot coming off his fingers. Also, I would like to see Payton get the ball out to an open teammate when his penetration is cut off by help defenders. Defensively, he tends to automatically go under screens, leaving his man with a good amount of space, though he can recover somewhat quickly. Off the ball, he needs to watch overplaying towards the lane when looking to help, especially when his man can shoot.
D'Angelo Harrison, St. John's, Guard, 6'3, 209
(2012-13) 17.8 ppg, 4.3 rpg, 1.4 spg, 39.4 FG%, 76.9 FT%, 31.5 3FG%
For the 2nd straight season, Harrison was among the Big East's top scorers, though efficient is not a word that comes to mind when you watch him. He can be a good perimeter shooter with a high, quick release and NBA range. Harrison can hit his jumper off the catch or the dribble, and he doesn't lack for confidence in his shot. He is capable of getting to the basket quickly off the dribble, and he uses his athleticism well to finish creatively around the basket. Harrison is capable of pushing the ball in transition or running one of the wings, though his decision-making is not the strongest part of his game. On defense, Harrison is a good on-ball defender, positioning himself in a strong position and moving his feet well to keep his man in front of him.
What he needs to show this season: Harrison was suspended for the last month of last season by Steve Lavin, and hopefully whatever issues he had will not affect him in the future. Shot selection is still a major issue for Harrison, whether it is settling for long jumpers when guarded well, or not getting set when he does have space. It's true that St. John's relies on him for scoring, but there is still no explanation for many of his shots. Harrison is a decent ballhandler when going to his right, but he needs to become more confident with his left hand. When he looks at the floor and sees where openings are, he can be effective, especially when attacking the basket, but he doesn't do this enough. Harrison needs to work harder without the ball, coming tighter off of screens and not making so easy for his defender to stay with him. Defensively, he can be quite good, especially on the ball, but he seems to lose focus and his reaction speed will drop. Also, he needs to learn to play angles better when his man is looking to beat him off the dribble. He can be a risk-taker on and off the ball, and he needs to make some better decisions in this regard.
Alex Kirk, New Mexico, Center, 7'0, 245
(2012-13) 12.1 ppg, 8.1 rpg, 1.8 bpg, 49.4 FG%, 71.5 FT%
After missing a season due to back issues, Kirk came back strong last year and established himself as one of the top big men in the country. Kirk is a highly-skilled on offense, able to score in the post and on the perimeter. He uses his body well to establish position in the low post, has good hands and footwork, and good touch around the basket. He is capable of scoring over either shoulder and with either hand. Kirk is a good screener and can be used in mid-range pick-and-pop situations. A physical defender, Kirk does not back down against any player and knows how to use his body to force players away from the basket. He has good defensive awareness, and while not a shot-blocker, he is a good help defender and can make shots tougher. Kirk uses his body well to establish position for rebounds on both ends of the floor and he is very good at securing the ball once he has his hands on it.
What he needs to show this season: For a player who is as effective and skilled around the basket as Kirk is, he doesn't take nearly enough shots in that area. Some of that can be accounted for by former coach Steve Alford's perimeter-based offense, but Kirk needs to be more forceful calling for the ball when he has strong position in the post. Already a capable mid-range shooter, Kirk just needs to continue to work to become more consistent. While he runs pick-and-pops well, he isn't nearly as smooth in pick-and-roll situations, where he needs to open to the ball a bit quicker after the screen. Another area where Kirk needs to continue to work is seeing the court better when he gets the ball in the low post and being able to spot open shooters or weak-side cutters. As mentioned, Kirk's footwork is good on the offensive end, but is not nearly as polished on the defensive end, and he can have some trouble with athletic big men. He can get caught leaning in one direction when guarding the post and can be slow to anticipate quick moves by his man. On pick-and-rolls, Kirk can do a very good job hedging, though he needs to watch leaving too much space for the ballhandler to split Kirk and his teammate.
LaDontae Henton, Providence, Forward, 6'6, 215
(2012-13) 13.0 ppg, 8.3 rpg, 1.0 spg, 40.4 FG%, 81.4 FT%, 25.8 3FG%
After an impressive freshman year, Henton seemed to plateau or even take a step back in some areas. Henton is very athletic and runs the floor well. He is a strong finisher in transition and is able to finish with both hands around the basket. He plays much bigger than his size, and he uses his body and length well to guard bigger players. He goes strong after rebounds and he anticipates and is very quick after misses on the offensive end. Henton is able to score both inside and out, and he does a good job finding open areas along the baseline caused by defenders moving to help. Henton did a good job becoming a better free throw shooter last season, and he looks very comfortable at the line. One of the strongest parts of Henton's game is that he always seems to be active on both ends of the floor, and his activity can create opportunities for the team.
What he needs to show this season: As noted last year, Henton still needs to take the next step with his offensive skill-set – improving his ballhandling and working on taking defenders off the dribble to the basket. Shot-selection is an issue, especially with his jumper, and often he seems to get caught up in the quicker pace and forces shots before he is set. I would also like to see Henton be stronger when he gets the ball around the basket and look to draw contact and get to the free throw line more. Defensively, Henton needs to work on his perimeter defense, both on and off the ball, though he did show some improvement last season. He needs to be aware of his positioning, especially when he is on a shooter, and improving his lateral movement. He uses his athleticism well to get rebounds, but I would like to see him be more physical in clearing space and getting position.
Read Part 1 here – McAdoo, Tyler Haws, Chane Behanan, Corey Hawkins, Khem Birch
Read Part 2 here – Dinwiddie, Quinn Cook, Ryan Anderson, Johnny O'Bryant III, Wesley Saunders
Follow me on Twitter – @NBADraftBlog
Leave your comments below, or email me at [email protected]