We are closing in on the start of the college basketball season, practice starts today, and the road to the 2014 NBA Draft has begun. It's time to start my look at this year's junior class, which is not very talent-deep, but has some very good prospects near the top.
These are not meant to replace scouting reports, which will come out during the season. These are not all-inclusive and just meant as a brief primer for those who want to track draft prospects throughout the season. These are also not in any particular order other than who I choose to write about each post.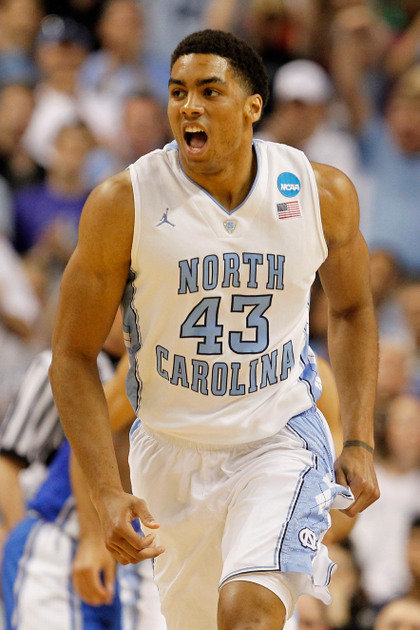 James Michael McAdoo, North Carolina, Forward, 6'9, 230
(2011-12) 14.4 ppg, 7.3 rpg, 1.5 spg, 44.5 FG%, 57.8 FT%
After intriguing in limited minutes his freshman year, McAdoo seemed to disappoint many with his sophomore year play. McAdoo did have a good season, but projections for him may have been skewed. McAdoo has good instincts around the basket and can finish in a variety of ways. He has a strong face-up game and has the ability to hit his jumper out to 15 feet. He understands how to seal off his defender in the post, using his body well to get low and wide. He has good hands and a soft touch, but can also get up and finish above the rim. McAdoo can be a good post defender, using his body well to battle for position while avoiding unnecessary fouls. He does a good job getting position for rebounds, though he isn't as quick to the ball as he was a freshman, and secures it well once he gets it. He hedges out well in pick-and-roll situations and he has a good understanding of how to play perimeter defense.
What he needs to show this season: As mentioned earlier, the view of McAdoo may have been destroyed by outlooks that weren't realistic. 2 major things plague McAdoo, consistency and lack of aggressiveness. On the offensive end, McAdoo needs to continue to improve his foot work in the low post, and look to finish more at the basket. He settles for jumpers, many that aren't really good looks, especially if he hits one or two early on. Also, it would be good to see him start to develop the ability to finish with either hand around the basket. McAdoo needs to work on his anticipation of double teams in the post, and getting the ball out quickly or attacking before the help gets there. On defense, McAdoo does a good job with his man, but he needs to work on being a better help defender around the basket. He needs to react quicker and slide over the spot. Also, his footwork on the defensive end needs to continue to improve. McAdoo still has potential, though maybe not as much as many thought, but it won't break through unless he becomes consistent and aggressive.
Tyler Haws, Brigham Young, Guard, 6'5, 200
(2012-13) 21.7 ppg, 4.6 rpg, 2.0 apg, 1.3 spg, 48.3 FG%, 87.7 FT%, 38.1 3FG%
Haws, who spent the summer representing the United States at the World University games, emerged as one of the top scorers in the country last season. Many areas of his style of play are unorthodox, but he has a great understanding of the game and is dangerous from any spot on the floor. Haws moves well without the ball, using quick cuts and screens to exploit holes in the defense. He is a good shooter, with a quick release, and good range, though he doesn't always gets set when he shoots, leading to some bad misses. Haws will try to post up smaller defenders and either back them down to the basket area or face up and look to shoot or drive by them. He also does a very good job using ball fakes to try and draw contact; a good strategy since he is one of the best free-throw shooters in the country.
What he needs to show this season: You may notice that everything listed above is about Haws' offense, and there's a reason for that. He is just not a good defender. At all. First problem is with his stance, which most of the time consists of Haws standing straight up. He does try to keep his man in front of him, but has problems getting through screens, and gets caught playing on his heels a lot. Off the ball is a bit better, as he does a good enough job keeping his eye on the ball and his man, but he falls prey often to quick cuts or getting caught on screens or chasing his man through the lane area. He needs to work on all of the basics of playing man defense. On offense, Haws is not a great ballhandler, especially with his left hand, and he needs to work on keeping the ball lower and closer to his body. If he can improve his handle, he should be able to create, and get, better looks at the basket. As mentioned above, he also needs to watch not getting square to the basket on his jumper.
Chane Behanan, Louisville, Forward, 6'6, 250
(2012-13) 9.8 ppg, 6.5 rpg, 1.4 spg, 50.7 FG%, 54.7 FT%
The stats may not seem like anything special, but Behanan is an important part of Louisville's offensive and defensive game plans. He is strong with a wide body which he uses well. He has good hands and nice touch around the basket, but that doesn't prevent him from going up and finishing strong. Behanan has good rebounding instincts and he uses his body well to get position and to get up quickly after the ball. He crashes the offensive boards at almost every opportunity. He does a good job hitting holes in the defense create by the guards' penetration or perimeter shooters, and he has added a great drop-step move from the baseline to get him to the basket quickly. On the defensive end, Behanan continues to improve his ability to defend around the basket and on the perimeter, as well as showing very good awareness when the Cardinals go zone. Behanan runs the floor well for his size and is capable of catching the ball and finishing in transition.
What he needs to show this season: Behanan's offensive game has progressed, but not as much as people would have hope d in the last year. Behanan will eventually need to show that he can step out to 15 feet and either hit the mid-range jumper or take his man off the dribble, which means working on his ballhandling skills. His shot mechanics have improved since last year, but he can be inconsistent with his motion and release. Defensively, Behanan needs to work on his foot speed and lateral movement to be able to guard on the perimeter. He uses his body well to defend in the post, but he will need to be even tougher against larger players at the next level. Behanan rebounds well on both ends of the floor, and at times you get the feeling that he could dominate the glass, but he needs to anticipate and get to spots quicker. He will not always have a strength advantage and he will need to continue to evolve his game.
Corey Hawkins, California-Davis, Guard, 6'3, 195
(2012-13) 20.3 ppg, 5.6 rpg, 3.3 apg, 1.5 spg, 47.4 FG%, 84.2 FT%, 40.0 3FG%, 1.3:1 A/TO
After sitting out a season as a transfer from Arizona State, Hawkins wasted little time in showing what he was capable of when given time. Hawkins, the son of former NBA player Hersey, is very skilled on the offensive end, capable of facilitating the offense or playing off the ball. He is an above-average ballhandler, capable of using both hands well, and a growing set of advanced dribbles to help keep the defender off-balance. Hawkins likes to use screens both to set up his jumper, as well as to get into the lane. Once he is in the lane, Hawkins can hit the floater/short jumper or weave his way through the defense to get to the basket, where he can finish with either hand. He has also improved his ability to hit the open man when he draws help defenders. Hawkins has good range on his jumper, with a high, quick release. He also can be effective in transition both as the ballhandler and running the wings. On defense, Hawkins does a good job positioning both on and off the ball, and while not exceptionally quick, he moves his feet well and can navigate through screens.
What he needs to show this season: There is little doubt that Hawkins is skilled as an offensive player, but there are some areas where he can make some improvements. As mentioned, he likes to use screens to get into the lane, but once he gets into the defense, he can find himself stuck. Hawkins needs to learn to make reads off the screens quicker, as well as working to come off of them tighter. Also, I would like to see Hawkins move better without the ball, instead of being content to get passes deep behind the 3-point line. On defense, Hawkins could put in a better effort, especially on the ball, where he can be seen at times playing with his arms at his sides. He has a very good understanding of the game, and experience should only help him make adjustments.
Khem Birch, UNLV, Forward, 6'9, 220
(2012-13) 7.2 ppg, 5.7 rpg, 2.6 bpg, 56.7 FG%, 64.2 FT%
After becoming eligible after the fall semester following his transfer from Pittsburgh, Birch provided an instant boost to UNLV's interior defense. Athletic, but raw, Birch does a good job playing physical defense in the post. He may not have great strength, but he works hard to hold his position on the blocks. Birch has also shown that he can be a capable perimeter defender, showing good position and balance. When shots go up, Birch looks to put a body on someone and does a good job sealing them off from the ball. He also continues to improve as a weak-side help defender with the ability to protect the rim, using his length well to block and alter shots. Birch's offense is really limited to offensive rebounds and finding openings around the basket when his man goes to help on penetration. While not much of a shooter, he can finish above the rim, and he doesn't look to avoid contact.
What he needs to show this season: Birch is still a major work in progress, and there are many areas where he needs to show improvement. On offense, he needs to continue to master the basics of playing in the post, such as establishing position and footwork. He has little touch around the basket, and most of his post moves take too long to develop. Also, while he is capable of setting some good screens up high, he doesn't open up and roll to the basket, and can find himself just getting in the way of the ballhandler. Birch draws contact often around the basket, but his free throw shooting needs to improve, especially loosening up his motion and releasing his shot higher. Once he can progress in the basics, then he can worry about other areas. On defense, Birch needs to work on hedging out on pick-and-rolls. He often settles back off the screen, leaving the ballhandler plenty of room to shoot or pass. As mentioned, Birch does a good job looking to box out on rebounds, but he needs to move quicker to the ball once he has his guy on his back. Physically, Birch needs to add strength, hopefully without losing quickness. He has problems dealing with stronger players, and even smaller players who know how to use their body. Birch needs to work on using his lower body to establish position on both ends of the court, as well as continuing to hone his footwork. More court time will help with some of these issues, but the UNLV offense is such a mess that Birch may not have the chance to really improve while there.
Follow me on Twitter – @NBADraftBlog
Leave your comments below, or email me at [email protected]