We are a few months from the start of the college basketball season, and the road to the 2014 NBA Draft has become. To kick things off, I am going to spend the next couple of weeks looking at this year's senior class and some brief notes on areas where they need to show improvement to maximize their value at the next level.
————————————————————————————————————————-
See Part 1 here – McDermott, Bachynski, Fair, Joe Jackson, Payne
See Part 2 here – Craft, Sheehey, Burton, Alec Brown, Patric Young
See Part 3 here – Russ Smith, Kendall Williams, Sykes, Moser, Kilpatrick
————————————————————————————————————————–
These are not meant to replace scouting reports, which will come out during the season. These are not all-inclusive and just meant as a brief primer for those who want to track draft prospects throughout the season. These are also not in any particular order other than who I choose to write about each post.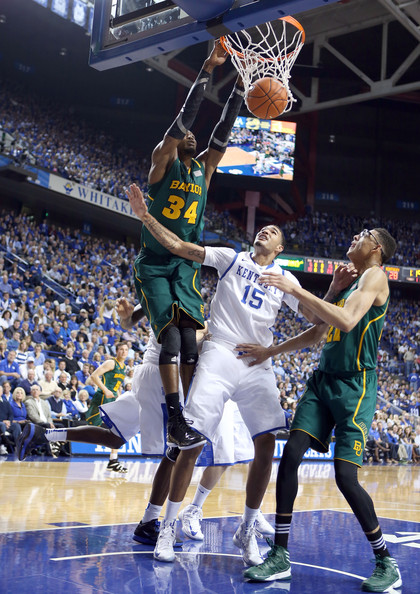 Cory Jefferson, Baylor, Forward, 6'9, 220
(2012-13) 13.3 ppg, 7.9 rpg, 1.9 bpg, 61.2 FG%, 70.4 FT%
Jefferson bided his time his first 3 seasons (including a redshirt year) in Waco behind some talented frontcourt players before emerging last season as a legitimate threat for the Bears. Looking to build on last season, Jefferson spent this summer representing the USA in the World University Games. Long and athletic, Jefferson uses his leaping ability well to make plays on both ends of the floor, and he can be tough to handle when he is hitting the offensive boards. On offense, he is capable of catching lobs along the baseline or out of the pick-and-roll, and finishing strong above the rim. He likes to face up and take his man off the dribble, and he is a decent ballhandler over short distances. Jefferson's shooting touch has continued to develop. On defense, he protects the rim very well and is very strong at altering/blocking shots.
What he needs to show this season: Jefferson relies on his athleticism to make plays, but he needs to become more physical around the basket, especially when defending the post on defense. Also, while he has shown some improvement as a man defender, he still has a tendency to watch the ball too much and lose sight of his man. On offense, Jefferson needs to continue to develop his mid-range jumper, opening up space for him to then attack the basket.
Shabazz Napier, Connecticut, Guard, 6'1, 171
(2012-13) 17.1 ppg, 4.4 rpg, 4.6 apg, 2.0 spg, 44.1 FG%, 81.9 FT%, 39.8 3FG%, 1.9:1 A/TO
Napier did a great job last season leading an undermanned UConn team with a new coach and also ineligible for the NCAA Tournament. Napier is very quick and has great acceleration off the dribble and coming off of screens. He is creative looking for shots around the basket and can finish in a variety of ways. He has shown that he can hit his jumper from mid-to-long range, though inconsistently still plagues his shot. He sees the court well and can make some spectacular passes. He is an above-average on-ball defender, moving his feet well and pressuring the ballhandler. He is very good in the open court and can get the ball up court before the defense can react.
What he needs to show this season: Napier did a great job last season trying to play with more control, but he still has some bad moments. His speed can often get away from him and he finds himself stuck before he can read and see his options. This can lead to some very poor shots in the lane as well as some late passes. As mentioned, he needs to become more consistent with his jumper, especially making sure he gets good looks and keeps his form consistent. On the defensive end, Napier continues to improve, though he will often rely too much on his quickness which leaves him open to getting beat by a strong ballhandler.
Dwight Powell, Stanford, Forward, 6'10, 235
(2012-13) 14.9 ppg, 8.4 rpg, 1.1 bpg, 46.7 FG%, 79.6 FT%, 45.5 3FG% (33 attempts)
After 2 seasons of high expectations and little results, Powell stepped up last season and gave Stanford fans reasons to hope for a huge senior season. With a good combination of skill and athleticism, Powell has the potential to create match-up problems against other big men. Powell handles the ball somewhat well for his size and can be aggressive attacking the basket from the perimeter. He has a good touch around the basket, and is capable of finishing above the rim. Powell has also shown the ability at times to knock down mid and long-range shots. He has a good knack for tracking missed shots and is quick off the floor for rebounds on both ends. On defense, Powell has a good feel for team defense and usually positions himself well on and off the ball. While not a major shot blocking threat, Powell still has the ability to alter shots.
What he needs to show this season: At 6'10, Powell needs to become more of a force around the basket. He doesn't like to play physically on either end of the floor, and he can be moved out of position by many shorter big men. Also, he is still a bit raw as an offensive post player and he will need to develop more post moves. Because of this, he will tend to spend more time on the perimeter than he probably should. On defense, he needs to work on his footwork, as well as understanding how to defend on the pick-and-roll better. Powell has a tendency to give the ballhandler too much space, and he doesn't anticipate well enough to recover to his man.
Cleanthony Early, Wichita State, Forward, 6'8, 215
(2012-13) 13.9 ppg, 5.4 rpg, 45.7 FG%, 79.1 FT%, 31.8 3FG%
A former JUCO All-American, Early had little trouble making the transition to Division 1 last season and was a big part of the Shockers' run to the Final Four. A versatile offensive threat, Early can provide fits for defenders and coaches. Early is aggressive and looks to get his shot when he touches the ball. He can attack the rim and finish in various ways. Early is also capable of knocking down both mid and long-range jumpers, as well as posting up smaller defenders. Early also uses his athleticism well to attack the offensive boards, so defenders need to watch for him wherever he may be on the court. Early is an active ball defender, and he does a good job looking to force ballhandlers into mistakes. Early runs the floor well in transition and can be a threat as a spot-up shooter or streaking towards the basket.
What he needs to show this season: Early's aggressiveness creates many opportunities, but he needs to work on his shot selection. He will force jumpers when better shots may be available, and when he may even have an opportunity to get to the basket. Early can also be too aggressive on the defensive end, overplaying to the point where he has no chance to recover, forcing his teammates to rotate. Also, Early needs to watch his positioning off the ball, especially not giving too much space to a good perimeter shooter.
Devon Saddler, Delaware, Guard, 6'2, 210
(2012-13) 19.9 ppg, 4.5 rpg, 2.8 apg, 1.0 spg, 42.8 FG%, 82.0 FT%, 33.7 3FG%
Saddler continues to be one of the most prolific scorers in the country, and last season he showed he could do it against all levels of competition, with 20+ point games against Kansas State, Pittsburgh, Temple, and Duke. He is solidly built and uses his body well when attacking the basket. He can finish in a variety of ways and can handle contact while still getting his shot off. He uses screens well to get open, especially getting his jumper off quick coming off of screens. When he gets his body square, Saddler can hit his jumper well beyond the 3-point line. He is a good on-ball defender, moving his feet well and forcing his man away from the lane. He rebounds well for his size, especially doing a good job boxing out once a shot goes up.
What he needs to show this season: While Saddler continued to put up a lot of points, his shot selection still left a lot to be desired, especially from long-range. As was an issue the prior season, he will often rush shots to try and beat the defender, but he may not be in good position for it. Also, Saddler still needs to make better decisions when looking to get to the basket, often trying to bull through help defenders. He has to do a better job recognizing the help defenders and either pulling up for a short jumper or kicking the ball out to an open teammate. On the defensive side, Saddler needs to do a better job as a help defender, rotating quickly, especially in pick-and-roll situations, and positioning himself better to provide some help in the lane. Saddler's long-term best bet will likely be from the point guard position, so he needs to work on making better decisions and putting his teammates in position to score. To that, Saddler recently attended Chris Paul's Elite Guard camp, and from various reports, Saddler performed very well amongst some of the top college point guards.
Follow me on Twitter – @NBADraftBlog
Leave your comments below, or email me at [email protected]