We are a few months from the start of the college basketball season, and the road to the 2014 NBA Draft has become. To kick things off, I am going to spend the next couple of weeks looking at this year's senior class and some brief notes on areas where they need to show improvement to maximize their value at the next level.
————————————————————————————————————————-
See Part 1 here – McDermott, Bachynski, Fair, Joe Jackson, Payne
See Part 2 here – Craft, Sheehey, Burton, Alec Brown, Patric Young
————————————————————————————————————————–
These are not meant to replace scouting reports, which will come out during the season. These are not all-inclusive and just meant as a brief primer for those who want to track draft prospects throughout the season. These are also not in any particular order other than who I choose to write about each post.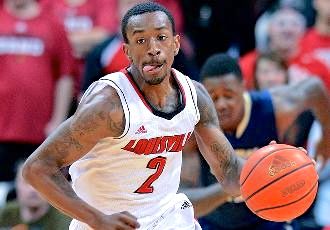 Russ Smith, Louisville, Guard, 6'0, 165
(2012-13) 18.8 ppg, 3.3 rpg, 2.9 apg, 2.1 spg, 41.5 FG%, 80.4 FT%, 33.2 3FG%
There are not may more polarizing players in college basketball than Russ Smith. It is impossible to deny the energy and heart with which he plays with, but many of his decisions will leave you shaking your head. There aren't many in college basketball quicker than Smith and he uses that advantage fully. He gets into the lane easily and finds creative ways to score around the basket. He takes a lot of contact for his size and makes teams pay for it at the free throw line. He is capable of hitting his jumper in a variety of ways, including in transition, and he does a good job creating space for himself. Defensively, Smith has quick hands and feet and is capable of picking up his man full court if needed. He anticipates well, especially off the ball, and not many are as good creating turnovers into quick points.
What he needs to show this season: It's tough to want Smith to make better decisions, because the frenetic way Smith plays is what gives him an advantage. However, if he wants to play in the NBA, he will need to be able to slow things down at times, especially on offense. A good ballhandler, he needs to be more careful about forcing the ball in traffic. Shot selection will be key, as well as being able to make reads off of pick-and-rolls and when he draws defenders in the lane. On defense, he will need to learn to cut back on the amount of risks he takes, especially off the ball.
Isaiah Sykes, Central Florida, Guard, 6'5, 215
(2012-13) 16.0 ppg, 3.6 rpg, 7.5 apg, 4.5 apg, 45.7 FG%, 61.7 FT%, 32.0 3FG%, 1.3:1 A/TO
Sykes put up some very interesting numbers last season while the focus was on the now-graduated Keith Clanton. Sometimes described as a "point-forward", Sykes was able to contribute in many ways, though his long-term potential would likely be at the 2. He is a very good ballhandler for his size and he uses his size well to power his way towards the basket, while also capable of pulling up and hitting short jumpers. He does a good job drawing defenders and finding open teammates. He is a creative finisher around the basket and he doesn't shy away from contact. He is capable of guarding multiple positions and he can be extremely active on the defensive end. Sykes will also crash the boards on both ends of the floor, so defenders will need to make sure to put a body on him to keep him from grabbing offensive rebounds.
What he needs to show this season: As I mentioned above, Sykes would likely be a 2 at the next level and he really needs to develop a consistent jumper, especially at mid-long range. His first instinct always seems to be to attack the basket, no matter what the defense is doing. He can also be careless with both his handle and his passing, often losing sight of what is happening around him. He can be inconsistent on defense and he needs to be careful to not lose his man off the ball as he likes to cheat towards helping or looking to crash the boards for rebounds.
Kendall Williams, New Mexico, Guard, 6'4, 180
(2012-13) 13.3 ppg, 3.5 rpg, 4.9 apg, 40.6 FG%, 76.5 FT%, 34.8 3FG%, 2.3:1 A/TO
Williams made some national headlines last season when he lit up Colorado State for 46 points, including 10 3's. He is capable of playing either guard position, and can also guard either backcourt spot. Williams is very fast, and with a good first step and his size, he is very tough to stop from getting into the lane. Once in the paint, he can score in a variety of ways and is capable of using either hand to finish around the basket. Williams has shown the ability to hit mid and long-range jumpers, and he does a good job using screens to create space. He is a good ballhandler and he makes good decisions with the ball. Williams is good in transition, both pushing the ball and running the wings.
What he needs to show this season: Williams needs to become more consistent with his jumper and improve his shot-selection. He also needs to find ways to get his jumper off without relying on a screen to give him time and space. Williams can be a good on-ball defender at times, but he needs to work on his foot speed and lateral movement. Also, he needs to do a better job anticipating his man's movements both on and off the ball.
Sean Kilpatrick, Cincinnati, Guard, 6'4, 221
(2012-13) 17.0 ppg, 5.2 rpg, 1.9 apg, 39.8 FG%, 73.8 FT%, 30.7 3FG%
Kilpatrick is one of the better pure-scorers in the country. He is a good perimeter shooter, especially as a spot-shooter, with a quick release and deep range. He does a very good job moving without the ball and using screens to create space. Kilpatrick is good transition scorer, able to push the ball himself or run one of the wings, and either take the ball to the basket or spot up on one of the wings for the jumper. Kilpatrick, can be a very good defender at times, and rarely backs down from a challenge. He plays the ball well and has good lateral movement. Off the ball, he plays passing lanes well and is a good help defender.
What he needs to show this season: Kilpatrick still needs to work on becoming a more versatile scorer, especially finding ways to be more aggressive and attack the basket. Last year, over half of his shots were from behind the 3-point line. Also, he needs to become more selective with his shots, not settling for contested jumpers and looking to create space for better looks at the basket. Because he settles for perimeter shots, he doesn't get to the line often, where his shooting ability should get him some easy points.
Mike Moser, Oregon, Forward, 6'8, 210
(2012-13 at UNLV) 7.1 ppg, 6.1 rpg, 36.9 FG%, 76.0 FT%, 26.7 3FG%
After a breakout sophomore season, last year was a nightmare for Moser. First, he lost his more comfortable 4 spot to freshman Anthony Bennett, relegating Moser to the 3, where he was just not comfortable. Then, an elbow injury in December caused him to miss a few weeks. Moser is at his best around the basket, and he can finish strong or with finesse. He uses his body well to finish through contact. He is an outstanding rebounder on both ends of the floor, having great instincts, using his body well and going strong after the ball. He has shown the ability to hit open jumpers, out to 3-point range, and in the right match-up, he can beat his man in isolation to the basket or pull up for a short jumper in the lane. He runs the floor well and can get out and finish in transition. On the defensive side, Moser plays with good energy and can guard multiple positions.
What he needs to show this season: Just like last year, Moser's shot selection is a mess, and the reasons are almost the same as last year. Part of it is the UNLV offense, which likes to push the ball and was dominated by extremely poor decision-making by Katin Reinhardt and Bryce Dejean-Jones, but part of it is Moser overestimating his abilities away from the basket area. Moser needs to become a better ballhandler and make better decisions. The other part of this is the more Moser stays on the perimeter, the less chance he has on the offensive boards, which is one of his biggest strengths. Defensively, Moser has a lot of work to do, especially as a perimeter defender. He falls for shot and ball fakes easily, and he doesn't move his feet particularly well, leaving him in bad spots against experienced wings. He is a tough post defender for his size, but he does give up some strength, so he needs to do a better job denying the ball to his man.
Follow me on Twitter – @NBADraftBlog
Leave your comments below, or email me at [email protected]