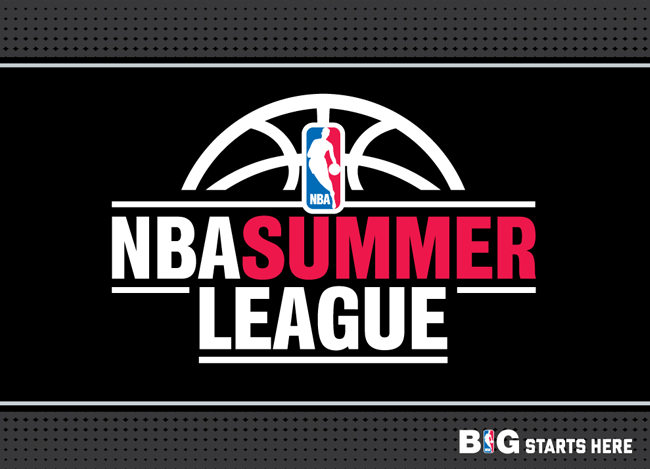 The 2nd NBA Summer League of the month wrapped up in Las Vegas last week, and overall it wasn't a bad week for many of the 2013 Draft Class. Here are some players who impressed and a few who were disappointments, even for players right out of college. Obviously, Summer League isn't the most reliable predictor of NBA success. These are just my impressions of what I saw.
The Good
Dennis Schroeder, PG, Atlanta – People got a good idea of how good Schroeder may be when he had a breakout game at the Nike Hoop Summit a few months back, but his performance against better competition in Las Vegas showed that the timetable for his potential impact in the NBA may be sooner than first thought. He still needs to work on his decision making, and getting stronger to guard out on the perimeter, especially working his way through screens, but his vision and ability to get into the lane opened up the court very well for his teammates.
Lucas Noguiera, C, Atlanta – Much rawer than Schroeder, Noguiera showed some very good athletic ability, especially around the basket on both ends of the floor. He could provide some quality minutes as a backup big man very soon.
Cody Zeller, PF, Charlotte – In my opinion, Zeller was the best of the rookies out in Las Vegas, and at least (for now) should have quieted some who detracted his selection at #4. After some early problems, Zeller showed increasing comfort working out on the perimeter, both knocking down the mid-range jumper and attacking the basket. He also was more aggressive on the defensive boards than he seemed to be at Indiana. He still needs to improve his ball-handling and his strength, but all and all, it was a very promising start.
Tony Snell, SG, Chicago – Snell was inconsistent shooting the ball throughout the week, but like many of the others, he started to find more confidence as the week went on, culminating in a very good shooting effort in Chicago's final game. What made Snell stand out was his ability to help the team even when his shot wasn't falling. His expected presence on defense was there, but he also did a very good job rebounding and passing the ball. As I thought on draft night, Snell will be a great fit with Tom Thibodeau in Chicago.
Erik Murphy, PF, Chicago- Murphy showed he still has a way to go being able to guard NBA-type 4's out on the perimeter, but he showed plenty with his ability to shoot and stretch the floor, hitting 50% of his three-point attempts (10-20). In the final game, he also showed how good he can be around the basket, and even hauled in an impressive 13 rebounds. He may not make the roster right away, but Chicago will want to keep him close by.
Ian Clark, G, Golden State – Clark left right off where he did in Orlando – finding ways to score. Clark was known as a perimeter shooter coming out of Belmont, but he showed an ability to get into the lane and finding ways to score around the basket. Clark will likely need to learn to play the point more efficiently if he hopes to make it to the NBA (Utah signed him after Vegas, but I would doubt he makes the roster right away). Also, I have a problem with his shot release, which is a little low and really only gives him a good chance to hit it if he is open for a few seconds. Still, it was another impressive week, and with some work, Clark may find himself becoming the next Kent Bazemore.
Elias Harris, F, Los Angeles Lakers – Undrafted out of Gonzaga after being highly ranked after his freshman season, Harris showed how much more of a complete player he became during his college career. Harris did almost everything well except hit the long jumper. Most impressive was his defense where he showed he was capable of guarding different types of players. Having signed a deal with the Lakers after Summer League, look for Harris to hone his jumper in the D-League as he waits for his shot to contribute.
Jack Cooley, PF, Memphis – For the 2nd straight week, Cooley showed that he is capable of being an NBA player and teams may one day regret passing on him in the draft. Cooley was efficient around the basket, played tough defense, and was one of the best rebounders all week. He has shown the ability to knock down the mid and long-range jumper, though he will need to become more consistent. Overall, a strong week which should lead to big things for Cooley.
James Ennis, SF, Miami – Ennis looked much more comfortable in his 2nd week with the Heat squad than he did in Orlando. His athleticism was well known coming out of college and he was able to finish in transition in some spectacular ways. More impressive was how he was able to knock down the NBA 3. Add in some tough defense and Ennis should find his way into the NBA. If not with the Heat, than a smart team will pick him up.
Archie Goodwin, SG, Phoenix – Goodwin showed more than he did at Kentucky, but was still inconsistent. He makes it on this list purely for the fact that he was finding it so easy to get into the lane, though I think non-Summer League defenders will find it much easier to guard him until he can become a consistent perimeter shooter. Also, his defense is just as inconsistent as the rest of his game. Still, it's tough not to look at how often he got to the free throw line and smile.
CJ McCollum, G, Portland – If Zeller wasn't the most impressive rookie, than it was easily McCollum, who made getting to the basket look very easy against experienced and non-experienced defender alike. His jumper was on and off, and he had some issues when running the point, especially making the right reads in the pick-and-roll. His scoring ability shined, but his defense was also near as good as expected. Most importantly, I think McCollum showed his ability on and off the ball would let him work well in tandem with Damian Lillard.
Ray McCallum, PG, Sacramento – McCallum was inconsistent during the week, but he showed that his point guard abilities were likely very underrated by some in the draft. Most knew he could score at the basket and he showed that, but he needs to become confident in his long jumper. Also, he played physical defense but was still able to stay with many of the quicker guards.
Deshaun Thomas, F, San Antonio – His week didn't end as well as it started, but Thomas showed that he could do what everyone expected him to. He scored in many different ways. Even better news, at times, his defense was much better than he showed at Ohio State. May be tough to find him a roster spot now, but he may not be far away from one.
Could Have Been Better
Reggie Bullock, SG, Los Angeles Clippers – Bullock put up points and he showed he was able to score in a variety of ways as well as defend, but for someone who has the reputation as a long-range shooter as he does, Bullock had trouble getting good looks and when he did he still seemed to have trouble finding a rhythm. Obviously, this could change if he is being set up on the perimeter by someone like Chris Paul, but his shooting was uninspiring last week.
Shabazz Muhammad, SF, Minnesota – This was tough because I was not a big fan of Muhammad's game to begin with, but what stuck out most was how little his understanding of the game seemed to be. His spot-up jumper continues to improve, but everything else about his game seemed to be lacking and he had trouble getting into the flow of the NBA –style game.
Ben McLemore, SG, Sacramento – McLemore seemed to be putting way too much pressure on himself to score and you could seem hesitate a bit before he would shoot the ball. Even in the 2 games where he scored 20+, McLemore was very streaky. He did seem to get into the game a bit more when he was aggressive going to the basket and not settling for the jumper, but he will need to get back into his normal shooting rhythm off the catch.
Otto Porter, SF, Washington- Porter is another player who seemed to have trouble finding a rhythm in the NBA style game. He was forcing more shots than he did at Georgetown and at times even seemed out of position on both ends of the floor. It was a tough week, but of the disappointments, Porter is the one I have the most faith in "getting it" soon.
There were many more players who had their ups and downs, and some who may have made one of these lists with more playing time. This is not meant to be all-inclusive, and there are some other players who still may find their way into the NBA.
Follow me on Twitter - @NBADraftBlog