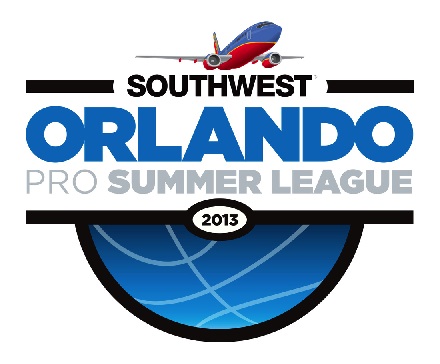 The Orlando NBA Summer League took place from July 7-12 featuring 10 teams, and a first ever champion crowned. Oklahoma City came away with the title, beating an undermanned Houston team in the 1st place game.
A lot of the focus is on the rookies, drafted and undrafted, during Summer League, but there are always a lot of interesting players filling the rosters and it's good to see who has improved over the last few years.
I will go more into the process of what exactly to look for in evaluating Summer League players next week when I review the Las Vegas Summer League, but it is important to keep in mind that numbers mean very little and even less for the rookies.
Here is a look at who stood out from the 10 teams last week and where some work may need to be done.
Oklahoma City
The Thunder came away with the first Summer League championship under the new format and it was well-deserved. If you want to see one of the benefits of the single affiliate D-League system, watch when a group of Thunder players who spent time together with the Tulsa 66ers were on the floor. Still, the star of the week for the Thunder was Reggie Jackson, who showed what his extended time last year did for his game and his confidence. He still needs to work on becoming a consistent shooter, but it's tough to keep him from getting into the lane. The rookies showed pretty much what was expected from them. Steven Adams is athletic, but raw, and still has a very basic understanding of the game. Andre Roberson uses his athleticism well to attack the boards and guard on the perimeter, and Grant Jerrett is basically a spot-shooter. Jeremy Lamb showed that he can score with the best of the players there, but his inconsistent effort is still maddening. Daniel Orton has showed tremendous improvement over the past 2 years, both in physical conditioning and his skill. I think he is very close to being a solid 10-12 minute per game NBA center. The big winner of the week was Dwight Buycks who turned a solid performance on both ends of the floor into a deal with the Toronto Raptors.
Houston
The Thunder's opponent in the title game in Orlando came in with one of the more intriguing rosters. Terrence Jones continues to show what he is capable of when he gives a sustained effort. Showing improved defense to go with his scoring ability, Jones is close to becoming a valuable role player. Undrafted rookie Robert Covington showed that he is more athletic than people thought and showed a nice perimeter touch to go with his scoring ability around the basket. BJ Young may have been one of the fastest players in Orlando, and he used that ability well towards the end of the week when he seemed to get to the basket at will. Patrick Beverly can be a tough defender, but offers very little on the offensive end. Unfortunately, Isaiah Canaan was hurt and unable to play last week. Jack Cooley was strong around the basket and was one of the hardest working players all week. Vander Blue had some good moments but would often try to do much on the offensive end, leading to some bad decisions.
Indiana
On paper, many may not have been impressed with the Pacers' squad, but they played very well as a team and featured some very good individual performances. Miles Plumlee has improved as much as any big man over the past year and may be close to being a bench contributor. He has added some good offensive moves around the basket to go with his athleticism. Solomon Hill had one of the best all-around weeks for any player, rookie or not. He showed he can score in a variety of ways and was a very good perimeter defender. Donald Sloan looks like he may be a good signing for the Pacers, though he would often try to do much on offense and would end up turning the ball over. Orlando Johnson can score and he looks to have gotten stronger over the past season, allowing him to take some hits as he looks to go to the basket.
Boston
The story of the week was all about Kelly Olynyk who did a great job playing to his strength as an efficient scorer. There is no doubting his scoring ability, but it will be a different story when NBA players start to get physical with him. He needs to get tougher quickly. Colton Iverson did an excellent job on defense and rebounding, and showed some untapped scoring potential around the basket during the week. Phil Pressey was the Phil Pressey we all have come to expect. He showed some great flashes of vision and passing, but made way too many mistakes for an NBA level point guard. Tony Mitchell also showed flashes of what we have come to expect, some spectacular athleticism, but he also did a very good job on defense during the week. Fab Melo has shown a bit of improvement, but he still needs to become tougher around the basket for his size.
Miami
Rookie James Ennis played very well as the week went on, showing he is more skilled than people thought and capable of scoring in many ways. On the other hand, Myck Kabongo showed that he is nowhere near ready to play at a high level and will need to find somewhere to hone his skills and decision-making. Jarvis Varnado is still a premier shot-blocker and will always be on the verge of an NBA roster spot for that ability. Ian Clark had a very good week, starting off showing his defensive and shooting ability and as the week went on, showing he is a capable point guard. Still, I have concerns whether he would be able to show the same at the NBA level. Jackie Carmichael had some trouble getting into the flow of the game early on, but was much better later in the week, especially showing some good all-around offensive skills. Vincent Council and Cedric Jackson both had moments impressing with their distributing skills. James Nunnally worked well all week, finding good spots to get his shot.
Utah
There was a lot of focus on Trey Burke and his struggles during the week, but I didn't see anything that was overly concerning. He became more comfortable running the point as the week went on and the troubles he had finishing around the basket was a known issue coming in. Alec Burks still can get to the basket well but his jumper is still a work in progress. Rudy Gobert showed more skill than I was expecting, and he can make it tough to score around the basket, but he is still a few years from possibly having any impact. Jerel McNeal plays as tough as any guard I've seen and he is capable of scoring in many different ways. Raul Neto showed up for the last 3 games, and he showed some nice ability in the pick-and-roll, but was not as impressive to me as many others I know. Chris Roberts was another guy who found many ways to score and he seemed capable of guarding both guard spots.
Detroit
Andre Drummond continues to improve at a much greater rate than expected and may be on the verge of breaking out at the NBA level. He showed more skill on both offense and defense, and not many his size have his athleticism. Kentavious Caldwell-Pope finally started to find his shot near the end of the week, but played tough defense the whole time. Plus, he showed his athletic ability on some spectacular missed dunks. Peyton Siva had himself a good week, and was one of the reasons Caldwell-Pope started hitting shots – Siva was able to get him the ball at the right place and time. Rookie Tony Mitchell showed his athletic ability and seemed to give a consistent effort, but he needs to improve his skill level. Khris Middleton and Kim English were fairly disappointing and I expected more after a year. EJ Singler showed both skill and a high basketball IQ during the week. Korie Lucious hit some big shots and, when in control, seemed capable of running the team.
Orlando
The fans of the Magic should be very excited with the young core of players who have been assembled. Rookie Victor Oladipo was given some point guard duties during the week, and though the results were mixed, he still showed plenty on both ends of the floor. Maurice Harkless has definitely improved his skill level and is on the verge of breaking out. Kyle O'Quinn never seems to stop working when he is on the floor and he has shown the makings of a valuable bench big man. Doron Lamb knows exactly what he does well – shoot the ball – and he sticks to it, but he is also a very underrated perimeter defender. Andrew Nicholson is skilled, but he needs to be more aggressive, especially when the match-up dictates it. AJ Slaughter and Rodney McGruder both showed flashes of potential in limited minutes and would both be great camp candidates for the Magic or another team.
Philadelphia
All eyes were on Michael Carter-Williams, and it's a struggle to find anything really positive to say. You can see the physical tools, but his decision-making has a long way to go to even reach adequate. Add to that his lack of a consistent jumper, and he has a lot of work to do before the season starts. Unfortunately, his decisions also led to his teammates having mostly rough weeks. Khalif Wyatt was able to put together a very solid week. He stuck to his game, and even the better defender had a tough time stopping him when he looks to get to the basket. Rookie Rodney Williams played well most of the week, especially when he was able to show his athletic ability in the open court. Arsalan Kazemi works hard when he is out on the court, and has the potential to give some spot minutes at the NBA level. Arnett Moultrie started to come on towards the end of the week, but I was hoping to see more improvement on both ends of the floor after a year. James Southerland was disappointing. When you are a one-dimensional player, you better be doing that one thing well, and his shot just wasn't there most of the week.
Brooklyn
It was a rough week for the Nets, but rookie Mason Plumlee had a very good week. Plumlee showed off the athleticism he was known for, but he also came in and showed some new post moves and played strong defense. Tyshawn Taylor showed some very good scoring ability, but he still needs to read the court better. Chris Wright was very impressive both as a scorer and handling the point, but he struggled at times on the defensive end. Tornike Shengelia showed a little bit of everything on the offensive end, but not enough to really stand out, and was borderline awful on defense.
Follow me on Twitter – @NBADraftBlog or send your comments to [email protected]