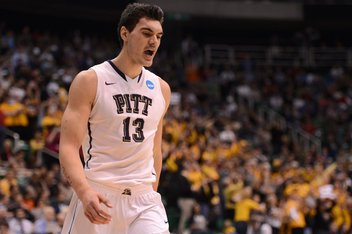 Name: Steven Adams Age: 19 School: Pittsburgh
Height: 7'0 Weight: 255 Projected Position: C
2012-13 Stats:
7.2 ppg, 6.3 rpg, 2.0 bpg, 1.1 tpg (23.4 minutes per game)
57.1 FG%, 44.3 FT%, 55.5 TS%
15.3 OREB%, 19.1 DREB%, 17.2 TREB%, 11.2 BLK%, 17.7 USG%
SKILLS & ATHLETIC BREAKDOWN
Offense
Post Play/Footwork
Adams's post-game is still a major work-in-progress. Adams does a good job setting position on the low blocks, using his lower body well and setting a target to receive a pass. However, he has very few post moves and his movements can be awkward and slow. He is at his best when he has space to operate and the time to back his man down. He has developed a decent jump hook over his left shoulder, as well an improving up-and-under move when he gets stopped on his first attempt to make his move. Adams has some struggles when being defended by longer and/or stronger players. He has shown some good strength around the basket, but he still has trouble finishing in traffic. He needs to work on looking to draw contact around the basket, trying to use head and ball fakes to get defenders in the air. Adams should also look to add some face-up moves, allowing him to take his man off the dribble, but his ballhandling and finishing skills need to improve. Adams's footwork improved as the year went on, but his movements can be stiff and awkward. Adams understands the pick-and-roll well, and he is capable of catching and finishing around the basket. He does need to work on opening up to the ball sooner after the screen.
Ballhandling
Adams is a below-average ballhandler, even for his size, doing a good job minimizing the amount of dribbles he takes, but he needs to work on keeping the ball low and closer to his body. He is much more comfortable with his right hand than his left, to the point where he will look for ways to avoid going left. Adams seems to still be getting comfortable with his ballhandling when driving from the perimeter, and he will need to improve significantly to be able to do it at the NBA level.
Shooting
Adams has shown some improvement in his touch around the basket, and he is much better when he is not rushed into taking his shot. However, Adams needs to be careful to not push or throw the ball towards the basket, but shoot it. Adams will need to improve his ability to finish with his left hand as well as his right, Adams needs to work on being able to hit consistently from the mid-range area, including building the confidence to take that shot when open. He does a good job getting square to the basket, but his release can be low and with some hesitation, leading him to shoot a lot of line drives at the basket.
Passing Skills
Adams has good court vision out of both the high and low posts. For the most part, he makes strong passes to the perimeter, and on target enough to allow his teammate to get a quick shot off. Adams does need to work on getting the ball out quicker when doubled in the low post.
Free Throw Shooting
As mentioned earlier, Adams needs to work on his shooting in general and that extends to his free throws. He really needs to work on his release, where a hesitation at the top of the release affects his aim and follow-through. It becomes more important because of Adams's ability to draw contact and get to the line.
Defense
Post Defense
Adams's technique as a post defender improved throughout his freshman season, but he still needs to make bigger strides to handle it at the NBA level. He positions himself well in the post, and he uses his body to put pressure on the offensive player. Adams has the strength to prevent being backed down, but he needs to be more aggressive in holding his position. He can deny the post when needed, but prefers to on the player's dominant side, forcing them to go long around him if they want to make a move into the lane. He needs to work on using his lower body better to anchor his position, and using it to force his man away from the basket. His footwork is average and he can stay with quicker offensive players as they make their move. Adams is capable of hedging out on high pick-and-rolls, but he will often hesitate and end up being a step slow, taking him out of the play completely. Adams has improving defensive awareness, but inexperience still has him losing or confusing assignments against offenses with a lot of movement.
Perimeter Defense
Adams is a good perimeter defender for his size. He has good foot speed and improving lateral quickness to defend forwards and centers on the perimeter, but he needs to be more aware of his positioning. If he is caught out in space, a decent ballhandler should be able to beat him with a few dribbles, so Adams will need to work on understanding angles so he can recover if beat on the first step.
Help Defense/Shot Blocking
As with much of his game, Adams showed some improvement in these areas as the year went on. He reacts well, though inconsistently, as a help defender, and he is capable of covering ground quickly to get in position. His timing and extension are good at tomes, and he does a good job going straight up after the shot. Adams also showed some improvement in his ability to stay down on shot fakes. He is average as a weakside and basket help defender, and he uses his length well enough to alter opposing shots.
Rebounding
Adams can be good on the defensive boards, but with added experience, he can be even better. He needs to anticipate better and understand where he should be positioned for rebounds depending on the shot, though he is quick to get to the ball after the miss. When he does have position, he does a good job going strong after the miss, extending his arms to get the ball up high, and securing it. However, Adams needs to do a better job boxing out, especially looking to use his lower body instead of his upper body to get position. Most of this applies to being a factor on the offensive boards as well.
Transition
Adams runs the floor well though he isn't usually a top option to get the ball. He does a good job running straight for the low blocks and looking to get position to rebound a miss or be ready in case the break is stopped. Adams is also a strong transition defender, getting back quickly and in position to challenge shots around the basket.
Summary
There aren't many players in this draft as raw as Adams. He is an athletic big man, but his skill level on both ends is still very basic. He showed progress throughout his freshman season, but he is still a few years from making any significant impact at the NBA level. He could provide some help rebounding and on defense early on, but he will likely have little impact on offense. Right now, there isn't any single area where he doesn't need significant improvement. Yet, in the right hands and with some patience, he may one day turn into a serviceable big, though it is still way too soon to project much better.
Draft Value: Mid 1st Round – #15-22
The best thing for Adams will to be put in a situation with coaches who have a history of helping big men develop and with the time where he doesn't need to contribute quickly. That may not happen though as people tend to get blinders with athletic big men, and Adams may go much higher than he actually should.
Leave your comments below, or email me – [email protected]
Follow me on Twitter – @NBADraftBlog