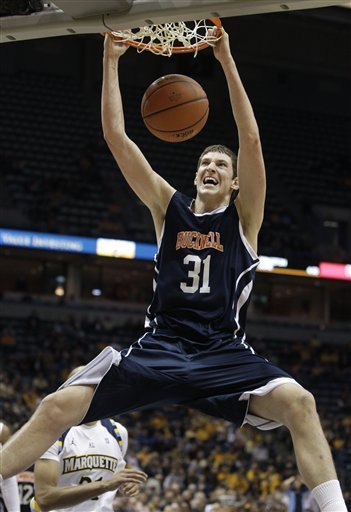 There may not be one single factor that influences his development, good and bad, during college as much as what school he decides to play for. It could be for many different reasons, but under the right circumstances, players could flourish well beyond expectations. Mike Muscala found the right fit for him at Bucknell, and now he is a few days away from hearing his name called at the NBA Draft.
"Playing in a smaller mid-major conference gave me the chance to play as a freshman," Muscala explained. "Playing experience was very important to my development, especially as a junior and senior when I was facing double teams and defenses geared towards stopping me."
Looking back, Muscala could point out how exactly he developed during his time at Bucknell. "As a freshman, I would rely on my perimeter skills a lot," Muscala explained. "I definitely became a better inside presence, as well as a better rebounder. Also, I matured a lot mentally, and learned how to best overcome adversity."
Over the past four years, Muscala has developed to a point over the past four years where he is getting a chance to show NBA teams what he can do.
"I think my versatility is what makes me most attractive to teams," Muscala said. "Offensively, I can space the floor and knock down shots in pick-and-pop situations, as well as scoring inside. Also, I can be a good rebounder and post defender."
Muscala spent time doing his pre-draft training in Long Island with known trainer Jay Hernandez. While honing his all-around game, Muscala did have some points of emphasis for what he wanted to improve. "I have been working on getting stronger to allow me to guard bigger players in the post," Muscala explained. "Also, I have been working on my quickness, especially moving my feet on the perimeter. I want to be able to shoot three's consistently from NBA range."
Many teams have had a chance to see what Muscala has been working on over the past few months. He had already been to 13 team workouts, with 2 more scheduled, when I spoke to him.
The process has taught him some valuable lessons. "The biggest thing you can do in these workouts is go in, play your game, and work hard," Muscala explained. "It's important to focus on what you do well. A few times I tried to do too much and I wasn't happy with the results."
"These teams have already scouted you and know what you can do, that's why they are interested."
Muscala knows his strengths well and he can see how they could help any team he played for right away. "I could help out a lot in pick-and-roll and pick-and-pop scenarios," Muscala said. "I can knock down the mid-range jumper or the NBA corner three. Also, I could help out rebounding and on defense."
No matter where he ends up, Muscala realizes all it took to get him to this point. "When I got to Bucknell, it wasn't a walk in the park," said Muscala. "I had to put in a lot of hard work to keep improving."
"I have the skills to bring to the table right away and I have the mental toughness to succeed. I want to go in, work hard, and be a good teammate."
Muscala has taken part in an innovative look at the path he and six other rookies are taking to the NBA Draft. #DraftDreams has given people an inside look at the process from the point of view of Muscala and his classmates. You can check out the series on the web here , follow it on Twitter – @DraftDreams or checkout the new apps for the IPhone or IPad.
Follow me on Twitter – @NBADraftBlog
Leave your comments below or email me at [email protected]