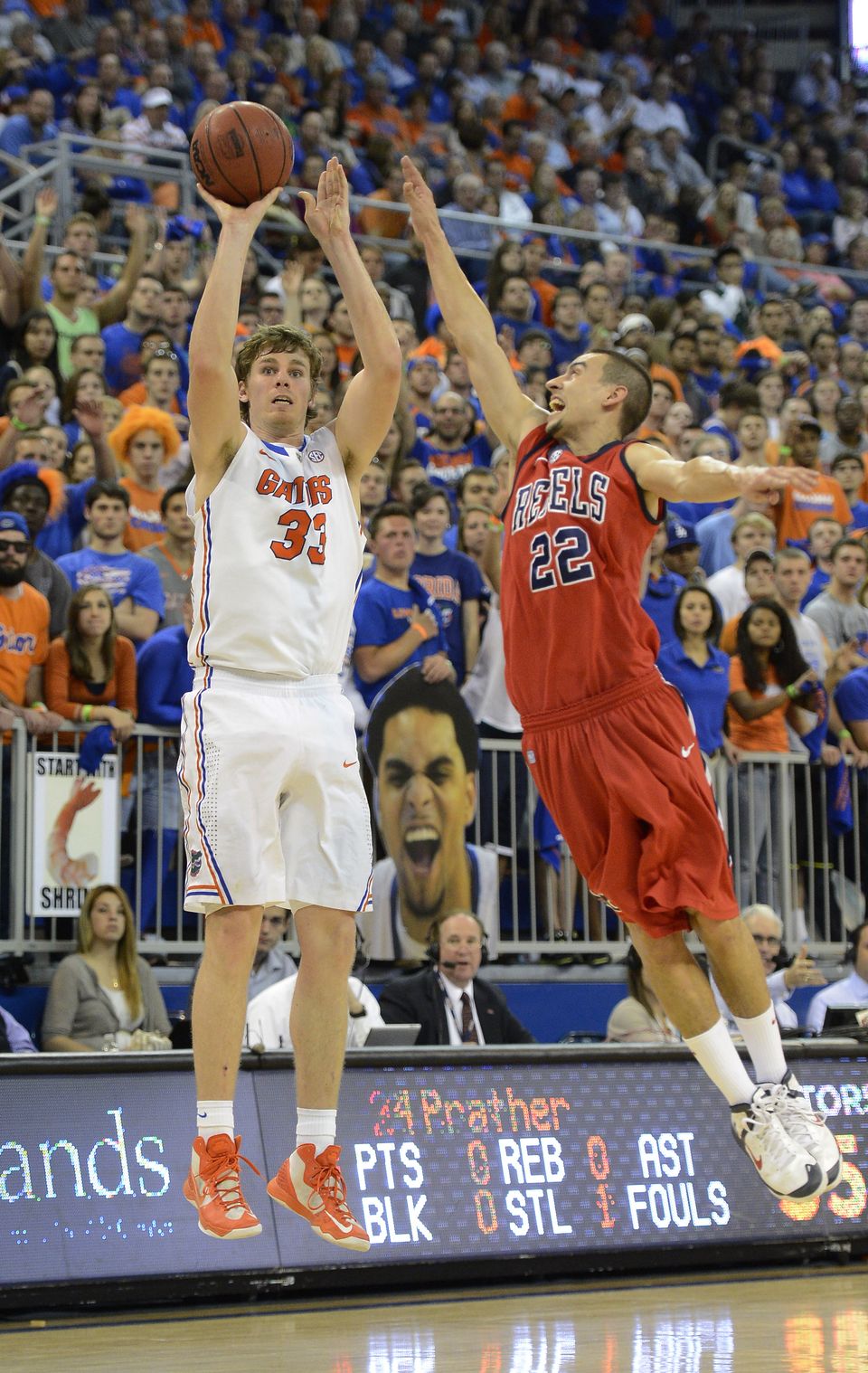 Photo: Phil Sandlin/Palm Beach Post
The normal college basketball career is filled with many ups and down, but it is the ability to persevere which brings some of the greatest rewards. Erik Murphy's ups and downs may not have been similar to many other college basketball players, but his ability to persevere, and continue to work hard, has left him just days from likely hearing his name called in the NBA Draft. It is a story that many who are, or who will be, playing college basketball should pay attention to.
Murphy didn't play much his freshman season, but in his sophomore year, it started to come together for him "I worked hard during the off-season and I found my role as a pick-and-pop guy who could stretch the floor," said Murphy.
An injury derailed that promising season. "I got hurt about halfway through my sophomore year, and coming back I just wasn't in the shape I need to be in and lost some confidence," said Murphy.
At one point after his sophomore year, Murphy was debating whether to stay at Florida. He ended up staying, but shortly after, he was arrested. Again, he was debating what his future would be at Florida. Looking back, Murphy believes the incident was what spurred him on to greater success.
"It really turned out to be a blessing in disguise," said Murphy. "It really helped me in the long run and forced me to really spend time thinking about what I wanted to do with my basketball career."
Murphy returned to Gainesville and worked hard on his body and his game, and he saw his role increase as a junior, when he became a starter.
By most standards, Florida, and Murphy, had a great 2012-2013 season. Murphy averaged over 12 points per game, and most impressive, shot over 45 percent from 3-point range. Florida won 29 games, but would be knocked out in the Elite Eight for the 3rd time in the last 4 seasons.
"Every year has been special in its own way," said Murphy. "Three straight Elite Eights is something very special. Though it didn't end the way I wanted it to, the whole experience was great."
Still the experience brought him many great things, including his relationship with Florida Head Coach Billy Donovan. It took time for it to evolve though. "Coach Donovan had a big influence on me as a player and a person," explained Murphy.
"Early in my career, I had become too involved in college life and was concerned about having fun," said Murphy. "Coach Donovan is the one who challenged me about what I wanted to get out of basketball. He is always there for you, and he helped build the mindset to be able to play at the next level."
Now that Murphy is going through the pre-Draft process, he is a good understanding of why NBA teams are interested in him. "At my size, the ability to shoot and stretch the floor is big," said Murphy. "I've gotten a lot of positive feedback and they see I am a hard worker."
Murphy has been taking the feedback he has received and has been working on improving his game. "I've been working becoming a better defender, both holding my own in the post and out on the perimeter," said Murphy, "I'm also working on being a better rebounder. I've spent time watching how other guys get it done."
Now, Murphy has been out on the road showing NBA teams what he is capable of. At the time we spoke, Murphy had been on seven team workouts, including auditions in front of San Antonio, Detroit, Indiana, Orlando, Cleveland, Portland and Houston.
"Going in, teams have usually seen a lot of you playing, so the important thing is to go in and work hard," Murphy explained about his workout experience. "It's been a great experience that very few people ever get the chance to do."
Murphy's experience and skill also lead him to believe where he could step in and help a team. "I can stretch the floor with my shooting and I am a high IQ player who can do other things based on matchups," said Murphy. "I'll do anything I can do to help."
Hoping to join the other Florida alumni now playing in the NBA, Murphy has had the opportunity to talk with those who have gone before him about the process. "A lot of the young guys come back and are always willing to tell us what we need to do to get there," said Murphy, "Plus, I am very close with Chandler Parsons and I've been able to talk to him as I go through this."
No matter where he goes, Murphy is eager to prove that he belongs. "I'll bring a good work ethic and attitude, and will do anything to help the team," said Murphy, "I get along well with all kinds of people and I think I can fit into any system."
"I know I can play in the NBA if I can get that shot."
Erik Murphy isn't alone in that sentiment.
Follow me on Twitter – @NBADraftBlog
Leave your comments below or email me at [email protected]