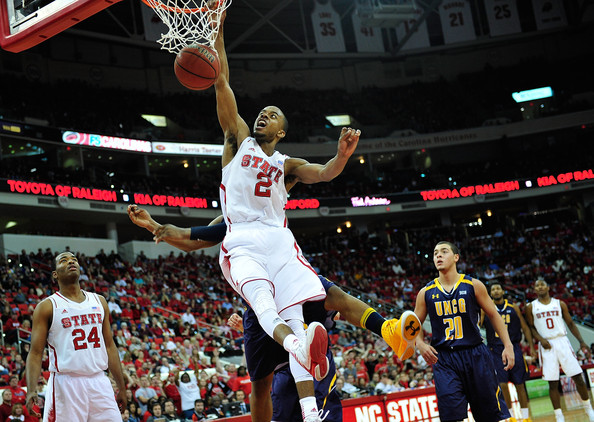 Part of the maturation process of college basketball players is the ability to adapt to changes, including teammates, coaches, systems, and roles. Being able to navigate these successfully can leave a player in a position where the normal adjustments needed during a game become simple to handle. Lorenzo Brown had to deal with all of the changes during his three seasons at North Carolina State, and the maturity he gained now leaves him ten days from hearing his name called at the NBA Draft.
"I matured a lot during my time at North Carolina State," said Brown. "During my first year, I wasn't really involved and was kind of in the background. I was behind two good point guards in Ryan Harrow and Javier Gonzalez."
After that season, Coach Sidney Lowe was replaced by Mark Gottfried and Brown saw his role start to change. "Coach Gottfried came in and wanted me to be the point guard," explained Brown. "Having that responsibility really matured me as a player and a point guard, since I really wasn't a point guard to begin with."
His first season running the point for the Wolfpack, the team made it to the Sweet Sixteen, and there were high expectations heading into the 2012-2013 season. While the team, had 24 wins, including 11 ACC wins, the season was very up and down, and it ended with a loss in the NCAA Tournament Round of 64.
"We had a lot of different players on this team and my role had to change," said Brown. "We had a lot of guys who could score, but I was the only guy who could create. When you are surrounded by scorers, it can be difficult to control what they do with the ball."
Still, Brown did have a good season despite his different role. He finished the season averaging over 12 points and 7 assists per game, along with a very good 2:1 assist to turnover ratio.
Brown is now working to show what he can bring to the NBA level, and he believes that he has some qualities that teams will be looking for. "My biggest advantage is my size over most other point guards," said Brown. "I have the speed, athleticism, and passing ability that is needed to play at that level."
He is also aware of what he needs to work on to make sure he can get on the court once he's on a team. "It's important that I work to become more consistent with my shooting ability," Brown explained. "I'm also working on being able to create space, becoming more efficient, and being more physical on the court."
Brown has been taking part in NBA team workouts and he is learning a lot from the experience. "I'm definitely learning how to come off of screens better and how to use my big man in the best way," said Brown. "A lot of the guys who are taking part in these workouts are a lot better than many people think."
No matter where he goes, Brown knows that he still has work to do, and he is ready for whatever comes his way. "I know I can get better just by playing at the NBA level."
Follow me on Twitter – @NBADraftBlog
Leave your comments below or email me at [email protected]