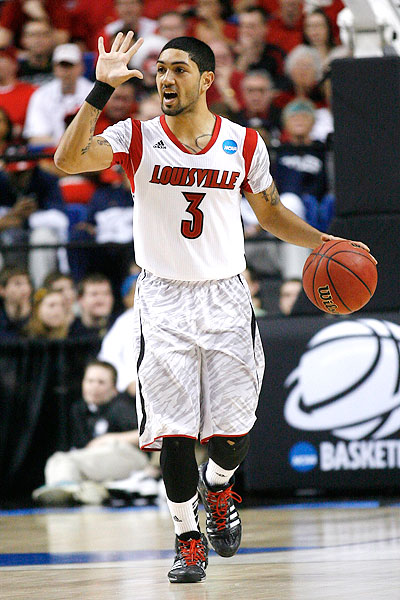 Photo: Mark Zerof/USA Today Sports
When it comes to the NBA Draft, there is always a lot of talk about potential, but often overlooked are some things just as appealing – experience and leadership. Becoming a true leader isn't an easy process, but with the right teacher and student, the results can be spectacular. Louisville's Peyton Siva took up the challenge of becoming a leader, and after a Final Four trip two years ago, and an NCAA Championship this past season, he is ready to take on his next challenge in the NBA.
Siva saw his game change and evolve in many ways during his time at Louisville. "When I first got to Louisville, I was more of a scorer," said Siva. "I had to develop into a true point guard who could run the team, especially becoming more comfortable in the pick-and-roll and reading defenses."
It was just as a player where Siva saw himself change. He saw changes in the person he was. "I definitely matured mentally," explained Siva. "You have to develop a certain mindset if you want to play on the biggest stage of them all."
Playing for a Hall of Fame Head Coach in Rick Pitino certainly helped, and Siva is quick to acknowledge that. "Coach Pitino has been great, and has helped me with everything on and off the court," said Siva. "He really helped transfer my game to more of what is expected of an NBA point guard."
All of the work finally paid off the past two seasons, first with a trip to the Final Four in 2012, and winning the NCAA Championship this past season. Siva has had time to reflect on it all these past few months. "Looking back at it, it's crazy how it all worked out," said Siva. "Being knocked out of the Tournament in the 1st round the first two years really pushed us to do better."
Not only was Siva able to finish his career with an NCAA Championship, but he did it having one his best all-around games of the season. In the title win against Michigan, Siva scored 15 points, with 6 rebounds, 5 assists, and 4 steals. For the season, Siva set career bests in points per game (10.0), assists per game (5.7) and steals per game (2.2), along with a very impressive 2.2:1 assist to turnover ratio.
The focus has turned to the next step in his career and Siva has been working a constant grind of training sessions, combines and team workouts. Though, the process has been an adjustment. "In the beginning, you are going into the process blind, and you try to go out and do everything a hundred miles per hour," said Siva. "The last couple of workouts I have finally started to settle in to the routine."
Siva is now out to show NBA teams what he can bring to their organization. "I want to go out and show teams that I can be a playmaker for them," explained Siva. "I can also be a good defender, and I have been getting better at knocking down my jumper."
The jumper has always been a weaker part of Siva's game, and he knows that. "I need to do a much better job consistently knocking down my shot," said Siva. "I have had a tendency to be a streaky shooter."
With upcoming workouts with Memphis and the Los Angeles Lakers, Siva can already envision what type of role he could fill for any team that picks him. "I think I can step in right away and be a good back-up point guard," said Siva. "I can be a distributor, a change of pace, and someone who can take the reins of the second unit without a drop-off."
Siva knows he has a lot to offer teams, and it has come from years of development. "I am a proven winner; I have won at all levels," said Siva. "I have been coached by a Hall of Fame coach who has done it at the NBA level. I am experienced and know how to run a team. I am battle-tested."
Follow me on Twitter – @NBADraftBlog
Leave your comments below or email me at [email protected]