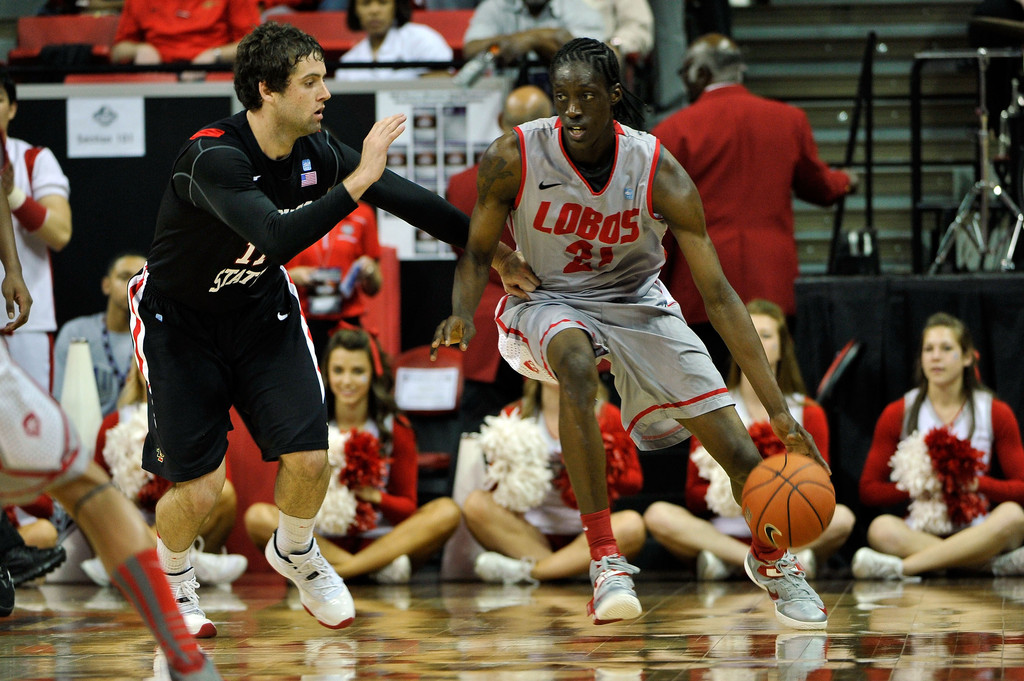 Name: Tony Snell Age: 21 School: New Mexico
Height: 6'7 Weight: 198 Projected Position: SF
2012-13 Stats:
12.5 ppg, 2.6 rpg, 2.9 apg, 0.8 spg, 2.1 tpg (31.2 minutes per game)
42.2 FG%, 84.3 FT%, 39.0 3FG%
56.2 TS%, 51.6 eFG%, 22.8 USG%
SKILLS & ATHLETIC BREAKDOWN
Offense
Perimeter Shooting
Snell has continued to improve his jumper throughout his college career. He does a good job getting square to the basket, gets good lift from his legs, and has a smooth, high release. Snell is much better a spot up shooter and needs to work on hitting his jumper off the dribble. He has range out to the college 3-point line, and with some work, should be able to hit the NBA 3 with some consistency. Where Snell is at his best is moving without the ball, and he is very good at using screens and quick cuts to get open. He needs to work though on coming off screens and getting square and ready to shoot the ball. Snell needs to work on a tendency to fade away on his jumper when there is no need to. Snell also needs to work on creating space for his jumper with his dribble. Snell's shot selection is generally good, and at times it seemed like he passed up good looks in order to pass.
Ballhandling/Penetration
Snell is a good ballhandler for his size, and he is able to use both hands well, even handling taking the ball up the court for New Mexico on many occasions this past season. He does a good job keeping the ball low and protected, though he needs to work on developing more advanced handling skills such as a crossover or change of pace dribble, as well as making sure to keep his head up when he looks to go to basket. Snell is a capable penetrator, able to attack off the screen or in isolation with the right matchup. He does a good job catching the ball and getting into triple-threat position, and he uses ball-fakes and jab steps well to create space. Snell doesn't have a great first step, but if he can get a step on his man, he uses long, smooth strides to get to the basket easily. He prefers to go to his right, but is capable of going to his left, though he still tends to finish with his right hand on the left side of the basket. He has good body control and he does a good job avoiding help defenders. Snell needs to work on his strength to be able to finish through contact. He has shown that he can hit the mid-range jumper off the dribble once past the defender, though he has to watch a tendency to fade away on his shot. Snell has to work on using screens to get into the lane.
Passing Skills
Snell has above-average court vision and awareness, and he uses his size well to make passes over the top of the defense. His passes are strong, but catchable, and he is a very good post-entry passer for a forward. Snell needs to work on keeping his head up when he penetrates and look for openings provided by the help defense.
Free Throw Shooting
Snell is a good free throw shooter, with a consistent routine, good balance, and a smooth shooting motion and follow-through. Where Snell needs to improve is looking to get to the line more often. Last season he averaged just about 3 free throw attempts per game. Most of that has to do with being a perimeter-focused player in the New Mexico offense. When he does attack the basket, he needs to go strong to the basket and not shy from contact.
Defense
Perimeter Defense (On/Off Ball)
Snell is a good on-ball defender, positioning himself well between his man and the basket, staying relatively low and moving well laterally. He is capable of guarding multiple positions. Snell uses his long arms well to disrupt the ballhandler and passing lanes, and he is deceptively quick with his hands and is good about choosing his spots to go for a steal. He needs to learn to work through screens better when his man has the ball, especially getting over the top of the screen when his man is a capable perimeter shooter. Off the ball, Snell positions himself well, putting himself in an area where he can get to his man and help around the lane if needed. He doesn't look to jump or disrupt passing lanes often, but he can pressure off the ball for short spans of time. He needs to work on anticipating his man's movements and reacting to cuts and fakes, but his long strides help him recover quickly in some cases. He does a good job navigating through screens off the ball, not letting his man get a lot of room to get set for a shot. He has good defensive awareness, and does a good job tracking his man and the action away from him.
Rebounding
Snell doesn't grab a lot of rebounds, often because he is out on the perimeter on both offense and defense. However, when Snell is around the basket on defense, he does a very good job looking to box out and using his arms and lower body to clear space. As with other areas, he will need to continue to build strength to be effective at the NBA level, but it's a very good start with the fundamentals. Also, he is a non-factor on the offensive boards, again because of the large percentage of perimeter shots he has taken, but with his length and wing span, he could be a factor if he goes to the basket more.
Transition
Snell runs the floor well in transition, capable of running the wings and spotting up for the jumper or taking the ball strong to the basket. Though not extremely fast, Snell has also shown that he can push the ball himself on the break, usually looking to finish on his own. He can be savvy and patient when heading to the basket. Snell is also a strong transition defender, directing teammates and looking to stop the ball out on the perimeter and forcing the ballhandler to make a play.
Intangibles/Summary
Snell was sort of boxed in as a perimeter player at New Mexico, but with his skills and athletic ability, he should be able to benefit from the better spacing the NBA provides to get to the basket. He has continued to improve each season, and with some added strength combined with his length, he could provide both scoring and strong defense at the NBA level. Snell understands the game well and is capable of guarding multiple positions. It may also be possible to use Snell as a spot-up shooter in a bigger line up. While he may have to adjust to the speed of open nature of the NBA game, Snell has all of the tools to play consistent minutes almost form the start.
Draft Value: Late 1st – #24-30
Snell didn't get a chance to show all he could do in college, and he is likely capable to play in many different systems. Strength may be an issue, but he can still provide minutes to help stretch the floor and play good perimeter defense.
Leave your comments below, or email me – [email protected]
Follow me on Twitter – @NBADraftBlog