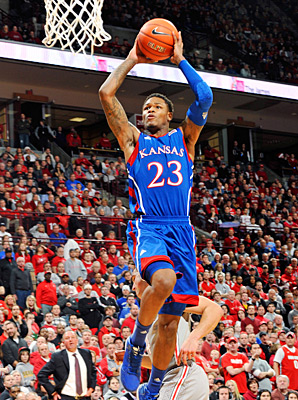 Jamie Salbau/Getty Images
Name: Ben McLemore Age: 20 School: Kansas
Height: 6'5 Weight: 189 Projected Position: SG
2012-2013 Stats:
15.9 ppg, 5.2 rpg, 2.0 apg, 1.0 spg, 2.1 tpg (32.2 minutes per game)
49.5 FG%, 87.0 FT%, 42.0 3FG%
63.3 TS%, 58.6 eFG%, 23.2 USG%,
SKILLS & ATHLETIC BREAKDOWN
Offense
Perimeter Shooting
McLemore has very good form on his jumper, getting square to the basket, good lift from his legs and has a high, quick release and follow through. He has the ability to hit his jumper off the pass or dribble, and if he has time to get set, he can be a very good spot-shooter. He uses pump fakes and jab steps well to create space for his jumper. McLemore needs to work on using screens and moving without the ball. When using screens he needs to come off them much tighter to give him space, and when he does this, he gets great looks curling and facing up for a quick jumper. McLemore's shot selection is generally very good, though he passed up a good amount of shots that he should have taken. McLemore needs to work on using his dribble to create space for his shot, as well as working on pulling up in the mid-range area to shoot the jumper.
Penetration
McLemore has a very good first step, and he uses his dribble well to get by his man in isolation. He is able to get to the basket with either hand, though he will often switch to his right hand once he gets into the lane. When he chooses to attack the basket, he is aggressive and generally keeps good control as he gets into the lane. McLemore needs to do a better job keeping his head up and seeing the court when he gets by his man, especially in the lane area when he runs into the help defenders. He goes strong to the basket, and he has good body control once he is in the air. He is capable of finishing in a variety of ways, including above the rim, where his quick leaping ability makes him tough to stop. McLemore needs to work on attacking the basket off of screens, including coming tighter around the corner to create some separation and being patient to see where he will have room to get to the basket. Also, he will need to work on building his strength to handle the physical play he will encounter on his way to the basket.
Ballhandling/Passing
McLemore is an average ballhandler, able to use both hands well. He has good control and is careful with the ball, keeping the ball low and close to his body, though he is more confident in his right hand than his left, and will often switch to his right when the left would be the better option. He doesn't use many advanced dribbles, though he has developed a decent crossover to try and create space for his jumper. McLemore needs to work on keeping his head up when he has the ball and looking what the defense is giving him. While not a great passer in general, he has shown that he can be a very good post entry passer from the wing.
Free Throw Shooting
McLemore is a very good free throw shooter, with a consistent routine leading to a smooth release and follow-through. Where McLemore needs to improve is getting to the free throw line enough to capitalize on his shooting. Hopefully he will find more opportunities to attack the basket at the NBA level, and he needs to not shy from contact.
Defense
Perimeter Defense (On/Off Ball)
McLemore is a good on-ball defender, positioning himself well between his man and the basket, and having good lateral movement. He reacts well to his man's movements, though he needs to watch for falling for ball fakes. McLemore needs to work on navigating through screens, especially not going under the screen when guarding a good shooter. Off the ball, McLemore generally positions himself well, though his defense here can be inconsistent. He is capable of denying passing lanes, though he needs to watch for overplaying and getting beat on backdoor cuts. He also needs to work on navigating through screens off the ball, especially making sure not to get caught in the lane area and not getting turned around and losing his man. He has average defensive awareness, and he needs to have a better understanding of where his help his and how to lead his man into it off the dribble. As a help defender, McLemore can be quick to help and his length can cause disruptions, but he needs to work on not reaching if he can't beat the man to the spot as well as recovering to his man after the ball is stopped.
Rebounding
McLemore rebounds well for his size, though needs to work on boxing out, relying instead to just use his leaping ability to go after rebounds. He can be quick after long rebounds and can help a team get started in transition. You need to watch him on the offensive glass where he has a good nose for the ball charging in from the perimeter and capable of jumping quickly and finishing above the rim.
Transition
McLemore is very good in transition, though he is much better running one of the wings than pushing the ball himself. He runs the floor quickly and is capable of spotting up behind the 3-point line for the jumper, taking the ball off the pass to the basket, or using his jumping ability to finish off of lobs. When he is pushing the ball, he can be too focused on what is in front of him and not seeing the full court.
Intangibles/Summary
McLemore showed a lot during his freshman season, especially on the offensive end, but you get the feeling that there is still a lot of undeveloped potential in him. He is a very good jump shooter, though he will rely on that a bit too much. He needs to use his athleticism to attack the basket more often, though to do so, he will need to continue working on his ballhandling ability. He may be a bit undervalued as a defender, though he needs to be more consistent on that end while also adjusting to the speed of the NBA players. A lot has been made of his not stepping up in big situations or when the team was down, though this has likely been overblown. He can stand to be more aggressive, but that is different than not stepping up. If he meets his potential, I think we are looking at an All-Star caliber player, but even worst-case, we have an NBA starting shooting guard.
Draft Value: High 1st – Early Lottery – #1-5
McLemore may be known as a jump shooter, but he handled himself well in many aspects of Bill Self's Kansas offense. I don't think fit will be a major issue with McLemore; he should adjust well to almost any NBA system.
Leave your comments below, or email me – [email protected]
Follow me on Twitter – @NBADraftBlog