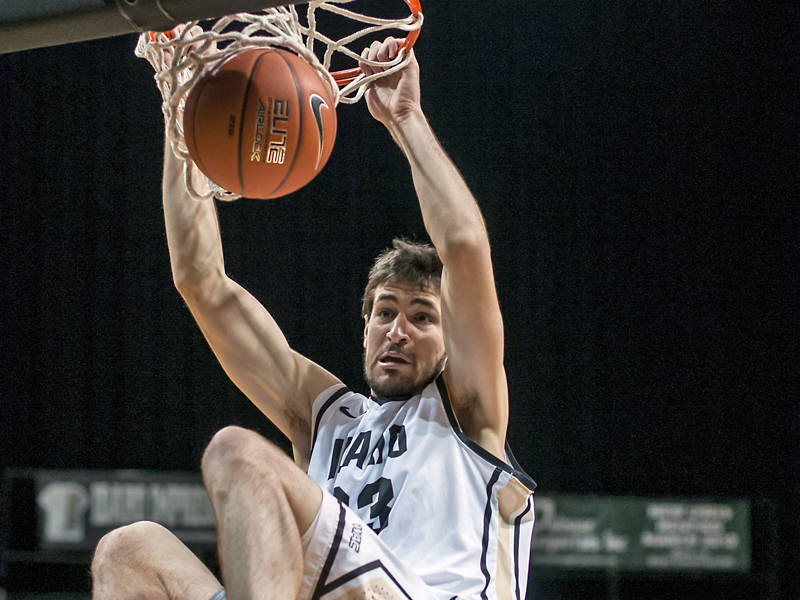 So much about the discussion regarding players and the NBA Draft revolves around skill. Yet, so many have similar skills, it becomes more about those who take advantage of the opportunity given to them. You need to want it more than other players you compete against. Not all have that perspective, but throughout your college career, you can come to gain it. Idaho's Kyle Barone is one who has learned to make the most of the opportunities given to him.
Barone's game started to transform once he got settled in at Idaho. "I was able to become more of a low-post threat," said Barone. "The system we ran at Idaho needed me to be able to score from the low block."
While his overall game continued to improve, it all seemed to come together in Barone's senior year, when he averaged 17 points and 10 rebounds per game while winning WAC Player of the Year. "It was like all of the hard work and determination paid off at last," said Barone.
What makes Barone's senior year more impressive was that it was in danger before it even started. A pre-season suspension left Barone in limbo, though he was reinstated before the season started. "It really taught me to be grateful for what you have, because it can all be taken away at any time," said Barone. "It made me work much harder to be ready, and taught me a big lesson about growing up."
With college behind him now, Barone is now in Houston working on getting ready to show teams what he is capable of. There is plenty about his game which should be attractive to teams at the next level. "I can score in a variety of ways and can play in multiple spots," explained Barone. "I have shown that I can shoot the ball well, as well as rebound and guard multiple positions."
The Draft is less than two months away and Barone is busy working on adding some new dimensions to his game. "I'm really spending time working on my face-up game, and being able to get shots in pick-and-pop situations."
Barone has already had a chance to see how he measures up against other seniors from taking part in the Portsmouth Invitational Tournament. "It was a new experience for me," said Barone. "I didn't get the opportunity to play against a lot of these guys during my college career. It made me really learn how to play off of other players and find ways to score one-on-one."
He also has a good idea how he can help a team at the next level right away if needed to. "I can be a good shooter at the 4, creating mismatches on the floor," said Barone. "I can also go out there and rebound and make open shots."
Barone knows it's all about making the most of your chances. "All I need is an opportunity to show what I can do," said Barone. "All I need is a chance and I will do all I can."
Follow me on Twitter – @NBADraftBlog
Leave your comments below or email me at [email protected]