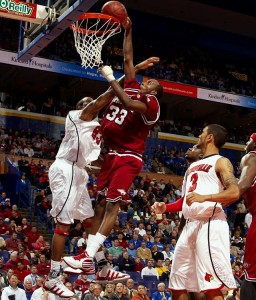 Photo: SI/CNN
The process of developing as a basketball player can be broken down into many areas, and that development can be spurred by many things. Often overlooked is how having to spend time away from the game can be a catalyst for growth as a basketball player. Arkansas' Marshawn Powell was forced to spend time off the court because of injuries, including the loss of a season, but in the end, it made him a better basketball player. Powell is now looking forward to the next step in his journey, but the lessons from Arkansas will stay with him.
"I learned a lot during my time at Arkansas," said Powell. "It taught me how to work with other people, and made me a better person." Powell began to see his game changing as well. "I definitely became stronger and became a better shooter. Also, playing under two coaches taught me a lot about different ways of looking at the game."
Two seasons ago, two games into his junior season, Powell suffered a knee injury which kept him out the rest of the season. However, Powell was able to use this to his advantage. "That would turn out to be my most important year, being forced away from the game totally," Powell recalled. "It gave me the chance to start and watch the game from the coaches' perspective. I had never missed that much time before, but it gave me a chance to study what was happening on the court."
Powell carried this new knowledge with him into this past season, where he helped the Razorbacks to 19 wins while averaging over 14 points and 5 rebounds per game. Since he was granted a medical redshirt the prior year, Powell could have had one more year of eligibility next season. He made the decision to enter his name in the NBA Draft instead.
"I'm 23 years old already and have had a few injuries," Powell explained about his decision. "I gave all I could to Arkansas and had some great years, but I'm ready to try for the next level and see how I do."
Powell has impressed many with his athleticism and ability to play around the basket since his freshman season. Now, he looks forward to showing how far his game has come. "I am a versatile player," said Powell. "I can play the 3 or the 4 on offense, can guard the 3 or the 4 on defense, and will give you 110 percent any time I am on the court.
He is already at work getting other parts of his game into shape to show NBA teams over the next few months. "I want to work on my mid-range game and my handle, as well as my jumper," said Powell. "I want to go out there and show teams and General Managers that I can guard different positions."
Powell knows he has his work cut out for him, but he believes that there is a spot for him in the NBA. "I have the work ethic to succeed," said Powell. "I'm a smart kid, and being older, I know right from wrong. I am just going to play as hard as I can for as long as I can."
Follow me on Twitter – @NBADraftBlog