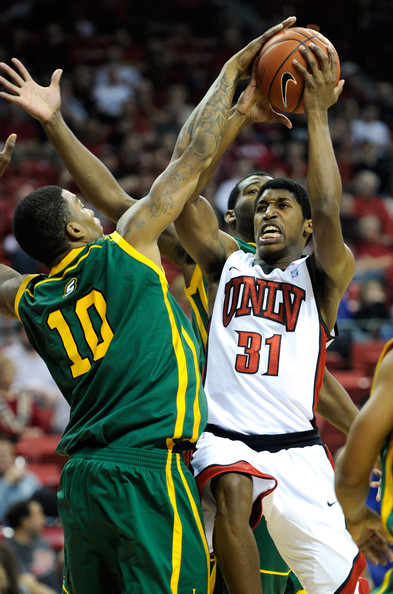 Nothing is guaranteed in life, or in the basketball world. What separates people is the ability to make an impact no matter the circumstances. That impact can be on the court, or off the court, but it is special when someone is able to make an impact on both. Justin Hawkins, who just finished up his college career at UNLV, is one of those with the ability to do both.
Hawkins was able to make the most of his time at UNLV, making his mark when given an opportunity. "I learned more about leadership, both on and off the court," said Hawkins. "My communications skill became a lot better, and I was also able to develop my ballhandling and shooting abilities."
Going into Justin's senior season, UNLV had arguably its most talented team in years, and at times, it showed on the court. However, a team with a lot of young players had its share of ups and downs. With the season gone by, Hawkins was able to reflect on what the experience taught him. "Don't take anything for granted," Hawkins said. "You have to stay disciplined, and take it one day and one practice at a time."
With his college career behind him now, Hawkins is able to look back and be happy with the decision he made to go to Las Vegas. "I would say I was pretty happy during my time playing here," Hawkins said. "I was happy with my career and wouldn't do it different."
Hawkins' focus is now on taking steps to continue his basketball career, and he believes some of his skills will translate at the next level. "I think my perimeter defense and my ability to knock down open jumpers should be attractive to teams," Hawkins explained. "I can be a stable presence at the 1 or the 2. Every team needs a backup who can come in and make sure things still run smoothly."
While those skills help, Hawkins knows there are areas he needs to work on in the coming months to round out his game. "I think becoming a more consistent ballhandler will be most important," said Hawkins. "I also need to work on becoming a more consistent shooter."
Wherever the opportunity comes, Hawkins knows he has what it takes to contribute. "I will do whatever the team needs me to do," said Hawkins. "I can give a team a stable, ready guard who can knock down shots or run the pick-and-roll. I can just continue being a 'glue' guy that every team needs."
Hawkins' impact extends beyond the court, as anyone who follows him on Twitter can attest to. A mix of lightheartedness, life lessons, and impactful statements, are a regular feature on his Twitter timeline. "I was always taught that words are powerful," Hawkins explained about how he handles what he Tweets. "Making the biggest statement in the least amount of words is very important."
During his time in Las Vegas, Hawkins has also been witness to the rise of the city as one of the epicenters of United States basketball, and he has been excited to see it grow. "Every year, more and more people are coming to Las Vegas for basketball reasons," Hawkins said. "Even down to the youth level, it is great to get out and see how people interact around basketball, and I was happy to be out there and being a part of it."
Whatever the next step is for Hawkins, he is prepared for what he has to do. "I know what my role will be going in," Hawkins said. "I won't be a head case because I am sitting on the bench, and I will work hard and give everything I have to the team. I'll do the things that a normal person wouldn't do. Whether it's doing media events or being the rookie who brings the donuts, every team needs that person."
The city will be different, so will the team and the fans, but there is little doubt that Hawkins will continue to make his impact wherever he ends up.
Follow me on Twitter – @NBADraftBlog