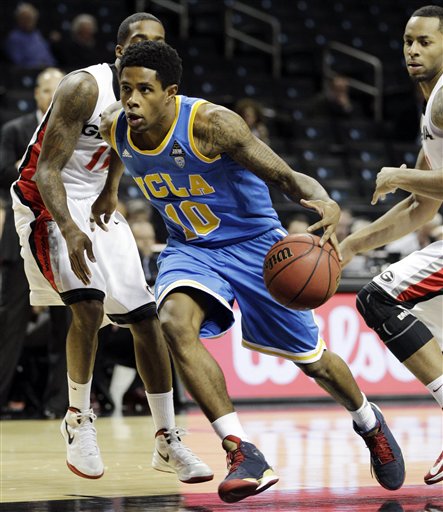 The Portsmouth Invitational Tournament for seniors kicks off tonight with 64 guys looking to make their mark in front of numerous NBA scouts and executives. While the games are not exactly the best way to judge these players, teams may start to get a sense of who they will want to see in the coming weeks for more workouts. Here are some guys who can make a statement at Portsmouth, and what they need to do to make that statement.
Abdul Gaddy – The Washington point guard has an up-and-down career marred by injury, but he stepped up and had his best season as a senior. The key for Gaddy will be to show scouts that he is capable of guarding quick guards and finding ways to score once he gets into the lane.
Anthony Marshall – The UNLV guard made a good transition to the point this year, and his goal this week will be to build on the vision and creativity he showed at times during the season. Get teammates involved early and often.
Brock Motum – Portsmouth usually isn't a great test for back-to-the-basket big men, but Motum should be able to shine with his ability to knock down the perimeter jumper. His goal this week though is to show that he can play tough when needed and use his body to create points around the basket.
Jared Berggren – The Wisconsin senior was a steady present in the paint and one of the most physical defenders in the country. Berggren's goal this week should be to show that he can knock down the mid-range shot with consistency, as well as coming out and playing solid perimeter defense.
Murphy Holloway – The Ole Miss senior had a very good year scoring and rebounding on the Rebels' tournament team. He is now out of the shadow of Marshall Henderson, and his goal this week is to see if he can take his game up one more level and dominate.
Momo Jones – The Iona senior helped lead the Gaels to back-to-back tournament appearances, and he was one of the leading scorers in the nation. Jones' goal this week is to keep that scoring ability, but show people that he can be a true point guard and find his teammates good looks.
Damen Bell-Holter – The Oral Roberts forward had a solid season, using his athleticism and skill well in the lane and in transition. Bell-Holter's next step is to show that he can be a threat from the perimeter to draw the defense out.
Larry Drew II – The UCLA senior finally stepped up and showed what he is capable of as a point guard and leader of a young UCLA team. Drew's goal this week is to show that he can run the pick-and-roll effectively, especially making the correct reads coming off the screen.
All of the guys here have something to prove this week, but the road to the NBA Draft is still starting. If used correctly, this could be a big stepping stone for some.