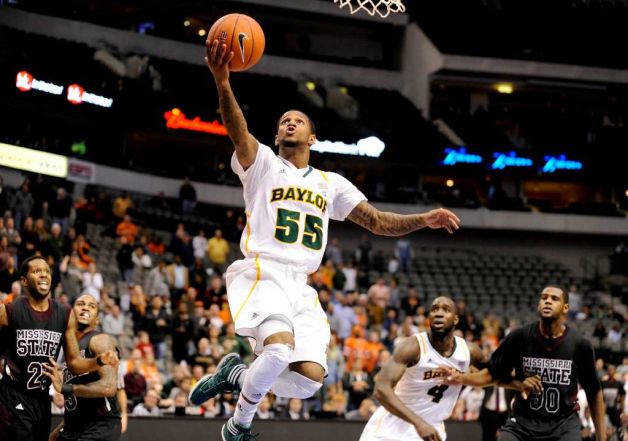 Photo: Matt Strasen/Associated Press
Name: Pierre Jackson Age: 21 School: Baylor
Height: 5'10 Weight: 180 Projected Position: PG
2012-13 Stats (As of 1/23/13):
18.6 ppg, 3.6 rpg, 5.9 apg, 1.8 spg, 3.3 tpg (33.8 minutes per game)
41.8 FG%, 78.8 FT%, 36.0 FG%, 56.1 TS%, 50.4 eFG%
34.2 AST%, 3.0 STL%, 16.6 TOV%, 28.8 USG%, 1.8:1 A/TO
SKILLS & ATHLETIC BREAKDOWN
Offense
Ballhandling
Jackson is a very good ballhandler, able to use both hands equally well while incorporating a variety of dribbles. He has a very good crossover, as well as a solid hesitation dribble. Usually, he keeps his dribble low and close to his body, though he does get sloppy, but not as often as he did last season. Part of it is underestimating the defense and their ability to disrupt his dribble, the other part of it is just sloppiness. Jackson handles pressure well, and if a defender comes out to pressure him, he has a variety of moves to get by them. He needs to make sure to keep his focus, control the tempo, and he will cut down on his turnovers. Jackson always does a good job keeping his handle alive until someone can get open and not allowing himself to into trapping situations on the perimeter.
Perimeter Shooting
Jackson can be a good perimeter shooter, though his size makes it difficult for him to get great looks at times. When he has space, Jackson can be a real long-range threat, showing good lift and arc on his shot, nice follow through and a quick release. Jackson is also able to hit his jumper off the dribble, though much better stepping into the shot off the dribble than dribbling to the side. Jackson moves well without the ball, and can wear a defender out as he looks for open space. He needs to do a better job coming off of screens without the ball, as he comes too wide and really doesn't get his defender caught in them. Usually, by the time he comes off the screen, there is no room for him to get a shot off, and he needs to reset. Jackson uses shot fakes and jab steps well to create space.
Penetration
Jackson is able to get by his man and into the lane either off the dribble in isolation, or by using perimeter screens. He has great acceleration once he is by his defender, and he uses his size well to navigate around help defenders. He can lose control because he is moving too fast, and he needs to keep his head up and know his options when the help defense comes over. He is a very good athlete, gets off the ground quickly and can finish in a variety of ways around the rim. This season, he is doing a better job not shying away from contact and attacking right at the basket. He is capable of hitting the floater and short jumper in the lane, though they can be tough to get off for him without a good deal of space. As much as Jackson has improved, he still should look to get into the lane more often and see what he can create. He looks to go this right often, but he is capable of going strong to the basket with his left hand as well.
Passing Skills
Jackson has very good court vision, especially for his size. He does a good job using court spacing to find holes in the defense and he can make some spectacular passes. His passes are strong and usually on target. Like his shooting, his decision-making can still use some work on his passing decisions. He will either look to force the ball into a space that can be closed quickly, or his passes just aren't on target. The other thing he needs to work on is getting the ball consistently to his teammates where they can make a quick play. He also needs to work to make better reads off in pick –and-roll situations. When long defenders hedge out on him, he needs to watch trying to force passes over them, but he does need to keep his head up and look for the spaces that are available, especially if he isn't going to attack the basket off the screen.
Free Throw Shooting
Jackson is a good free throw shooter, with a good, repetitive stroke. More important, Jackson is doing a much better job getting to the free throw line this season. Last year, he went to the line 129 times for the season. This year, through 17 games, he has already gone to the line 104 times, doubling the amount of trips per game. He plays a lot of minutes, but will usually show the same routine and stroke throughout the game.
Defense
Perimeter Defense (On/Off Ball)
Jackson does a good job positioning himself when guarding the ballhandler, showing good balance and keeping his feet and hands active. His lateral movement has improved and he no longer chases the ball as much as he used to, instead sliding with the ballhandler, though he still relapses to chasing occasionally. He doesn't pressure the ballhandler often, unless they pick up their dribble, and then he pounces on the opportunity for a quick steal. Jackson needs to improve his defense on pick-and-roll ballhandlers, working harder to get over the screens, especially against above-average perimeter shooters. When playing off the ball, Jackson positions himself well, though he doesn't look to deny passing lanes often. He does a much better job jumping the passing lanes when Baylor is in a zone defense. Jackson's defensive awareness has improved and you can see him directing his teammates when the opposition is running their sets. There is still a learning curve here between his years in junior college and last year being mostly in a zone defense, but he seems to be improving as the season goes.
Help Defense/Steals/Deflections
Jackson can be a problem when he looks to double-team the post or trap out on the perimeter. His quick and active hands allow him to get his hands in for a quick steal or tie-up. Jackson isn't very aggressive though, and he picks good spots to go after the ball, which helps him from picking silly fouls. As mentioned, he is good at jumping passing lanes against the zone defense, especially cross-court passes when his teammate's length forces passes over the top. He could look to pressure the ball more, especially when he has shot-blockers behind him.
Rebounding
Jackson is surprisingly active on the defensive boards for a 5'10 player, usually using his speed to get to long rebounds, especially when Baylor is in a zone defense. Having Jackson able to corral these long rebounds helps Baylor get out on the break. While he won't have the same impact at the next level, he will still be able to use his speed to get to long rebounds or loose balls. He does need to make sure he looks to put a body on someone on the shot to avoid an athletic guard from charging in for a putback.
Transition
Jackson can be very effective in the open court, either pushing the ball or running one of the wings. With the spacing the fast break provides, Jackson can make good reads when handling the ball and find open teammates on the wing or cutting to the basket. If the transition defense sags off him to protect the basket, Jackson is capable of hitting the jumper off the dribble, or taking the ball to the basket, usually finishing with a floater or short jumper. Running the wing, Jackson can spot up behind the 3-point line for the jumper, or if the defense comes out on him, can go and attack the basket.
Intangibles/Summary
Jackson is fast, skilled, and continues to improve, though he still has a lot of work to do. More important, he is a strong leader and he doesn't shy away from the big moment. His biggest issue last season was a lack of control, especially on the offensive end, but he has shown a lot of improvement through the first half of this season. You can see he does revert to his more wild style at times, especially when Baylor is behind and he is trying to get the team back in the game quickly. While his size doesn't preclude him from playing in the NBA, it is going to be more difficult, and he is going to need to show that he can do things like making good reads off of the pick-and-roll and playing tough on-ball defense to help improve his chances. Still, his ability to score in a variety of ways combined with his leadership and athletic ability make him an interesting prospect. He certainly deserves his chance and the further he leads Baylor this season, the better it will be.
Draft Value: 2nd Round –Late 2nd – #48-60
Jackson will be among a number of guards who will be looking to secure spots in the 2nd round of the draft, and depending on who ends up with these picks on draft night, he has a good chance of hearing his name called. Even if he doesn't get picked, he is far from done and will likely get his chances with a free agent deal.
Leave your comments below, or email me – [email protected]
Follow me on Twitter – @NBADraftBlog