First NBA Draft Daily of the New Year, so we will start it fresh. Thoughts from Last Night will start tomorrow, and we will kick it off with some previews and players to watch. Make sure to check back each day for the Draft Daily, plus tomorrow is the kickoff of the full scouting reports.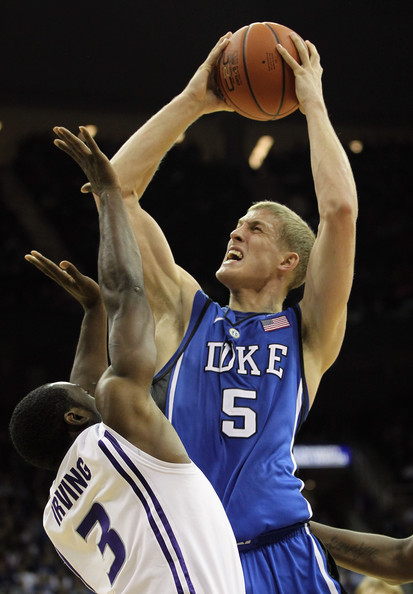 Tonight's Matchups
Davidson vs. Duke
Duke is still #1 in the country, but is coming off a tough victory at home over an overmatched Santa Clara squad. As discussed before, this team relies on their 3 senior leaders to keep them on the winning path. Mason Plumlee has arguably been both the best and the most improved player in the country through the first 6 weeks. No longer a screen-setter and rebounder, Plumlee has become a viable offensive weapon and a decent post defender. Ryan Kelly has also improved some on the defensive end, and at times, he has become more aggressive on the offensive end, not settling for the long jumper and looking to get to the basket. Seth Curry came into the season as a perimeter shooter, but he is starting to show flashes of a complete offensive game that his brother showed in college. He wants the ball down the stretch in tight games and his confidence has helped the team through tough stretches of games so far. Freshman Rasheed Sulaimon is a very good knock-down perimeter shooter, but his athleticism helps give the Blue Devils a different look on the court, and forces the defense to make a decision. Sophomore point guard Quinn Cook has had his ups and downs, especially on the defensive end, but he is slowly becoming more comfortable in keeping the team on track and pushing the ball when the team needs a lift.
While Davidson's 7-5 record is mostly a result of a tough early schedule, the Wildcats are not a team for Duke to take lightly. Bob McKillop likes to keep his team moving by going 9 or 10 deep in his rotation, which allows him to pressure the ball on defense and maintain a lot of movement on offense. Junior forward De'Mon Brooks likes to attack the basket and plays much bigger than his 6'7 frame. Jake Cohen is a physical post player who will give Plumlee a lot of trouble with his strength. Movement on the offensive end helps create opportunities for shooters Chris Czerapowicz and Tyler Kalinoski. JP Kuhlman and Nik Cochran are both capable of running the offense and are both strong on-ball defenders.
Creighton at Illinois State
Greg McDermott's Bluejays have been rolling along with a 12-1 record, and all 12 wins have been by 10 or more points. Doug McDermott has been one of the top 2 or 3 players in the country, and easily the biggest offensive threat in the NCAA. He can score from anywhere on the court – high post, low post, NBA-range 3's. While he isn't a strong defender, he works hard and is good at attacking the glass. A lot of McDermott's opportunities come from Grant Gibbs getting him the ball at the right spot at the right time. Gibbs isn't flashy, but he protects the ball as well as anyone in the country, and his size allows him to see over the defense. Gregory Echinique is efficient in the post, and he has turned into one of the top screeners in the country, allowing his teammates to get great looks at the basket.
Dan Muller's Redbirds have been a very good defensive team for most of the season so far, but the offense will need some more contributors to help the team during the Missouri Valley season. Jackie Carmichael has been impressive enough to catch the eyes of many NBA teams, and he is a double-double threat every night in the MVC. He is a very good from 15 feet in to the rim, and is capable of hitting the mid-range jumper consistently. Senior guard Tyler Brown is the main perimeter threat, though his shot-selection needs some improvement. Muller likes to go deep into his bench, with 10 players averaging at least 10 minutes per game, so look for him to throw multiple players at McDermott to keep him off-balance.
Providence at Louisville
The Friars have come through a slew of early injuries to have a respectable 8-4 record, though back-to-back losses to Boston College and Brown are not ideal, especially heading into Big East play at Louisville. Bryce Cotton did an admirable job in the absence of Vincent Council and Kris Dunn, and he should plenty of excellent scoring opportunities now that he can focus on scoring. LeDontae Henton has been impressive when he gets out in transition and is aggressive attacking the basket. His ability to rebound, combined with Kadeem Batts and Sidiki Johnson, should allow Ed Cooley to have his guards be aggressive defending the perimeter. Council and Dunn will need to be at their best against the aggressive Louisville backcourt.
Coming off a huge win against rival Kentucky, Louisville will be without sophomore strong man Chane Behanan. Luckily Gorgui Dieng returned from injury over the weekend, and Providence is not exactly strong on post players. Peyton Siva continues to make his case as one of the best point guards in the country on both ends of the floor. He does an excellent job pressuring the ball on defense, and combined with Russ Smith, the backcourt averages over 5 steals per game. Siva pushes the ball well in transition and his passes have started to become better in terms of allowing his teammates to make plays quickly off of them. Smith can be the most electrifying, and the most terrifying, player Cardinal fans have seen in a long time. His constant activity drives the opposition nuts, and there may not be a better player converting turnovers to baskets in the country. However, there are players with control issues and then there is Russ Smith. Shot selection can be a nightmare and he needs to keep his head up when heading into the lane. Dieng has continued to improve as an offensive threat around the basket, and he will be waiting for the Providence guards to challenge him around the basket tonight.
Others to Watch
Archie Goodwin, Kentucky vs. Eastern Michigan – Coming off another brutal outing against Louisville (bad shots and awful turnovers far outweigh his 22 points), Goodwin will be put to the test by Eastern Michigan's version of the Syracuse zone defense. This game should not be a close, but how Goodwin reacts to the extended zone should say a lot about how much further he still needs to come heading into SEC season.
Aaron Craft, Ohio State vs. Nebraska – Craft's defense has been good early on this season, but his lack of offensive ability as highlighted in the Kansas loss, has made it tough for his teammates to get good looks with the defense sagging off of Craft. Craft will need to show that he can at least be a threat to attack the basket, and what better time to start than the beginning of Big 10 season.
Colton Iverson, Colorado State vs. UTEP – Iverson, a Minnesota transfer, has been a major component to the Rams' strong start this season. A true wide-body, he will need to hold his ground against a physical UTEP team, which has done a very good job handling the big men from UNLV and Oregon in the past few weeks. UTEP will attack the glass, so Iverson will need to be aware of the crashers and use his body to shield his position. On the offensive end, UTEP will play him physical, so he can't let that take him out of his game.
Follow me on Twitter – @NBADraftBlog – leave your comments below or email me at [email protected]