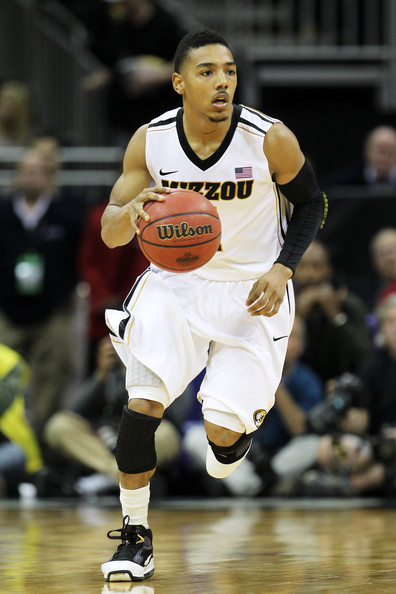 Thoughts from Last Night
Just watched one game last night, the Cincinnati-New Mexico slugfest. It was an exciting ending for a game that was painful to watch at times. Neither offense seemed to really be working in terms of creating good shots. Alex Kirk helped spurred the Lobos on with his energy and he used what little athleticism he has to make a difference on the offensive glass, and on stopping Cincinnati's final play. Kendall Williams did a good job being aggressive in the last few minutes, knowing he needed to try and make something happen. For the Bearcats, we saw a glimpse of what will happen when the jumpers aren't falling – there didn't seem to be a Plan B. Without scoring, the defense also seemed flat, not being able to pressure after scores. I expect Mick Cronin to address this before the Big East opener against Pittsburgh next week.
Tonight's Matchups
Missouri at UCLA
Frank Haith's Missouri team has gotten off to another strong start this season, and passed their biggest test so far last week, a decisive win over Illinois. This team starts on both ends with Phil Pressey, the best distributor in the country. Whether it is keeping the offense moving, or getting into the defense and creating, Pressey has a great knack for drawing the defense and hitting his teammates in the perfect spot. Scoring is an issue for Pressey, but this team doesn't need him right now to score much, but unless he becomes consistent, defenses will make adjustments. Pressey can also be a pest on the defensive end, just ask Brandon Paul, who had a tough time getting space against the much smaller Pressey. Laurence Bowers has come back from last year's knee injury to become a more versatile offensive threat, knocking down mid-range jumpers while also finishing strong around the basket. Unfortunately, he just can't defend at a high level. The wing trio of Earnest Ross, Jabari Brown, and Keion Bell all provide the Tigers versatility and the ability to push the pace, though at least one of them will need to step up as a true perimeter threat for Missouri to go far. Alex Oriakhi has made a nice adjustment to his new team, but more important, he gives the Tigers a defensive post presence they didn't have last season.
UCLA has temporarily righted their sinking ship, but this team is not in good shape long-term. Freshman Jordan Adams has been the only consistent offensive threat, hitting mid and long-range jumpers, and attacking the basket when openings are there. Kyle Anderson has made the most of his situation, including becoming the only aggressive rebounder on the team. On offense, he is still out of place, with his passing abilities not being used as well as they could. Unfortunately, Shabazz Muhammad makes the offense unbalanced, needing space cleared out for him to try and do anything on the offensive end. He has been successful in bringing smaller players into the post area, but there is nothing dynamic about his abilities. He will look for his points first, and then worry whether it was a good or bad decision. He also hasn't showed anything other than some scoring ability. Larry Drew II has done a decent job moving the ball, but even in a zone defense, his lack of defensive ability is obvious. David Wear has been the most consistent player on both ends of the floor, playing aggressive, but not doing more than he is capable of.
Baylor at Gonzaga
At times, Baylor has looked like one of the best teams in the country, and at others, you would think this group of guys has never played together before. Pierre Jackson has done a good job early this season showing more control, though his lapses have come at inopportune times, in close games or when Baylor is behind. Cory Jefferson has emerged in his junior season as a true threat around the basket and in transition. His length, combined with that of freshman Isaiah Austin, has made it difficult at times for opponents to get good shots off around the basket, though both have had lapses. Austin has shown he can be an offensive threat in a variety of ways, including being a 7'1 player who can knock down the 3. However, he is very frail and he doesn't respond well when you get physical with him. Fellow freshman Rico Gathers is the opposite, inviting contact, but just not having the real skill yet to do anything other than dunking and putting back offensive boards. Brady Heslip has not been the consistent 3-point threat that Baylor needs to keep the defense stretched, but we know he is capable; he just needs to work harder to get good looks.
Gonzaga has parlayed tough defense into a great 11-1 record to start the season, though Illinois did a good job exposing their weaknesses. Elias Harris has finally started to put all the pieces together in his senior season, looking to attack the basket and hitting the boards hard on both ends of the floor. He needs to get his perimeter stroke back, but he will likely be the Bulldogs' most consistent threat. Kelly Olynyk has done a good job using his wiry frame to find openings for his shot anywhere in the lane area. He is an active defender, though he can be easy push around, especially around the basket. The backcourt of Kevin Pangos and Gary Bell, Jr. are both very good at hitting from the perimeter and getting out and scoring in transition, and along with David Stockton, they do a very good job pressuring the perimeter ballhandlers.
Others to Watch
Ronald Roberts, St. Joseph's vs. Iona – St. Joe's has played only 2 games since the beginning of December, and didn't look good in either one, losses to Villanova and Fairfield. Iona is going to look to push the pace with their array of guards, but Roberts is the one place where the Eagles have a clear advantage with size and explosiveness. If the St. Joes' guards can get the ball into him early and often, he should dominate this game.
Vincent Council, Providence vs. Brown – Council makes his return tonight from a hamstring injury and it will be his first time with some real help in the backcourt, with Kris Dunn having started his career recently. I wouldn't expect a lot from Council tonight, but it will be interesting to see how the team re-adjusts with him back in, and where Dunn fits with him.
Gerron Johnson, Memphis vs. Oral Roberts – Johnson has been a great catalyst on both ends of the floor for the Tigers since becoming eligible. He plays with high-energy at all times, though he needs to learn to control it better. More importantly, he is a pest on the defensive end, and he makes it difficult for opposing teams to get into their offense quickly. Oral Roberts has shown some good composure early on, so this should be a good test for Johnson's abilities.
Follow me on Twitter – @NBADraftBlog – leave your comments below or email me at [email protected]