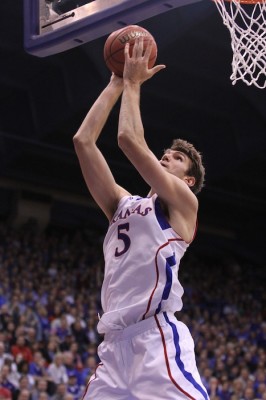 Thoughts from Last Night
– Jeff Withey has a fantastic night, though to be fair, he was being covered by a lot of 6'6 and 6'7 players. As impressive was Travis Releford who continues to play some of the best perimeter defense in the country right now.
– Winthrop forced DeShaun Thomas into a lot of bad and rushed shots, but Thomas stepped up late in a close game. His ability to score from anywhere should keep defenses off-balance, but he still needs to make better decisions based on who is playing him and what the rest of the defense is doing.
– The North Carolina State offense was at its best last night, shooting 56% from the field, and doing a great job pushing the pace against a Stanford team that doesn't have a lot of talent on its bench. Lorenzo Brown continues to show he is more of a scorer than a point guard, but he does have a good feel for his teammates and where they need to get the ball. Richard Howell continues to be one of the most effective players in the country around the basket. For Stanford, Dwight Powell has continued to show his aggressive side of late, and the results have been a much more dangerous scorer. He did a good job pulling the defense out with some mid-range jumpers and then looked to attack.
– Kris Dunn made his debut last night with 13 assists in 27 minutes, though his shot selection leaves a lot to be desired right now. Once Vincent Council is back, the Friars will scare some teams, though it will be interesting to see how the Council/Dunn dynamic works.
– The most impressive part of Miami's win over UCF last night was definitely the perimeter defense of Shane Larkin and Durand Scott which forced Isaiah Sykes into some bad decisions, including getting Keith Clanton the ball in some very bad spots. I'm still not sold on this Miami team in the long-run though because they are only really about 6 players deep.
Tonight's Matchups
Xavier vs. Cincinnati
Chris Mack's young Xavier squad has had some tough moments early on this season, but have had as many, or more, very good moments. Freshman Semaj Christon has found his role in the Musketeers' offense quickly and has brought some excitement with his aggressive, slashing style. Backcourt mate Dee Davis handles the ball well, can hit down the long-range jumper, and is a tough defender. Jeff Robinson and Travis Taylor use their athleticism well around the basket, while Justin Martin has the ability to stretch the defense or attack the basket. Mack's squad will look to pressure the ball on the perimeter, so the frontcourt players will need to be quick to rotate in help situations.
Mick Cronin has his Bearcats running on all cylinders on both ends of the court. The backcourt of Cashmere Wright and Sean Kilpatrick is among the best in the country. Wright keeps the offense moving, and while not as much of a playmaker as most point guards, he gets the team set, gets them out in transition, and is a capable scorer in his own right. Kilpatrick made his name as a perimeter shooter, but he has been attacking the basket more with defenses coming out far on him, with good results. JaQuon Parker and Titus Rubles are athletic slashers who are at their best in the open court. Cheikh Mbodj and David Nyarsuk are both good at protecting the basket, which allows the perimeter defenders to extend out and pressure the ball. Justin Jackson is another strong defender and skill-wise may be the team's best rebounder.
We all remember the brawl from last year's game, so no need to rehash it, but since that game, the Bearcats have been one of the best teams in the country.
North Carolina at Texas
Roy Williams' Tar Heel are led by sophomore forward James Michael McAdoo, and a trio of upper-class guards in Dexter Strickland, Reggie Bullock, and Leslie McDonald. McAdoo is skilled and moves well for his size. When he gets the ball on the block, it is tough to stop him one-on-one, but McAdoo had a tendency to make it harder on himself by spending too much time on the perimeter, and even going to his face-up move out of the post a little too often. Bullock is a solid perimeter threat, and his size allows him to get good looks and shoot over the defense. Strickland is more comfortable running the offense than he is playing off the ball, but is capable of getting into the lane and finishing. McDonald provides a versatile wing scoring option who is also capable of defending multiple positions. Sophomore PJ Hairston has been erratic on both ends of the floor, but he is capable of some spectacular plays, especially in transition. Freshman point guard Marcus Paige is still making adjustments to the college level, and making the mistakes that go with that adjustment, but he will be a good one for the Heels.
The loss of Myck Kabongo, who is sitting out during an NCAA investigation, has made it difficult for the rest of the young Longhorns' team to make the progress they would have with their leader. Sophomores Sheldon McClellan and Julien Lewis are both capable scorers, but without Kabongo, they are struggling to get good looks. Freshman point guard Javan Felix continues to improve, and this experience will be great for him down the line, but he still has control issues (a common theme with his Texas team). Sophomore forward Jonathan Holmes is strong and athletic and he has done a good job attacking the glass on both ends of the floor. Freshman big man Cameron Ridley is playing his way into better shape, and when he gets there, combined with his strength and skill, he has the potential to be one of the best big men in college basketball.
Others to Watch
Mason Plumlee, Duke vs. Cornell – Plumlee has been spectacular in the early part of the season, and he should be at his best against a young, undersized Cornell team. With the Big Red expected to double and triple-team him when he gets the ball, it will give us an opportunity to see how well Plumlee has progressed in this area.
Kendall Williams, New Mexico vs. New Mexico State – Williams is coming off a good performance against New Mexico State on Saturday, scoring 15 points, grabbing 8 boards and dishing out 7 assists, with no turnovers. He is going to see the Aggies again tonight, who were successful forcing him into difficult shots, but he made up for it in other ways. Look for another solid all-around game.
Anthony Bennett, UNLV vs. Northern Iowa – UTEP showed that being physical with the bruising Bennett forces him out of his game and makes him force bad shots. Expect a strong UNI team led by Jake Koch to do the same. Let's see if he adjusts this time around.
Jackie Carmichael, Illinois State at Dayton – Carmichael has scored 54 points on 55% shooting the last 2 games, but Archie Miller should have a solid plan to keep him from getting the ball close to the basket. Wyoming did a good job forcing Carmichael to catch the ball 10 feet and out, and I expect the Dayton forwards to play physical and do the same.
Follow me on Twitter – @NBADraftBlog – leave your comments below or email me at [email protected]