This is the slowest night of a slow basketball week with only one major matchup to watch, but it could be a good one when Wichita State heads to Tennessee. Will Tennessee finally see 40 points again? Before we get to that, let's take a look back at what I saw during last night's action: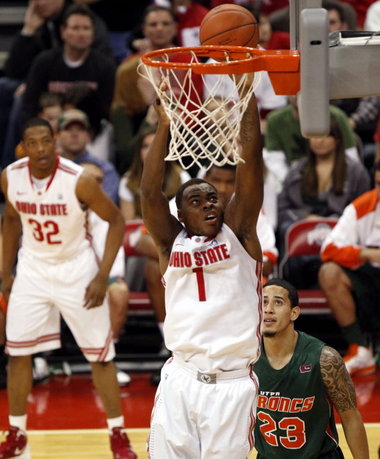 Thoughts from Last Night
· With the exception of possibly Doug McDermott, there may be no better pure scorer in college than Deshaun Thomas. Shot selection can be an issue, he loves the contested 3, but there isn't a spot on the court he can't make shots from. He is at his best when he mixes in some post play to go with his perimeter game. He uses his body really well when in deep around the basket, and he is very good at going up in strong in traffic.
· While last night he wasn't needed, Aaron Craft will need to become more of an offensive threat as we go deeper into the season. Even if it means taking into the middle of the defense, Craft needs to show that he will, just to keep his defender from cheating off him.
· Alex Len really needs to get tougher. Monmouth guards would bump him a bit as he moved around the lane area and he acted as if he was sucker-punched. If he doesn't like contact now, how will he deal once he gets to the NBA?
· Arizona State has created more excitement with their quicker pace, but there is a lot more to it than just pushing the ball quickly up court, as Oliver Purnell's DePaul squad showed them last night. Control is essential, even when playing up-tempo and Jahii Carson will learn as he continues to develop. Brandon Young had some issues as well with control last night for the Blue Demons, but he did a good job for long enough periods of time for DePaul to break open the game.
· Alec Brown had another frustrating game last night against a tough Wisconsin defense, but he needs to learn to be more aggressive on the offensive end. Teams are starting to realize they can lure him into cheap fouls on the defense and he really needs to keep his focus. Jared Berggren does a great job playing physical defense, even when his man is away from the ball. Over the course of a game, the physical toll can be frustrating to opposing players.
Tonight's Matchups
Wichita State at Tennessee
Gregg Marshall's Wichita State squad is off to another great start this season, and a lot of it is due to the stellar frontcourt play of Cleanthony Early and Carl Hall. Both Early and Hall are aggressive around the basket and love going right at the defense. They are just as tough on the defensive end, making every shot a challenge for the opposition. Oregon transfer Malcolm Armstead has been a steady backcourt presence, though he is still finding his bearings on the offensive end. Perimeter shooting hasn't been strong for the team as a whole, but the rotation of Ron Baker, Evan Wessell, and Demetric Williams can hit their jumpers when left open.
Tennessee's defense has been tough, but Cuonzo Martin will need to find some answers on offense soon. Two straight games with less than 40 points is unacceptable for an SEC team. Jarnell Stokes has been effective when he gets the ball in deep around the basket, but without a reliable point guard, he isn't always getting the ball when he should. Trae Golden has done an a decent job running the offense, but it just isn't his strength and he is way too slow in finding his teammates because he is likely looking for openings for his own offense. When Skylar McBee is your only real perimeter threat, there is no reason for an opposing defense to have to extend, leaving very few openings for everyone else to operate. Jeronne Maymon is definitely missed, but even his return won't help the lack of a good point guard to run the offense.
Follow me on Twitter – @NBADraftBlog – leave your comments below or email me at [email protected]
Photo: Associated Press