Last night turned out to be an interesting night, between Rodney Williams and Trevor Mbakwe's SportsCenter moments, Illinois' struggle with Norfolk State, and Halil Kanacevic self-destructing against Villanova. Tonight has some good matchups, including another battle between Wisconsin teams and some interesting West Coast games.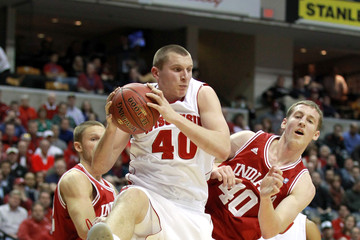 Thoughts from Last Night
· Michigan continues to roll along, and each game Trey Burke impresses me more. His ability to work in isolation or the off of screens makes him very tough to stop, and the decision-making continues to improve. Even on the defensive side, he has shown better awareness and is doing a good job getting over screens.
· Also impressive this season – Minnesota's Rodney Williams. His 360 dunk off a steal last night was amazing, but it was his ability to score in the post or from the perimeter which makes him tough for most other 4's to guard. Trevor Mbakwe has been coming in off the bench, but he looked like his old self last night, hitting the boards hard and finishing strong around the basket.
· Rutgers may have come away with the win, but for long stretches last night, George Washington looked like the much better team. Isaiah Armwood uses his athleticism well to make plays on both ends of the floor, and Rutgers didn't have one guy who could effectively guard him.
· It is time for CJ Aiken to toughen up and start playing like a guy who is long and athletic. Ronald Roberts, Jr. cannot handle the inside scoring load himself, but Aiken always seems to be 20 feet away from the basket on offense. This isn't a deep St. Joe's squad, so if they want to have a good year, each guy is going to need to maximize his ability, starting with Aiken.
Tonight's Matchups
Wisconsin vs. Green Bay
Wisconsin's season has certainly not been going exactly to plan as the team still tries to adjust with Josh Gasser out for the year with a knee injury. Guards Ben Brust and Traevon Jackson have done what they can, but Brust is more of a scorer and Jackson just hasn't looked comfortable when pressured by the defense. Brust's scoring, especially from 3-point range (50% of his shots are from behind the arc, and he is shooting 45%) has forced defenses to have to stretch. This has opened up the lane area for Jared Berggren, who has become a solid offensive threat to go along with being one of the best defenders in the Big 10. Freshman Sam Dekker has been impressive during his minutes, aggressively looking to get to the basket and when he gets the defense off-balance, pulling up for the jumper.
Green Bay's early season has been inconsistent, and a lot of that has to do with the play of junior Alec Brown. Brown has had trouble getting the ball in deep around the basket area and, even when he does, he has had trouble finishing. He is one of the best shot-blockers in the country, but opposing teams have done a good job moving the ball and getting him out of the play. The perimeter defense has to do a better job funneling the penetration towards their big man. Watch for Wisconsin to have Berggren try to pull Brown away from the basket, or if the Phoenix go zone, seal Brown off.
DePaul at Arizona State
Oliver Purnell's Blue Demons are coming in having won 4 straight, and they have done it by playing Purnell's signature style – pressuring the ball and getting out in transition. Cleveland Melvin has done a great job getting out on the break and using his strong body to finish, or hitting the offensive glass if he is trailing the play. When pushed into the halfcourt, Melvin has shown the ability to play both in the post, or to take the ball off the dribble from the perimeter. Brandon Young has been the catalyst on both ends of the floor, using his speed well to help force turnovers and pushing the ball quickly up the court. He has also become a solid option off the ball, able to hit the spot-up jumper.
Herb Sendek has let his team run this year and it has led to a surprising 8-1 start for the Sun Devils. Freshman Jahii Carson made the most of his season off last year and has come out as explosive as any player in the country. He is tough to stop in the open floor, though he still needs to work on some control issues and realize when he doesn't have a play. Jordan Bachynski has stepped up on both ends of the floor, but it has been his ability to defend the rim and block shots which has allowed the perimeter players to full-out pressure the ball. Carrick Felix and Evan Gordon have given the Sun Devils two aggressive wings who can also find open spots on the perimeter to hit the jumper, helping to open up the lane area for Carson to work.
Others to Watch
Josh Scott and Andre Roberson, Colorado at Fresno State – The Buffaloes are coming off a true beatdown at the hands of Kansas and could be in for a tough time against a very good Fresno State defense. The Bulldogs do a good job pressuring the ball on the perimeter, so it will be up to Scott, who was the lone bright spot against Kansas, to establish solid position in the post. If he can do that, he should find Roberson along the baseline if the defense collapses on him. If not, he could have a big night if defended one-on-one in the post.
Devon Collier, Oregon State vs. Portland State – With Eric Moreland stepping up his game, especially on the glass, in the absence of Angus Brandt, Collier should be able to find more space for him to attack the basket. If he can finish strong, he could have a huge night.
Julian Boyd, Long Island University at Rice – The Blackbirds have been struggling early on, especially on the defensive end. Rice is going to look and slow the tempo, and if they do, it will be on Boyd to take advantage of an undermanned, undersized Owls squad.
Follow me on Twitter – @NBADraftBlog – leave your comments below or email me at [email protected]