Not much in last night's thoughts since I only watched one game, but there are definitely more games worth watching on tonight's slate, including an always fun Big 5 matchup between Villanova and St. Joe's, and two of the season's biggest surprises, Illinois and Minnesota, in action.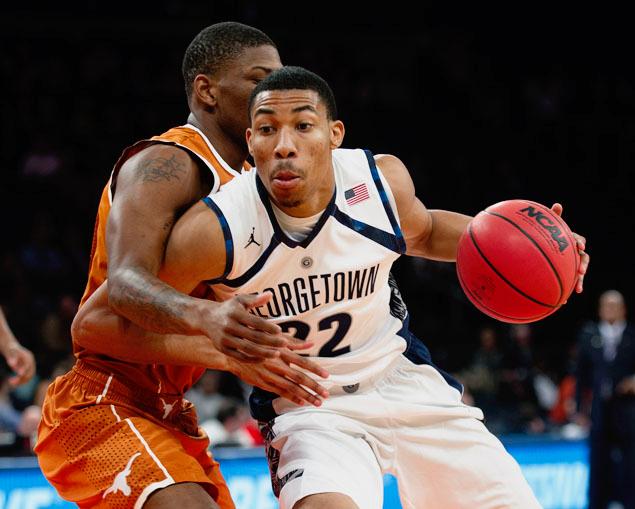 Thoughts from Last Night
Georgetown's offense got back on track last night, finding good looks and finishing against an overmatched Longwood squad. Otto Porter continues to show why he is one of the top all-around players in college basketball today. Porter did a great job exploiting the holes created by the offense, either by slashing strong to the basket or by finding an open teammate. His ability to finish with either hand around the basket allows him to get good shots off even with defenders around him. Nate Lubick is also doing a great job as a facilitator in the Georgetown offense, understanding how the defense will react to the pass to the high or low post and anticipating his teammates' cuts for easy baskets. Markel Starks ability to use the high screens and cutting action to find space for his jumper makes him very tough to stop without leaving someone else wide open.
Tonight's Matchups
Michigan vs. Binghamton
I have gone on at length about Trey Burke's development, but his value lies in much more than what you see in his stat sheet. He has a great understanding of the intricacies of John Beilein's offense, which is predicated on spacing and movement; in many ways it is a more complex version of many NBA offenses. He has shown that he can create scoring opportunities both by attacking and drawing the defense, or by letting the offense go through its motions and finding the open man. Add to that his ability to score in a variety of ways and you have a tremendous offensive weapon. I still think Burke needs to tighten up on the defensive end, but he continues to show a little improvement each game. Tim Hardaway Jr. has done a much better job this season taking advantage of what the defense gives him and not forcing bad shots. His size on the perimeter makes him a threat to shoot over the top and he uses his above-average handle and strong body to get into the lane and to the rim. Glenn Robinson III and Nik Stauskas will both be worth continuing to monitor, though Stauskas one-dimensional game leaves a lot to be desired at this point.
Illinois vs. Norfolk State
John Groce's Illini are coming off a huge win in Spokane against Gonzaga and are hoping not to have a letdown against a feisty Norfolk State squad. The backcourt trio of Brandon Paul, DJ Richardson, and Tracy Abrams has put pressure on the opposition on both ends, leading to transition baskets and good perimeter looks off of penetration. Paul is a complete threat on the on the offensive end this year, finding openings in the defense and striking quickly. The frontcourt role players have done a solid job rebounding, setting screens, and playing tough interior defense. Expect Tyler Griffey to have a larger role in the offense once they get to Big 10 season and Coach Groce needs to mix up his game plan. Nnanna Egwu is still raw, but he could be a key contributor come March.
Minnesota v. North Dakota State
Tubby Smith's Golden Gophers continue to be one of the season's biggest surprises so far, using a balanced attack and tough defense to wear opponents down. Rodney Williams has been aggressive in going to the basket and not settling for jump shots. Most important, he wants the ball and doesn't look to give it up quickly. He also uses his length well on the defensive end and on the boards. Andre Hollins, Austin Hollins, and Joe Coleman have been unselfish in the backcourt, gladly deferring to whoever has the hot hand at a given moment. Coleman's slashing is a good compliment to both Hollins' perimeter based attack. Trevor Mbakwe continues to look good in his limited minutes and should me a major factor for the team come the February stretch run.
Others to Watch
CJ Aiken, St. Joseph's at Villanova – Aiken, the Atlantic 10 Defensive Player of the Year, has not had a great start to the season. On the offensive end, he spends way too much time on the perimeter for someone who isn't a great shooter, and the Eagles really could use his help on the offensive glass. Defensively, he is starting to settle too much for trying to block shots and not looking to play actual defense with his feet. He needs to stay strong in the post and not let himself get backed down where he isn't in position to alter shots, and Villanova's Mouphtaou Yarou should look to use his strength when he gets that matchup.
Matthew Dellavedova, St. Mary's vs. Jackson State – Dellavedova has had an up and down year so far, but when he is on, he is one of the best point guards in the country. He is very good in pick and roll situations, and his ability to hit the roll man, or score from the perimeter or off penetration, make him dangerous any time he has the ball in his hands. Jackson State will look to pressure him, and he needs to make sure he doesn't try to do too much and instead move the ball around the perimeter.
Follow me on Twitter – @NBADraftBlog – leave your comments below or email me at [email protected]