Schools are heading into Winter exams, and the schedule will be very light this week. Georgetown will look to get back on track tonight against Longwood, and Virginia Tech will look to put their first loss behind them. Today, it's time to take a quick look back at a packed weekend of college hoops.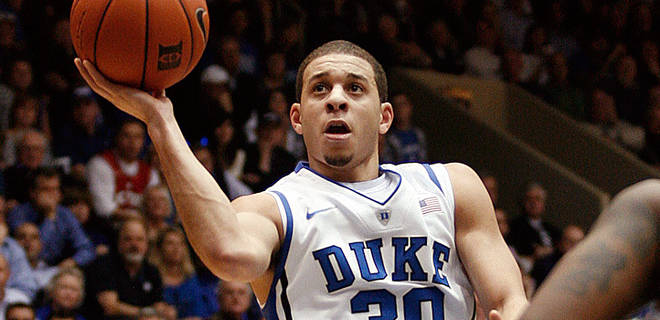 Thoughts from the Weekend
The weekend kicked off with an impressive Iowa victory over rival Iowa State. Aaron White showed that he is dangerous in a lot of ways around the basket, and freshman center Adam Woodbury is a star in the making. Woodbury does a great job using his frame to establish position and is very strong asking for the ball when his position is set.
Indiana's 30 point win over Central Connecticut State was a true team effort, with 5 players in double figures, led by Christian Watford's 21. Most impressive though was Cody Zeller's 19 point, 19 rebound performance. Zeller was unstoppable on the offensive glass, getting position and going strong after the ball. His instincts are better than any other big man in college basketball right now and his skills should meet that same level soon enough.
Trey Burke passed his biggest test to date in a win against Arkansas. Burke did a very good job handling the perimeter pressure from the Razorback guards, but most importantly, he didn't let them set the tempo. Burke was in control, kept the Wolverines to their offensive game plan, and executed.
On the other hand, Arkansas' BJ Young looked frustrated with the Razorbacks' offense and when forced into the halfcourt, it was tough for Young to get any good looks. Credit also goes to the Michigan perimeter defense, which made it tough for Young to get penetration.
No denying Russ Smith can score, but this was the first game where he put together an all –around solid game. His shot selection was good, pushed the ball quickly and he took advantage whenever he could on the defensive end. Smith still has a lot to show, and one game against UMKC won't change my mind about him as a pro prospect, but he may be on the right path.
Arizona's Solomon Hill is the player who keeps this young team together, but he can't let 2-16 shooting performances become a habit. The good part is that most of the shots Hill took were good ones; he just needs to stay confident and finish. Mark Lyons will be an important part of how far the Wildcats go this year, but it can't be at the point guard position. While there may be some bumps along the way, I really like what Nick Johnson can do as a facilitator, and it frees Lyons up to do what he does best – score.
Kansas jumped all over Colorado from the opening tip and didn't let up until the win was in the books. Ben McLemore has what it takes to be a special player, though he still is in the process of developing his game. He is smooth and strong attacking the basket and is smart enough to draw contact. Jeff Withey continues to show improvement on the offensive end, and we all know about his shot-blocking ability, but he really needs to become a better post defender when his man has the ball. He needs to work on getting better position in the post and not letting himself get backed down deep around the basket.
Colorado's bright spot was the play of freshman big man Josh Scott who was aggressive when he got the ball in the post, though he really needs to work on his footwork and post moves, but it was good to see that he was willing to take the ball right at the strong Kansas frontcourt.
Sean Kilpatrick and Cashmere Wright may be playing as well as any backcourt in the country, on both ends of the floor. Wright is the one who makes the Bearcats' offense go and his ability to get players the ball in the right spots makes it much easier for them to get good looks; just ask Kilpatrick. Kilpatrick is at his best when he keeps defenses off balance by attacking the basket.
Seth Curry has done a good job taking advantage of the extra attention Mason Plumlee has attracted this season, and his ability to hit his jumper off the dribble or with the defense closing always makes him a threat. Plumlee on the other hand still needs to continue his development and add more than his 2 basic post moves if he wants to be a real threat. Also, something I discussed before was his free throw shooting – It is nice when he hits them, but with the flat, line drive he shoots, there is no margin for error. He is either going to hit or miss badly.
Brandon Paul continues to impress with his ability to find ways to score against pressure, especially waiting to see what the defense is giving him and choosing what to do from there. He is also doing a much better job moving without the ball and finding holes in the defense.
UCLA is a mess, but there was progress in some ways. Kyle Anderson had a very good 1st half, but was seemingly left out of the offense in the 2nd half. There is no flow to the offense and players just seem to launch bad shots whenever they touch the ball. Anderson provided someone willing to attack the basket, even if the result wasn't pretty. Texas's Cameron Ridley was very impressive when he got the ball around the basket, using his body well to create space, and finishing strong. Once he works on getting into better shape, he will be tough to stop at the college level. Also, a lot of credit to Javan Felix, who has done an admirable job in the absence of Myck Kabongo, and this, could only serve him well as he continues to develop.
Anthony Bennett is impressive in a lot of ways, but he is still guilty of taking too many bad shots and his defense is way below average. He may be able to get away with some of these things at the college level, but he won't in the NBA. It's still early, so he will have time to make adjustments, but people need to not become so focused on his strength.
Follow me on Twitter – @NBADraftBlog – leave your comments below or send them to [email protected]