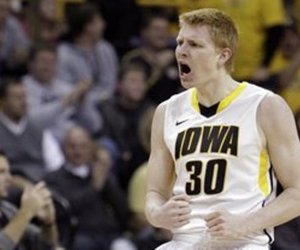 Thoughts from Last Night
A small slate of games last night, but there was plenty to get your attention:
The Syracuse offense continues to work like a well-oiled machine, and with the ability to score from any part of the court, it will be tough for opposing defenses to stop it all. The zone defense, especially when extended, can throw even the best offenses off their game. The length of Michael Carter-Williams and Brandon Triche create tough looks from the outset, and a team will need a guard that can get into the 2nd level of the zone to get it to break down.
Providence continues to push their roster to the limit with just a few players taking the large share of the minutes. The return of Vincent Council will help and Kris Dunn should debut sometime soon.
Doug McDermott continues to put up huge scoring numbers for Creighton, but a lot of credit also needs to go to Grant Gibbs for his ability to get McDermott the ball in the optimal place at the right time for him to score quickly.
Tonight's Matchups
Harvard at Connecticut
Connecticut continues to impress under Kevin Ollie, and I've covered in previous posts the reason why – the ability of Shabazz Napier, Ryan Boatright, and Omar Calhoun to pressure the opposing guards on offense and defense. Against an undersized Harvard rotation tonight, look for the frontcourt of DeAndre Daniels, Niels Giffey, Tyler Olander, and Enosch Wolf to have their moment to carry some of the offensive load for this team. Daniels, especially, should many opportunities for easy baskets along the baseline, either from passes from the high post or from Olander or Giffey in the high post. If UConn can get this group going soon and force the defense to sag, the backcourt trio should then be allowed to find the space they need to attack the defense.
Tommy Amaker's Harvard squad has done an admirable job without Brandyn Curry and Kyle Casey. Freshman point guard Siyani Chambers has been spectacular on both ends of the floor early on for the Crimson. On offense, he is patient and picks his spots well and isn't hesitant to reset the offense if he doesn't like what he sees. Laurent Rivard continues to be a great perimeter threat, and the offense does a good job of creating openings for him to get his looks. Wesley Saunders has done a great job as an attacking wing on the weakside of opposing defenses.
Iowa State at Iowa
The two Iowa rivals are both off to very good starts this season, and are both doing it in similar ways. Iowa's defense, especially on the perimeter has been fantastic. Freshman Mike Gesell has adapted very well to college game, and his ability to keep his man in front of him as lightened the load on the Hawkeyes' interior defense. Roy-Devyn Marble has used his length well on the perimeter to disrupt passing lanes, and the same size also helps get good looks on offense as well as allowing him to finish in traffic. Sophomore Aaron White continues to be a solid threat in the lane and mid-range area, and his work on the boards goes underappreciated. Freshman center Adam Woodbury has had some bright moments, and with experience, he will be a star for the Hawkeyes.
Fred Hoiberg's Cyclones continue to be the place where transfer can jump-start their college career. Utah transfer Will Clyburn has done an outstanding job scoring around the basket, and his athleticism is a huge threat in transition; if he can find his perimeter jumper, he could be one of the top scorers in the country. Former Michigan State point guard Korey Lucious is showing some rust from his time off, and he wasn't the best-decision maker to begin with. Junior Melvin Ejim has been great as an undersized 4, and he uses his body well to create space around the basket. Former Penn State guard Chris Babb has seen his poor-shooting carry over from the end of last season, but when he is on, he gives the Cyclones a legitimate deep threat. Senior Tyrus McGee has picked up some of the shooting slack, but he is best in short bursts of playing time. Freshman Georges Niang may end up the best player of the group once his actual skills catch up to his great understanding of the game.
Others to Watch
George Beamon, Manhattan at Marist – Beamon is still recovering from some nagging injury issues, but his scoring ability should shine against an overmatched Marist team. Beamon will be challenged every time he touches the ball, so how he handles that will help determine how the rest of the Manhattan squad plays.
O.D. Anosike, Siena vs. Rider – Anosike continues to impress with his ability to rebound anything that is in his general area. He has been an efficient scorer around the basket, and if not for his inability to hit free throws, he could be averaging 16 or 17 points a game instead of 13. Rider's strength is in the backcourt, so look for the defense to collapse when Anosike gets touches in the post.
Juvonte Reddic, Virginia Commonwealth at Old Dominion – Reddic continues to shine as bruising forward who forces his way to basket. His ability to react on defense is part of what allows the Rams' guards to take the chances they do on the defensive end. Reddic is far from polished, but he is getting the most out of every bit of talent he has.
Remember to follow me at Twitter – @NBADraftBlog – leave your comments below or email them to me at [email protected]